Charles Playfair
1821 – 1825 56 Union Street
1825 – 1845 94 Union Street
1845 – 1860 70 Union Street
1860 – 1882 138 Union Street
1882 – 1925 142 Union Street
1925 – 1955 18 Union Terrace & 18 Diamond Street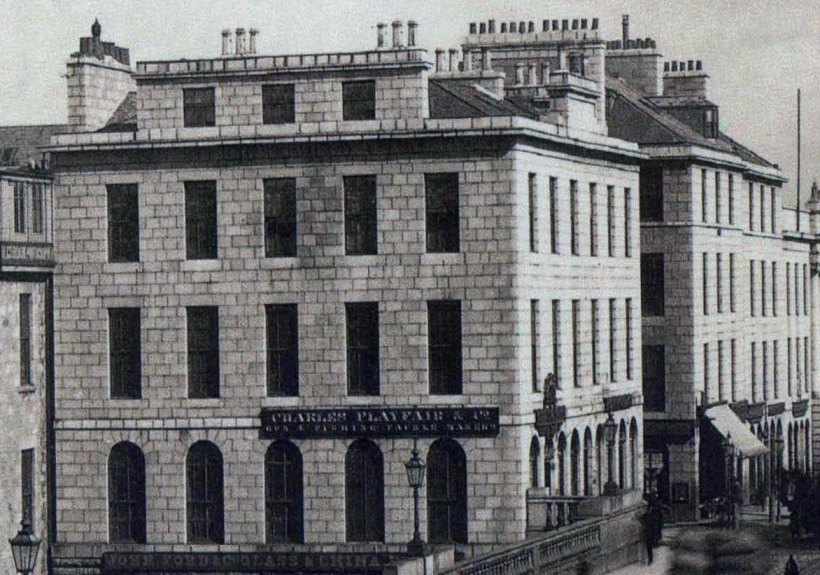 Charles Playfairs metal "D Minnows"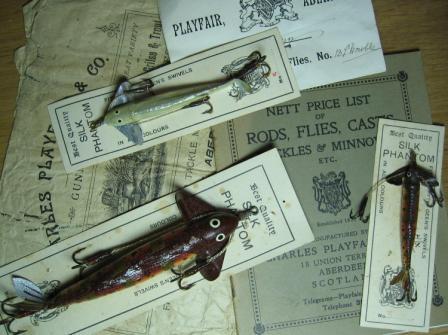 Charles Playfair's Phantom minnows in competition with Mr. Brown - marked with a C and a P on the fins

An early gaff marked Playfair - the brass shaft is octagonal - not many of these areound!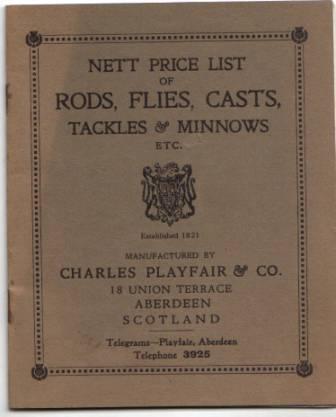 A small catalogue from Playfairs - quite scarce from the late 1920s (based on the 18 Union Terrace Address)


The Salmon Flies of Playfair
I do not think Playfair went in for catalogues for their fishing tackle, as far as I'm aware they only published one price list that was not illustrated (as illustrated above) and a small brochure on the Vibration rod. There may be something lurking out there that I do not know about yet though, that's half the excitement of fishing tackle collecting, you just don't know! However the price list is undated but I guess it was from around the late 1920s and luckily for us it lists the salmon flies that were stocked, here they are:
| | | | | | |
| --- | --- | --- | --- | --- | --- |
| Pattern | Code | Pattern | Code | Pattern | Code |
| Ackroyd | B | Colonel | A | Mar Lodge | A |
| Admiral | A | Delfur Fancy | A | Member | A |
| Balmoral | B | Druggist | A | Mystery | A |
| Beaconsfield | A | Duke | A | Namsen | A |
| Bell Irving | A | Dunkeld | A | Parson | A |
| Benchill | A | Durham Ranger | A | Popham | A |
| Black Doctor | A | Dusty Miller | A | Poynder | A |
| Black Dog | A | Eagle | B | President | A |
| Black Dose | A | Ghost | A | Red Rover | A |
| Black Ranger | A | Gordon | A | Red Marine | A |
| Blue Charm | C1 | Green Charm | C1 | Sherbrook | A |
| Blue Doctor | A | Green Highlander | A | Silver Blue | C2 |
| Blue Jacket | A | Green Peacock | C1 | Silver Doctor | A |
| Blue Jock Scott | A | Greenwell | A | Silver Grey | A |
| Blue Marine | A | Inky Boy | A | Sir Charles | C1 |
| Brora | A | Jeannie | C2 | Sir Richard | A |
| Brown Dog | A | Jockie | C2 | Snow Fly | A |
| Bull Dog | A | Jock Scott | A | Sun Fly | A |
| Butcher | A | Joe Brady | A | Stevenson | A |
| Candlestick Maker | A | Kelsall | A | Thunder & Lightning | A |
| Captain | A | Lady Caroline | B | Torrish | A |
| Childers | A | Logie | C2 | Watsons Fancy | C1 |
| Claret | A | Manchester Swell | A | Wilkinson | A |
| Cluny | C2 | March Brown | C2 | | |
A – Best Quality Fully Dressed Fancy Salmon Flies, prices :
6/0 (½in) and 6/0 (¼in) at 3/6 each
5/0 (½in), 5/0 (¼in), 4/0 (½in) and 4/0 (¼in) at 3/- each
4/0 at 2/9 each
3/0, 2/0 and 1/0 at 2/6 each
1½, 1, 2, 3, 4, 5, 6, 7, 8 and 9 at 2/3 each
B – Plain Flies – unfortunately these were listed as 4 examples then "etc." so this is not a full list, prices:
5/0 (½in), 4/0 (½in) and 4/0 (¼in) at 2/- each
4/0, 3/0 and 2/0 at 1/9 each
Smaller at 1/6 each
C – Small Flies, for summer fishing either single or double eyed hooks, prices:
C1 C2
3/0 at 2/3 each 1/9 each
2/0 at 1/9 each 1/6 each
1/0, 1, 2, 3 & 4 at 1/6 each 1/3 each
Smaller at 1/3 each 1/- each
Also offered were Low Water Dressings, "these flies have short bodies and are dressed on fine wire eyed hooks, Sizes 4 to 10 Limerick. Plan of fancy patterns can be had. Prices as with ordinary dressings"
Digley made Salmon reels sold by Playfair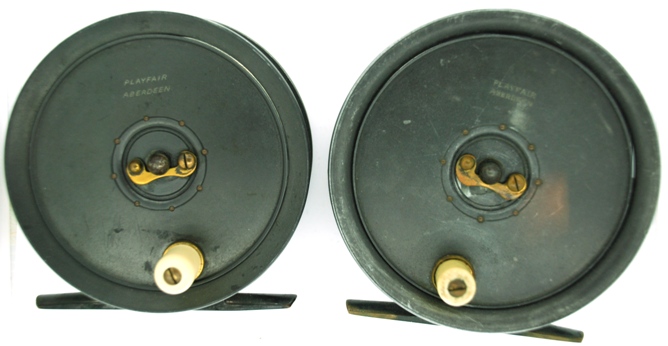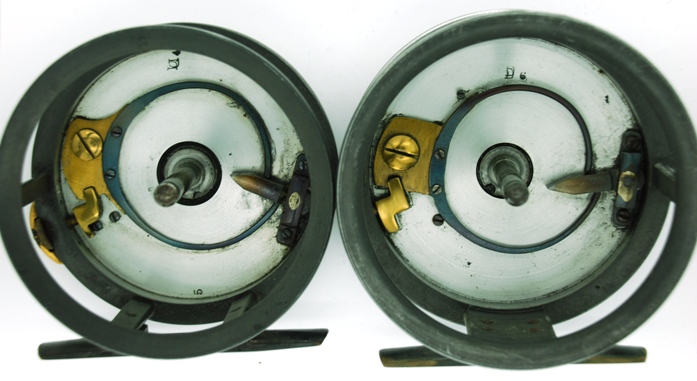 The above are 4 1/4" and 4 1/2" salmon reels marked with the Dingley "D" - these are LOUD!
The invention of the Tube Fly
The following piece I copied from somewhere (I can't remember where from so appologise if I offend anyone)
Winnie Morawski, whilst working for a fly tier Charles Playfair & Company of Aberdeen in Scotland in 1945, is credited with tying the first tube fly. While she was tidying up the turkey quills from her work bench she had a brain wave. She chopped the top and bottom off and scrapped the insides from the quills . She then dressed this natural tube she had created. One of the company's customers was a doctor called William Michie. He liked the idea of tube flies but suggested that cut lengths of surgical tubing should be used instead of the fragile and very brittle quills. Word got around and soon tubes were being tied in Norway, Sweden, Canada, USA as well as the United Kingdom. Saltwater tube flies appeared in the North American Pacific Northwest and were used in Washington State's Puget Sound in the late 1940s


Grants Vibration Rods
Of course Playfair was most famous for it's line of Grants Vibration spliced rod, here are a few photos to start with, expect to see more here in the near future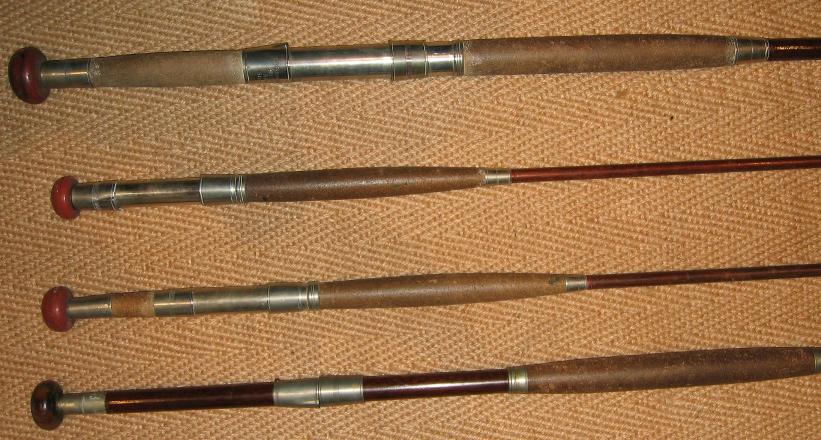 Above a few very early Grant Vibration rods made by Playfairs - early rods had Nickle Silver plated reel fitting, trout rods are scarer than salmon one, the rod at the bottom of the picture is the only one I have seen that has no cork on the lower grip. Playfair's kept lists of all the rods they made and these passed to Somers, when Somers was sold a vintage tackle dealer (JMG) bought three of these record books - I bought them from him in September 1990, to try to save them - the current Somers shop in Aberdeen has the remainer. Here is what they look like: (please note that the records in my posession cover the numbers 232 - 1153 (dates from 1906 - 1918, this first book contains summary details, number, length, action and weight). 1881 - 3300 (dates from 1925 - 1934) and 3301 - 5325 ( dates from 1934 - 1956).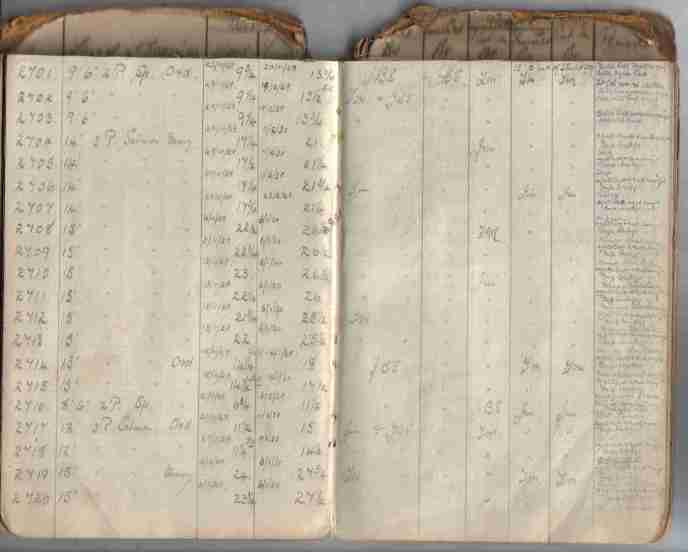 Grant the inventor of these rods and an record setting spey caster is an interesting chap, the following comes from the Carrbridge museum:
"Alexander Grant (who was known as BATTAN) was born at Battangorm, Carrbridge in 1856. He was the inventor of "The Grant Vibration Rod". A patent for this fishing rod was applied for in 1894 and was granted. The Application described the invention as "a non-slipping splice for fishing rods, golf club handles and other like articles." In 1896, Grant demonstrated his invention to the angling press of the day at Kingston-Upon-Thames. The rod design was unique. It was in 2, 3 and 4 sections. usually made of greenheart wood. Each section was joined to the other by overlapping splices, held in place by leather thonging. The invention took the angling world by storm. The constant vibrations of the wood throughout the rod made it possible to cast enormous distances with little effort. In an angling Competition, Grant achieved a world record cast of almost 55 yards.

In 1900, Grant, who was making his rods single-handed, could no longer cope with the demand and he sold the patent to Messrs Playfair of Aberdeen. From this time, he centred his efforts on his other passion, fiddle-making. He invented the "Rondello". This instrument had a distinctive disc shape, and was hollow throughout. The Rondello Fiddle can be seen at Inverness Museum. Alex began playing the violin at the age of 10. It is said that after his first violin lesson he refused to go back because the tone of the teacher's violin was so bad. Allowing for some exaggeration, this story accurately reflects Grant's interest in the sound quality of the instrument. After leaving school at the age of 8, he had a varied career as a ploughman, shepherd, draper, forester, grocer, butcher, gamekeeper, fisherman,
hairdresser and Fishing Tackle Merchant.

He learned the drapery trade in Wales but returned to Scotland when his health broke down. And it was while he was employed in forestry work at Cullen that he got interested in different qualities of wood. He had a passionate interest in what he called, "the rhythmic or vibratory qualities of wood". and he was pre-occupied with sound quality. These obsessions, passions and hobbies were to result in the invention of The Vibrating Rod for anglers and an instrument which he named the Rondello.

Grant, who was a close friend of Scott Skinner, composer and exponent of Strathspey playing, was leader for almost 40 years of The Highland Strathspey & Reel Society which was founded in 1903. In fact, "Battan" Grant was known as the Scott Skinner of the Highlands. The earliest Grant fiddle known dates from 1896 Several of Grant's fiddles and the Rondello are in the collection of Inverness Museum and Art Gallery"
You can buy Grant Vibrations on ebay and other more traditional auctions - they tend to go for a reasonable (ie afforable) price - but as more becomes known about them by present day Spey casters, they are bound to go up in value (well I hope so, I have a stack of them bought a few years ago when they never cost more than £20). Should you wish you can also get new ones made up by http://www.clanrods.com/greenheart.htm
More can be found out about Grant, the Vibration rod and his casting in the fine book "Fine and Far off" by Jock Scott published in 1952.
Also an indepth account of Alexander Grant, his casting and his rod can be found here: http://www.fishandfly.com/articles/20060902_10
Playfair's Grant Vibration booklet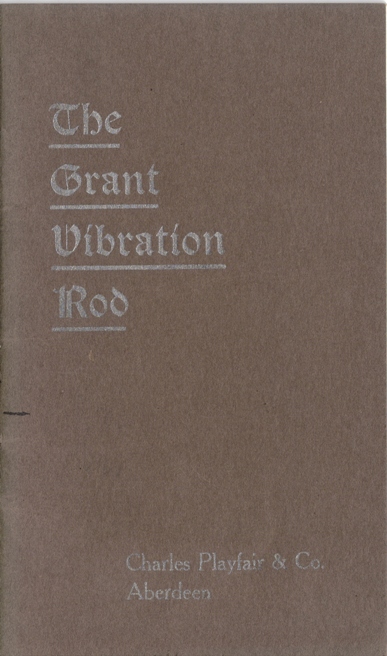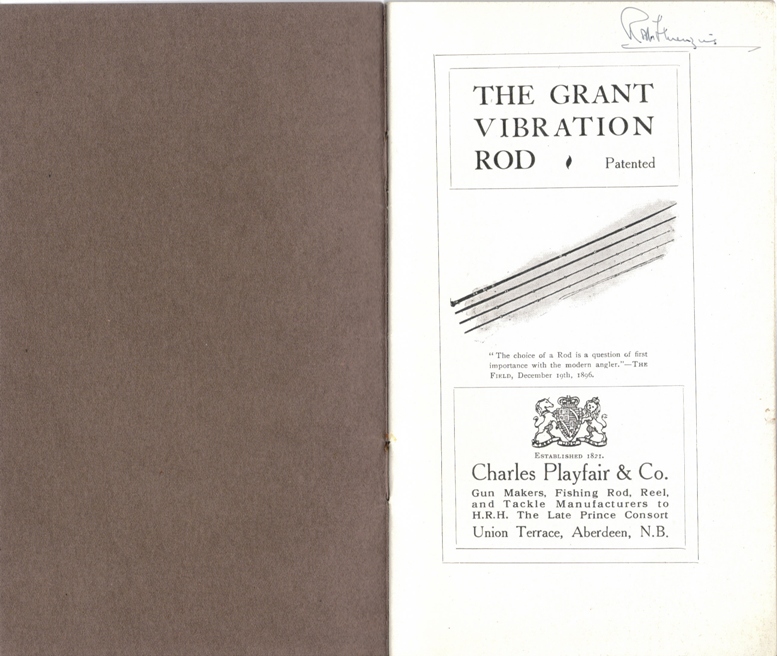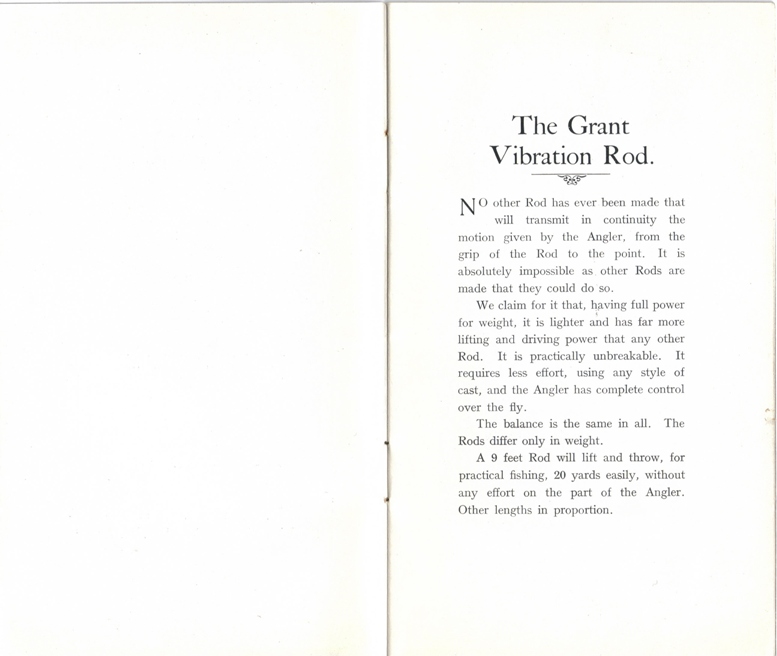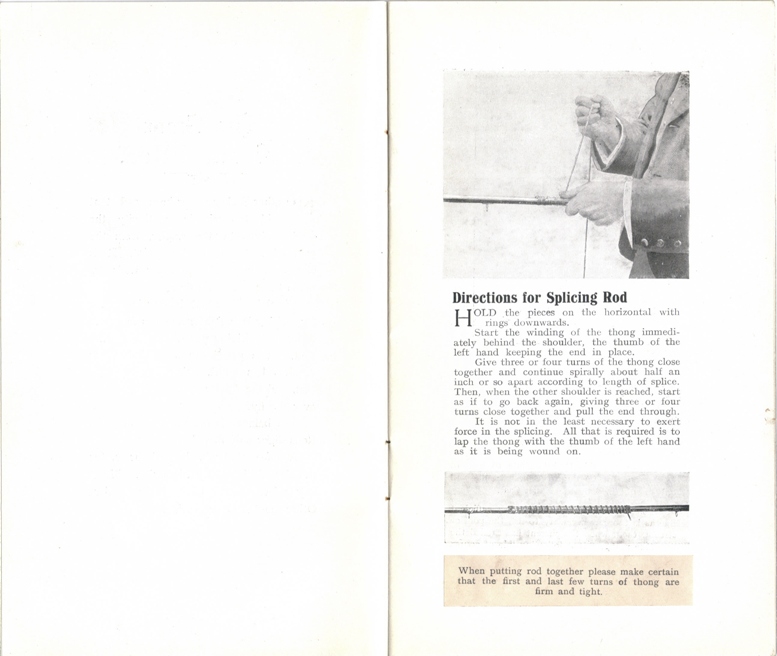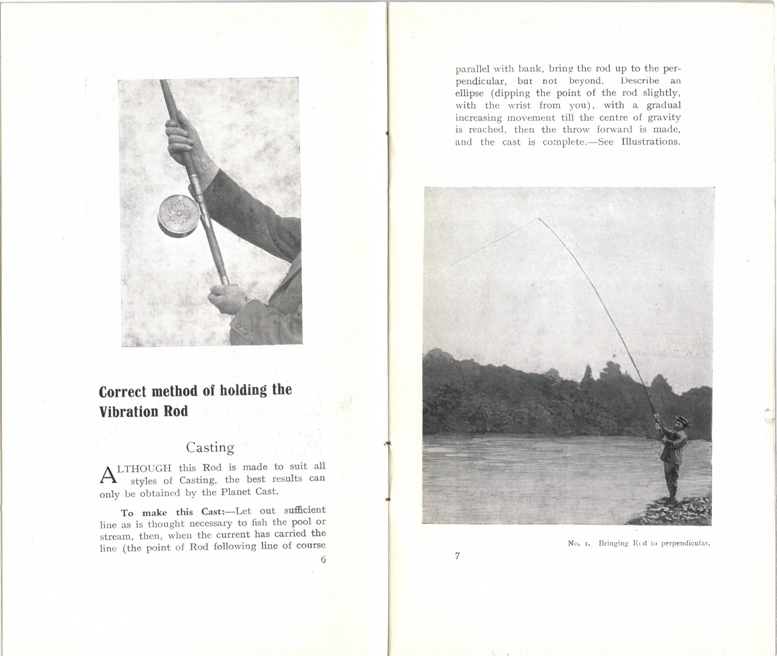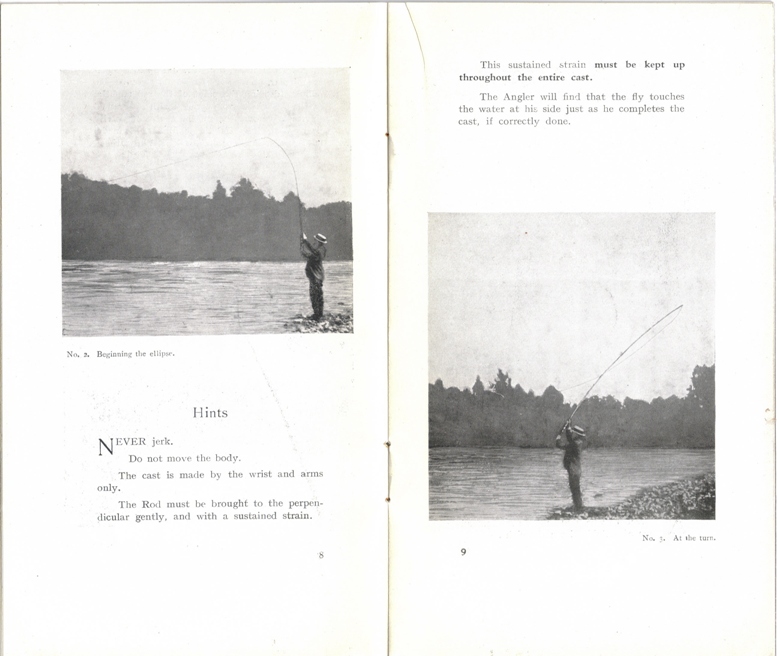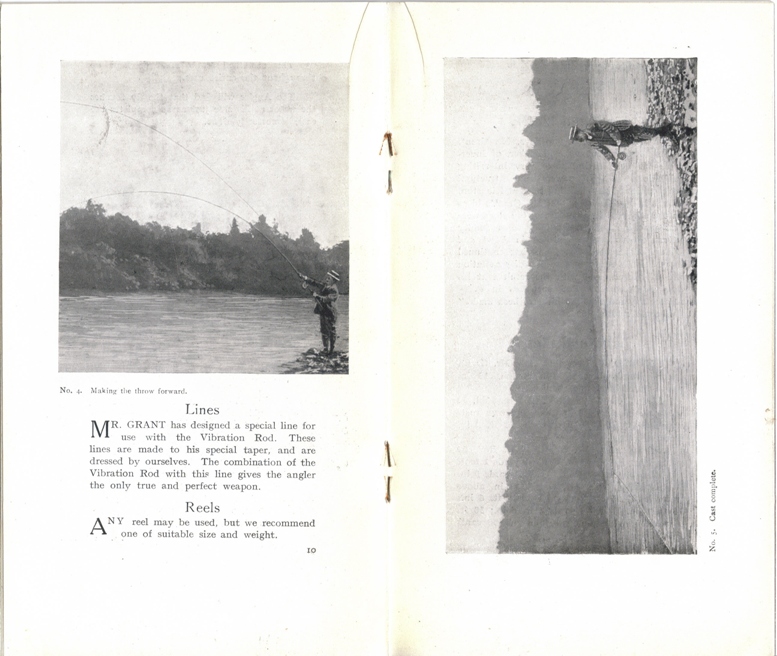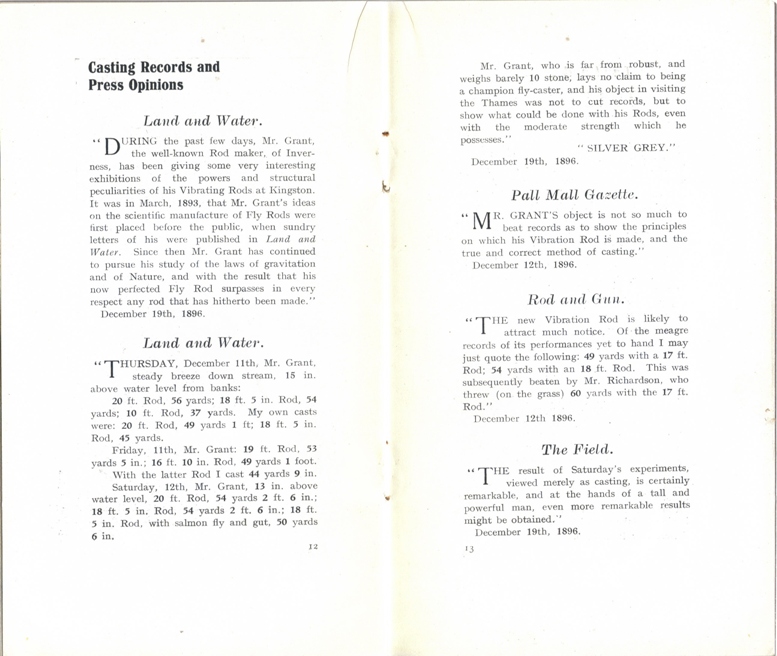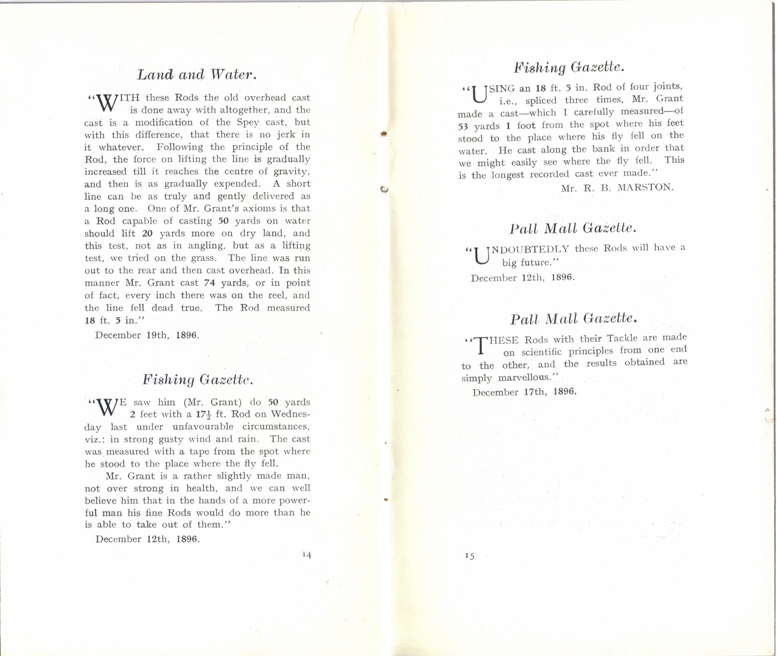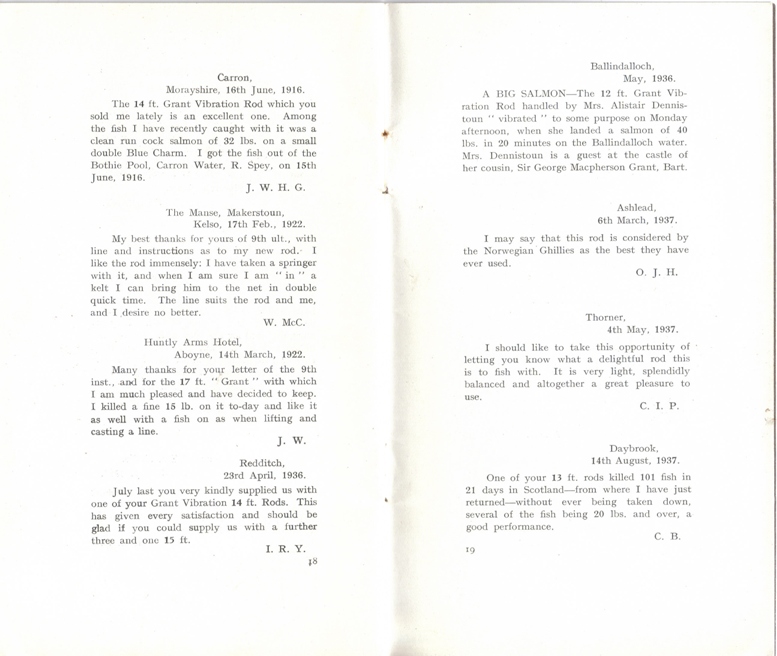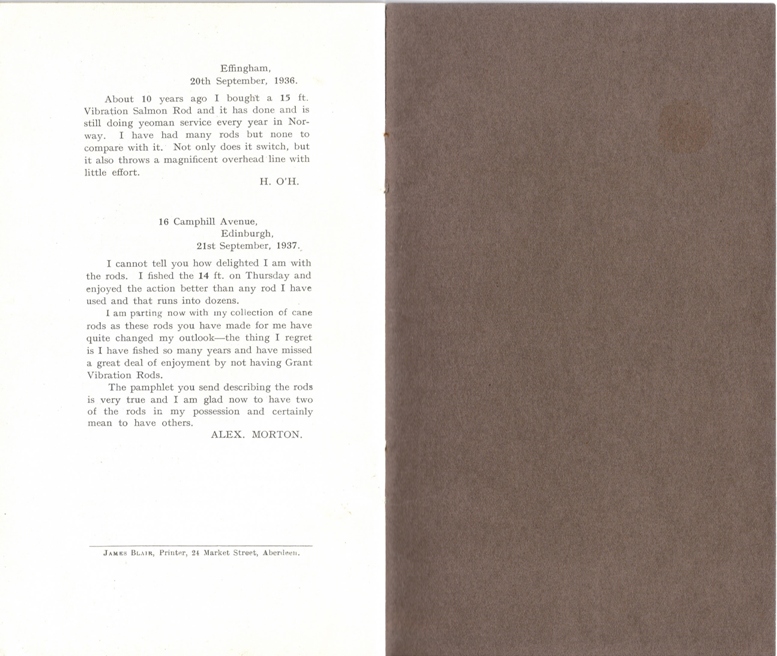 Grant Vibration Rod Plans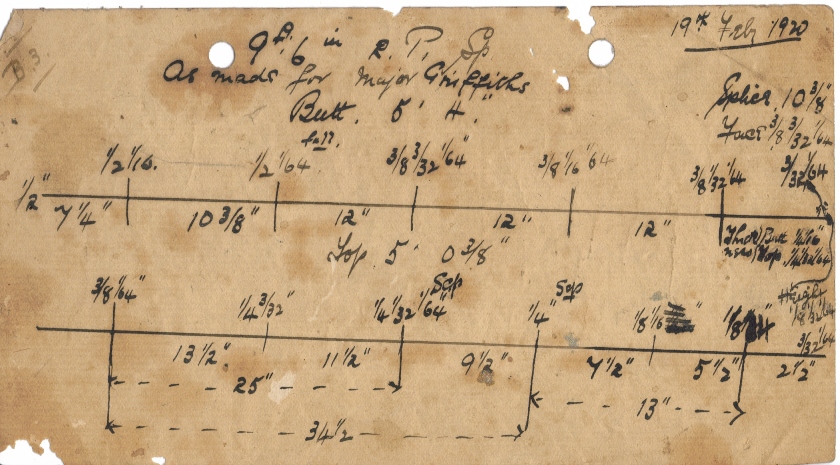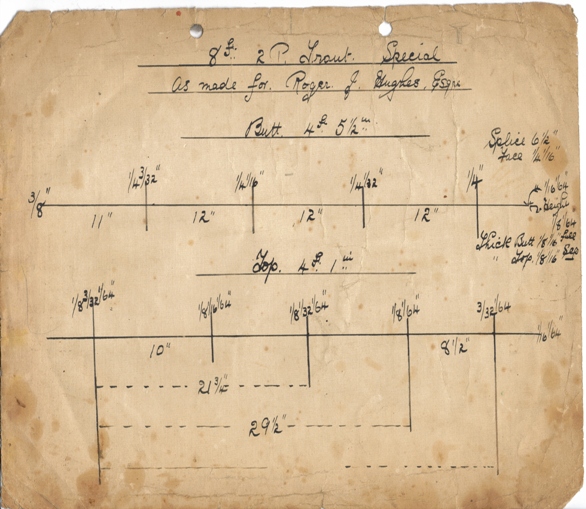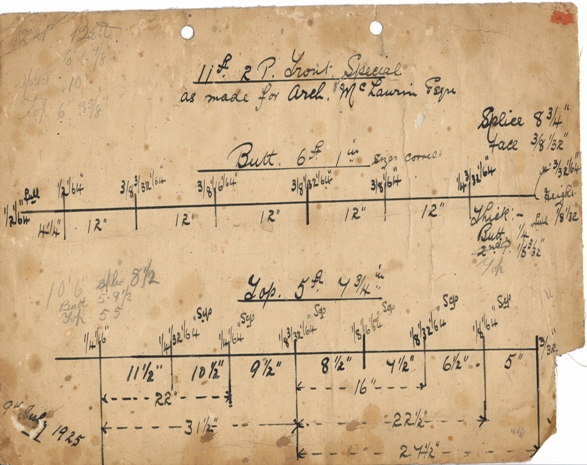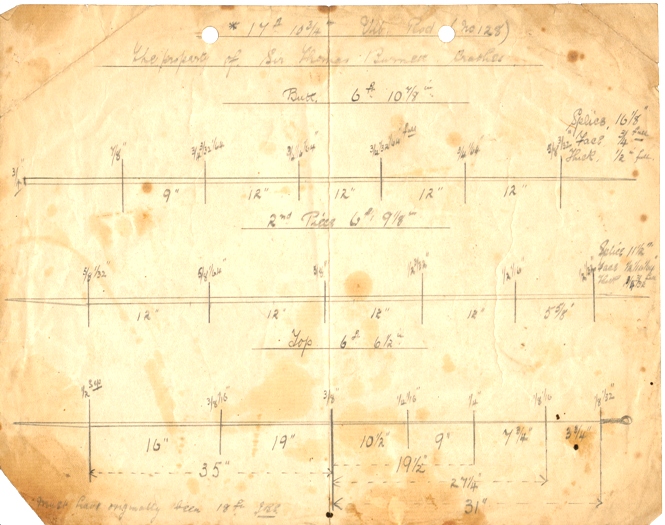 Some years ago I was given a bundle of papers relating to the designs of various Grant Vibration rods - they were for the non-standard rods "the specials", the above four are a random sample - the date range of the collection is from roughly 1920 - 1960, some of the documents are signed by Jim Somers, who was a rod builder with Playfairs prior to setting up on his own.

Playfairs Hook Scale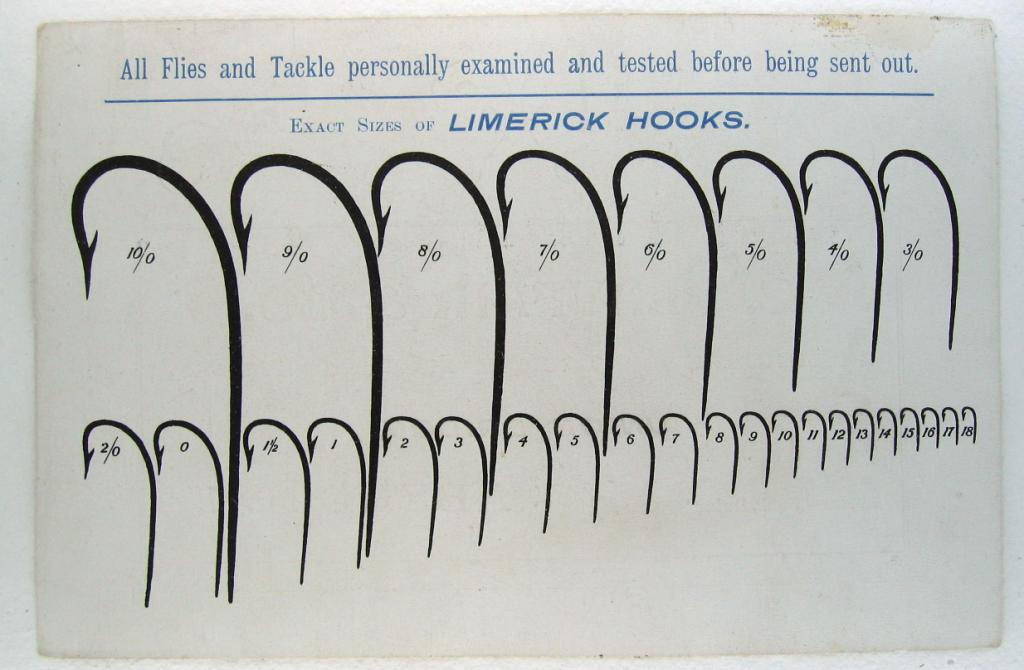 The back of a Playfair Hook Scale, see below for the front!