The page for fishy things do not fall into the other categories, it includes
NEW - Contents of an old Scottish wallet

Fly Plates from old catalogues:
Alex Martin 1920's, 1930's and 1950's
John Dickson 1950's
Hardy Bros. 1894, 1911, 1913, 1917, 1951 & 1958
Wyers Frers 1910's
Malloch 1912, 1938 and a plate from "Where to fish"
Farlow 1910, 1920's & 1937
Forrest of Kelso 1920's
Garden of Aberdeen 1917

Weird and wonderful flies

Sample Spey flies from JAJ Munro of Aberlour-on-Spey

Graham of Inverness list of salmon flies from 1912
Millwards of Redditch list of salmon flies from 1911
Westley Richards 1920's catalogue scans - salmon flies and carriers
Some vintage fly tying material from William Brown
Unidentified Flies
Pryce Tannat flies from 1952 and the evolution of the salmon fly
PD Malloch on how to tie Salmon Flies
Ernest Crosfield on how to tie Salmon Fllies
William Brown on how to tie Spey Flies - Now moved to the Spey Fly page
A letter about production of Mixed Wing Salmon Flies
A trip to Don and Dee 1884
William Murdoch's writtings from the Fishing Gazette
Fishing Gazette 23rd Feb, 1884 - The Dee (Aberdeenshire) Flies (Second Article)

Fishing Gazette, 1st March 1884 - The Dee (Aberdeenshire) Flies - (Third article)

The Fishing Gazette, 8th March 1884, The Dee (Aberdeenshire) Flies (Last Article)

The Don (Aberdeenshire) William Murdoch in 1884

15th October 1887 - Scotch Waters - Hints - Flies, Baits, &c.- By William Murdoch

22nd October 1887 - Aberdeenshire Rivers - By William Murdoch

-

Hints - Flies, Baits, &c.

5th May 1886 - Salmon and Trout-Fishing in the Highlands of Scotland - XVI - The Ythan - Part 1

22nd May 1886 - Salmon and Trout-Fishing in the Highlands of Scotland - XVII - The Ythan - Part 2

29th May 1886 - Salmon and Trout-Fishing in the Highlands of Scotland - XVIII - The Ythan - Part 3
A July Salmon - an early example of the use of a motor car for fishing the Dee - GM Mackay - Fishing Gazette 29th July 1905
Trouting in July on the Don - GM Mackay - Fishing Gazette 22nd July 1905
P.D Malloch - An appreciation (this has been moved to the PD Malloch page)
Hugh Snowie - a visit to his shop
Frank Farquharson - Good tale of a famous Dee fisherman

Quotes from the Scotsman Newspaper

Flies from a very old fly wallet from the North East of Scotland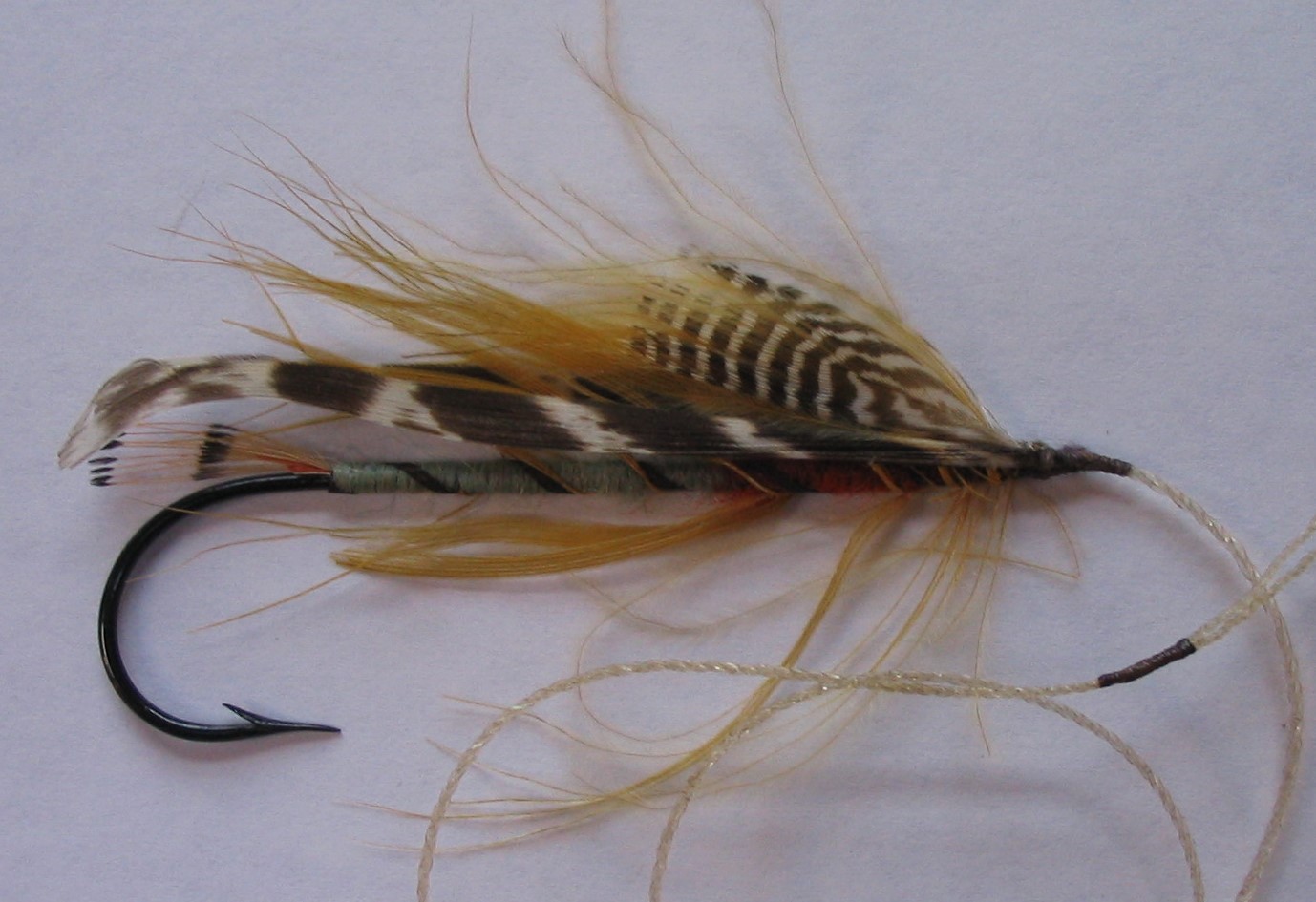 Here is an unusual one - I think I have a similar one in a state of distress



The Claw Fly?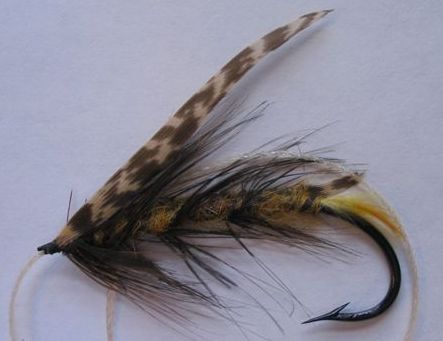 Dee Fly 1?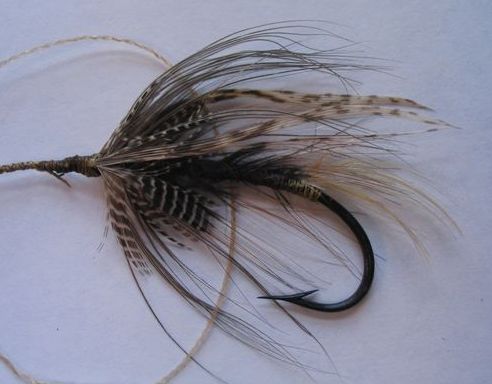 Dee Fly 2?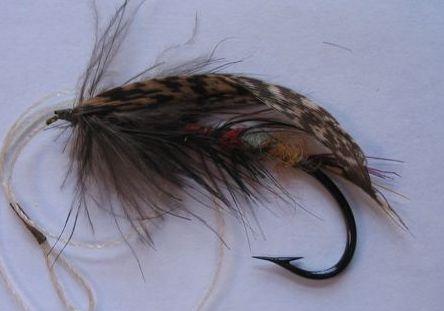 Dee Fly 3?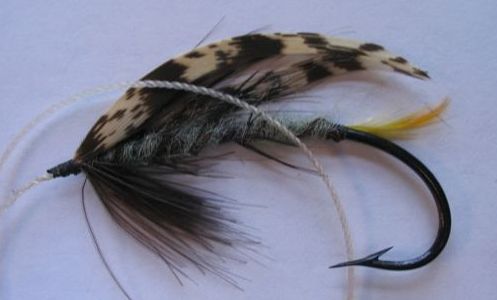 Dee Fly 4?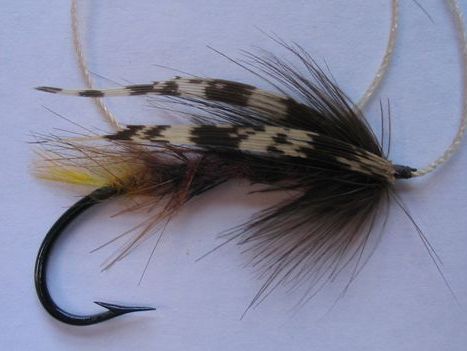 Dee Fly 5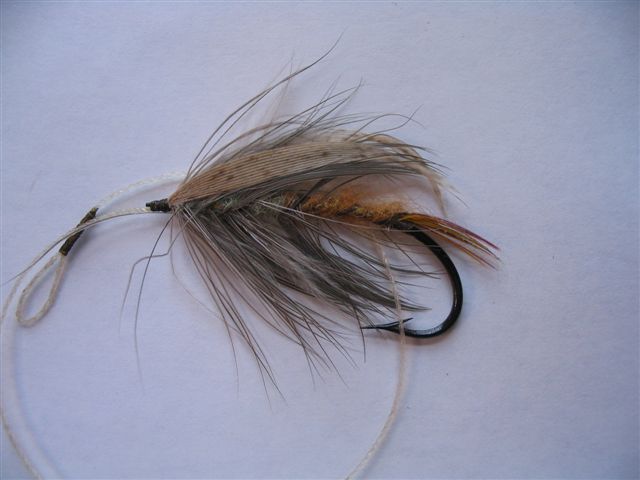 Dee Fly 6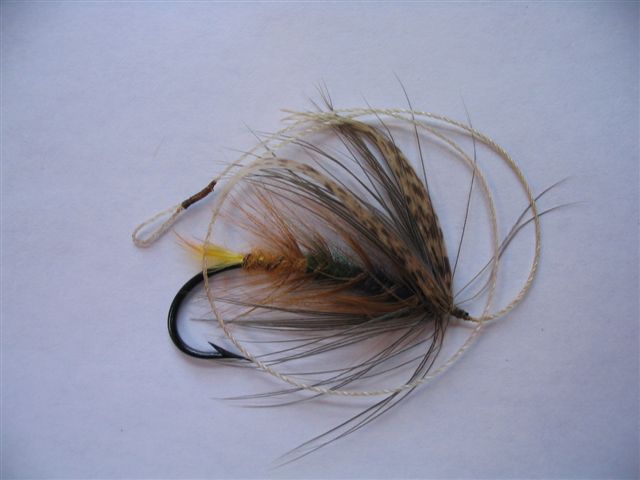 Dee Fly 7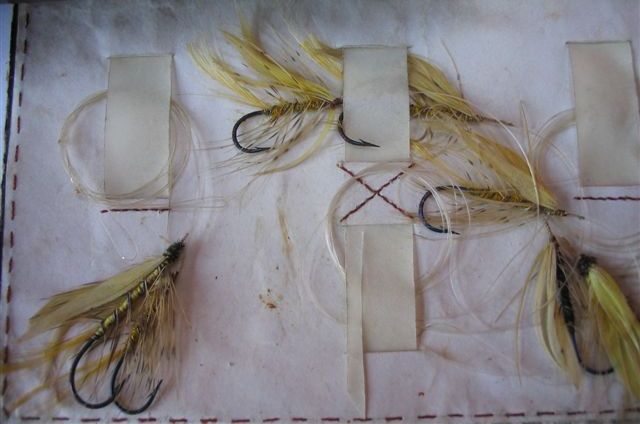 The Yellow group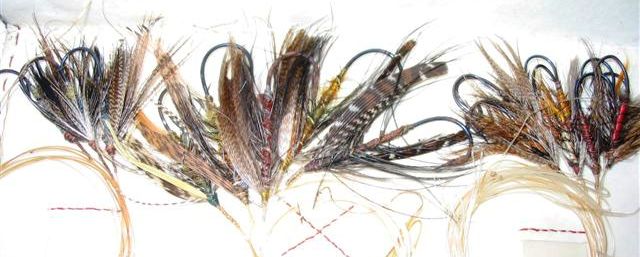 Spey group?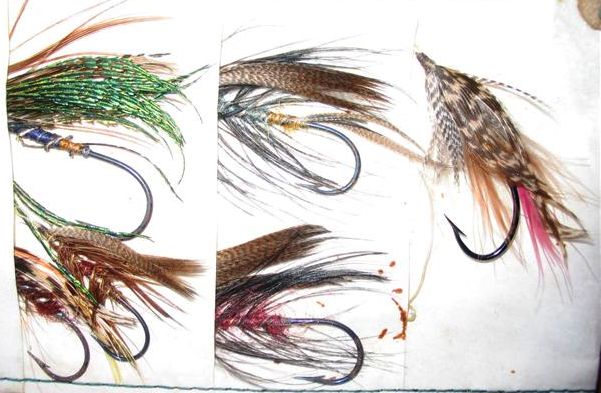 Group 3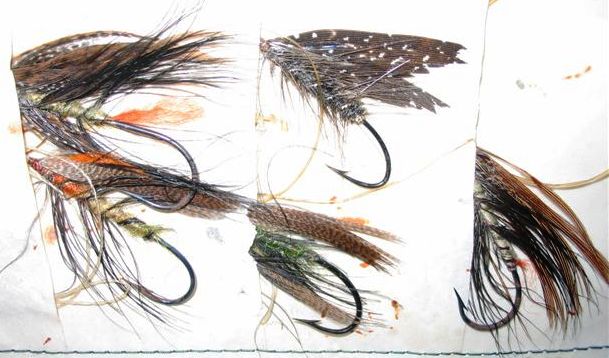 Group 4


Fly Plates from Alex Martin 1920's, 1930's and 1950's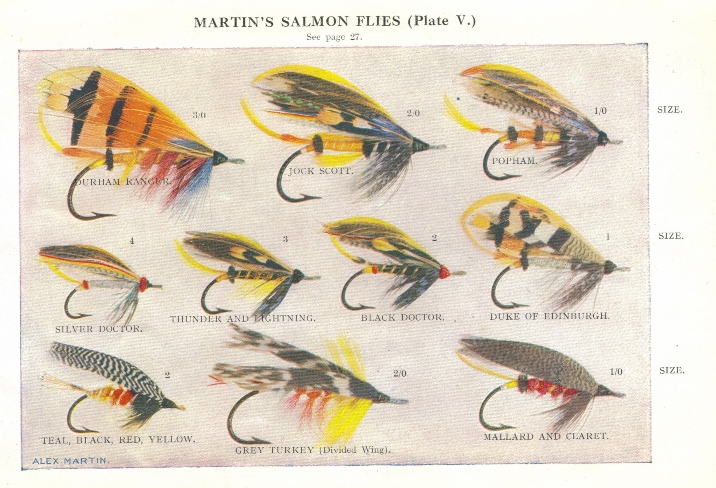 Alex Martin 1920's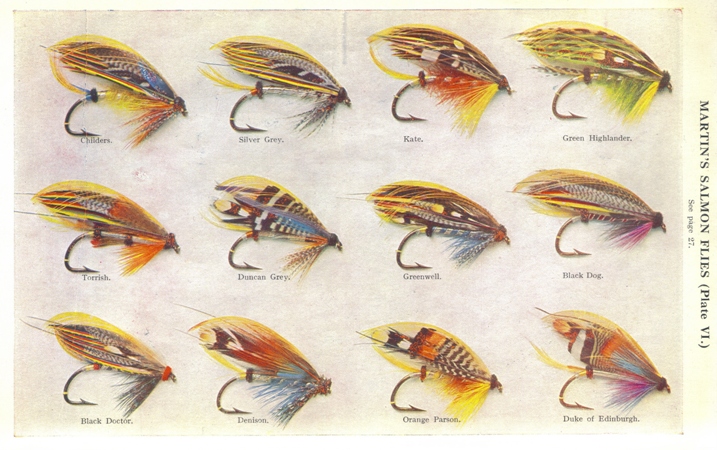 Alex Martin 1920's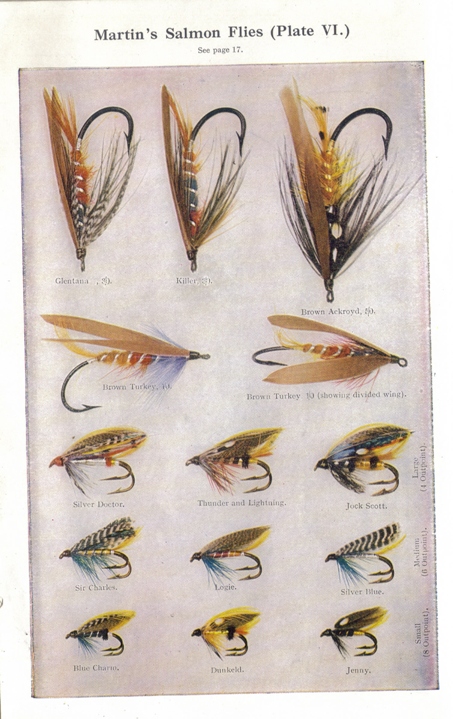 Alex Martin 1930's

Alex Martin 1930's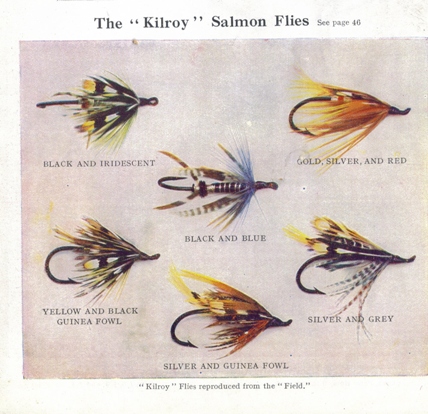 Alex Matrin 1930's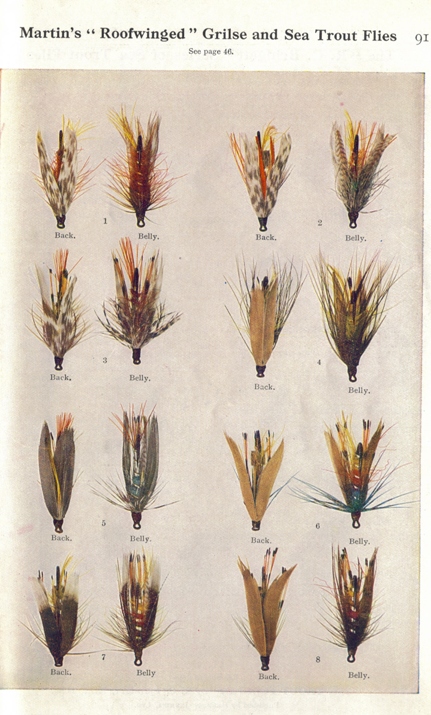 Alex Martin 1930's

Alex Martin 1930s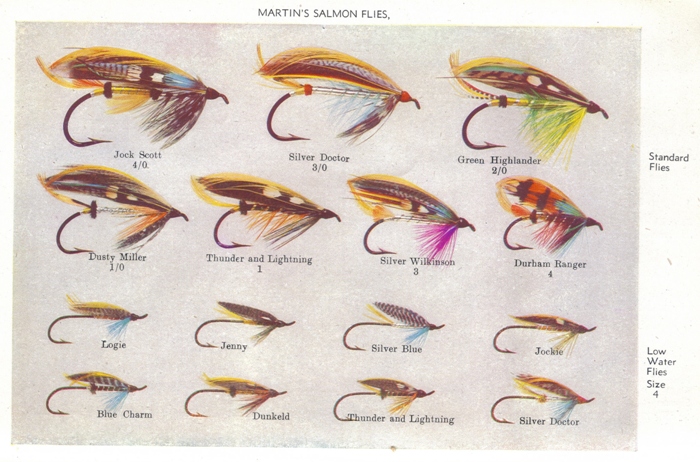 Alex Martin 1930's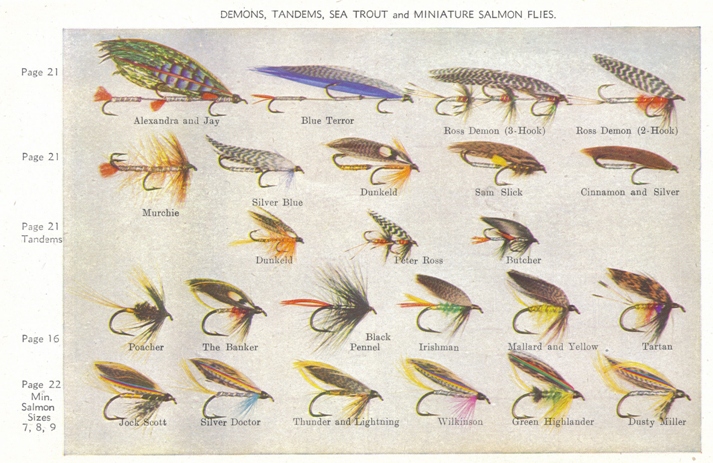 Alex Martin 1930's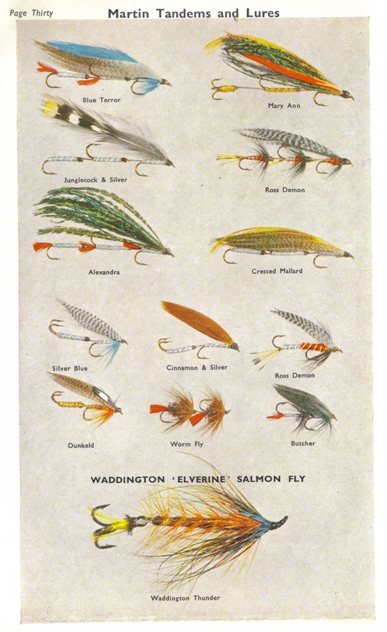 Alex Martin 1950's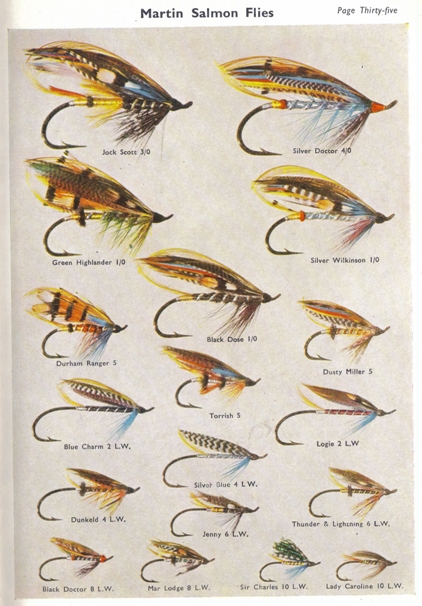 Alex Martin 1950's
John Dickson Fly Plate
John Dickson 1940's (?)
Hardy Plates 1894 & 1911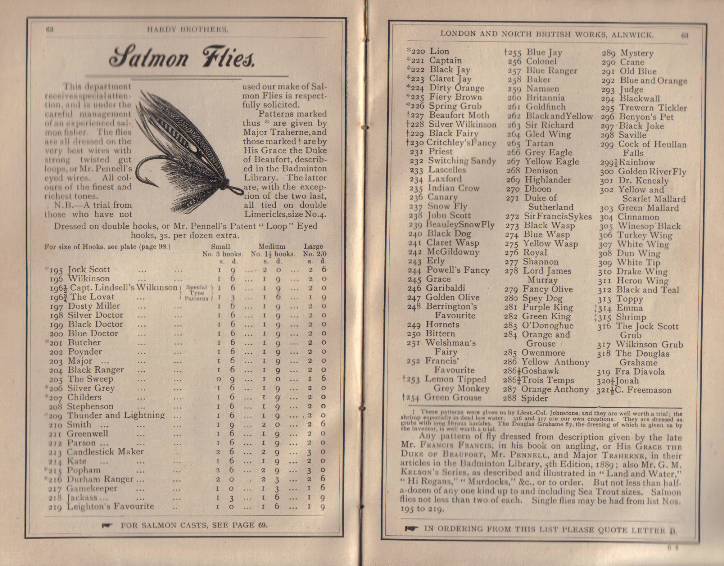 Hardy 1894 - Note there is a bigger picture of the Ballina Dressings here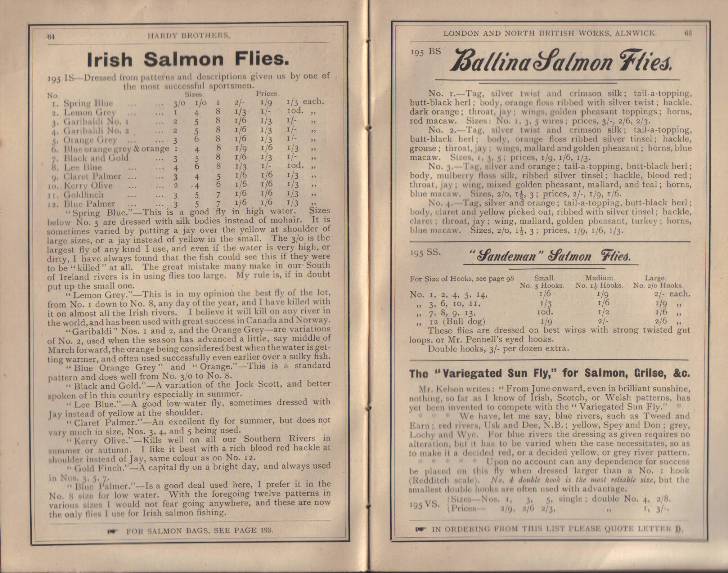 The Patterns for the Sandeman Flies can be found here
Hardy 1894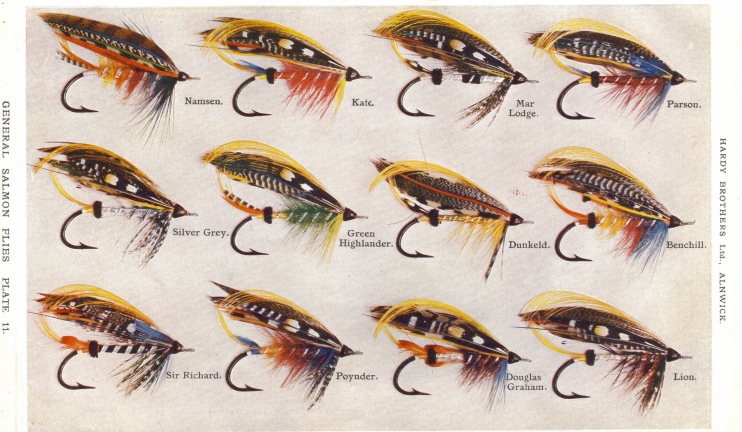 Hardy 1911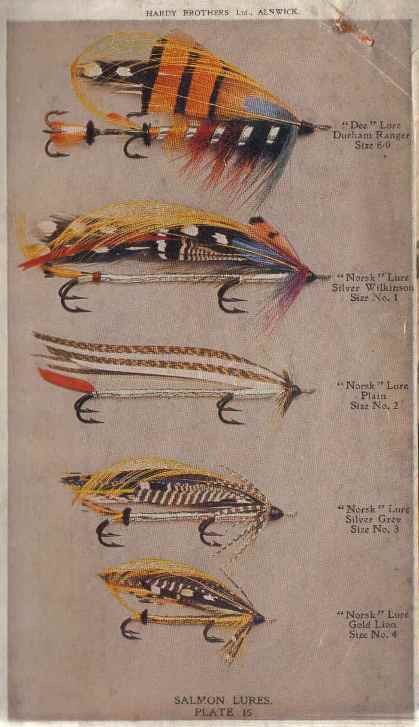 Hardy 1913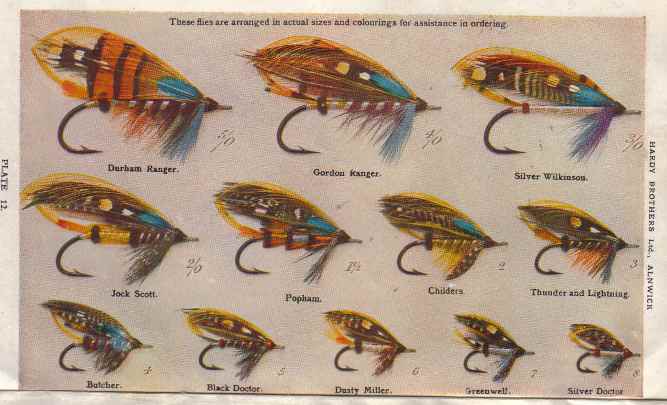 Hardy 1917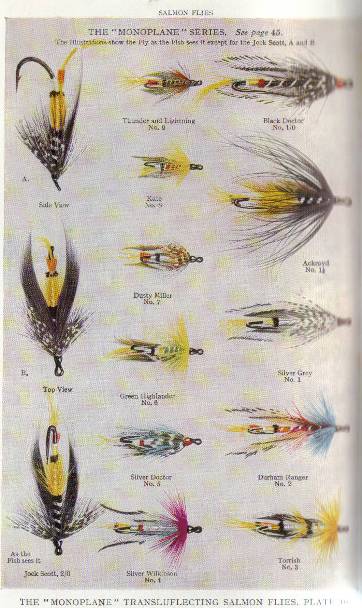 Hardy 1951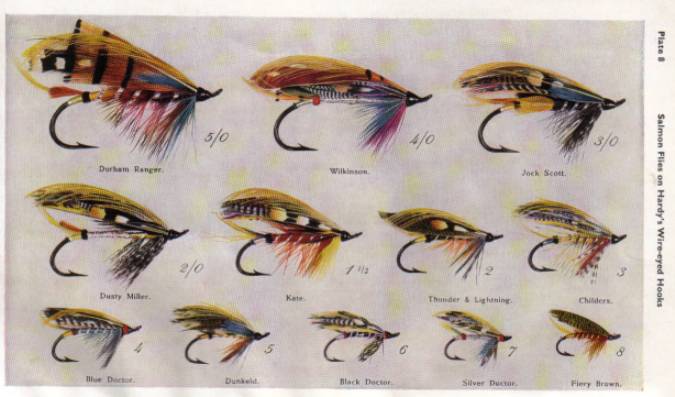 Hardy 1958
Oh la la a French Fly Plate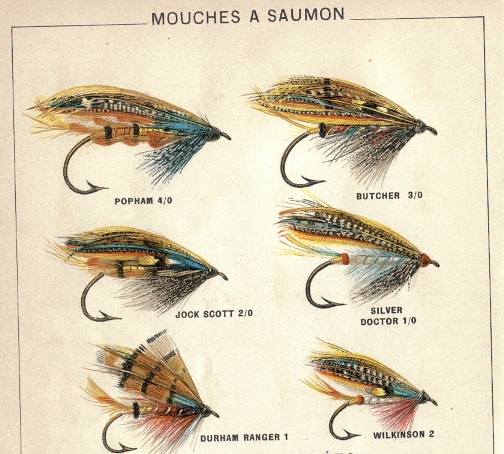 1910's Wyers Freres Catalogue
Malloch of Perth 1912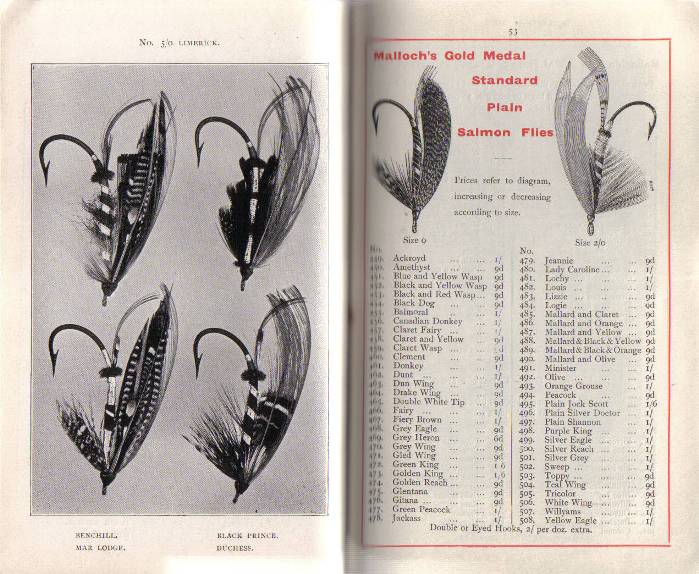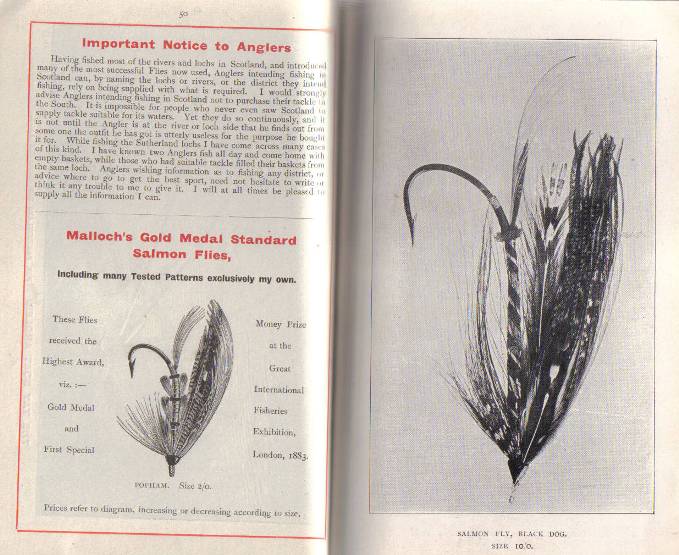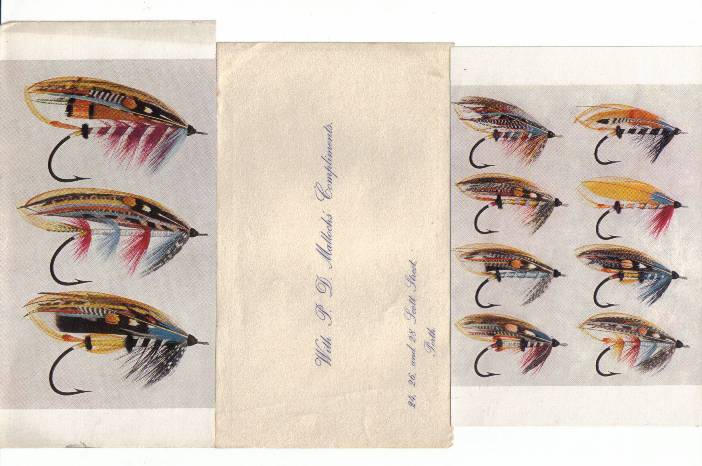 Loosely inserted in a 1938 Malloch catalogue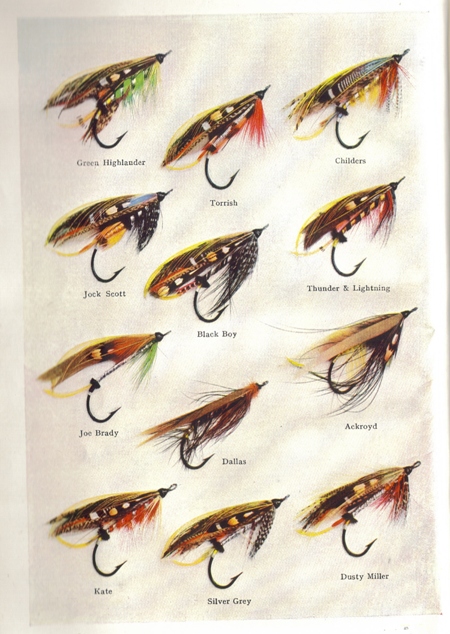 Plate of Malloch's flies for Scotland from Where to Fish, 1932
Fly Plates from Farlow 1910, 1920 & 1937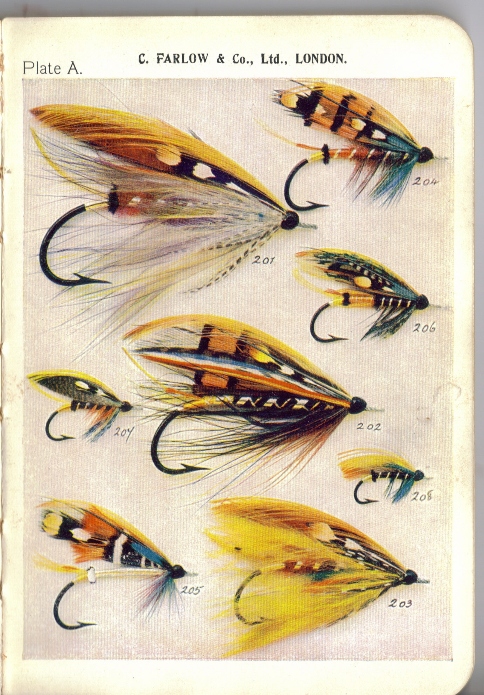 1910
201 Grey Eagle, 202 Delfur Fancy, 203 Yellow Eagle, 204 Durham Ranger, 205 Duke of Edinburgh, 206 Jock Scott, 207 Thunder & Lightning, 208 Sun Fly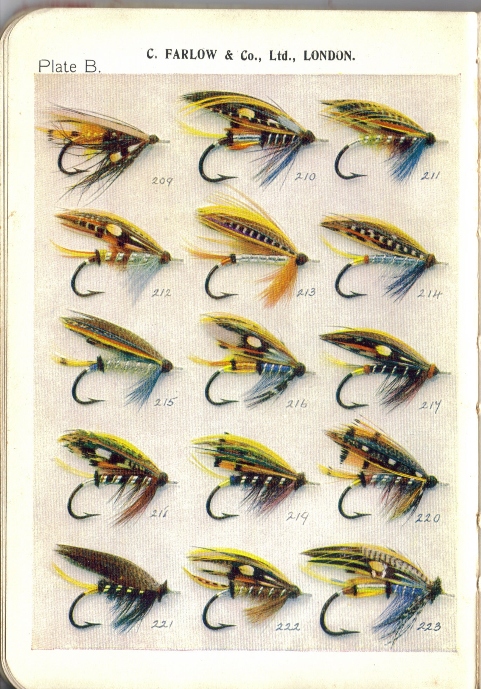 1910
209 Akroyd, 210 Baron, 211 Bell Irving, 212 Benchill, 213 BP, 214 Blue Doctor, 215 Blue & Grey, 216 Blue Jock, 217 Black Doctor, 218 Black Dog, 219 Black Dose, 220 Butcher, 221 Black Fairy, 222 Brown Dog, 223 Bull Dog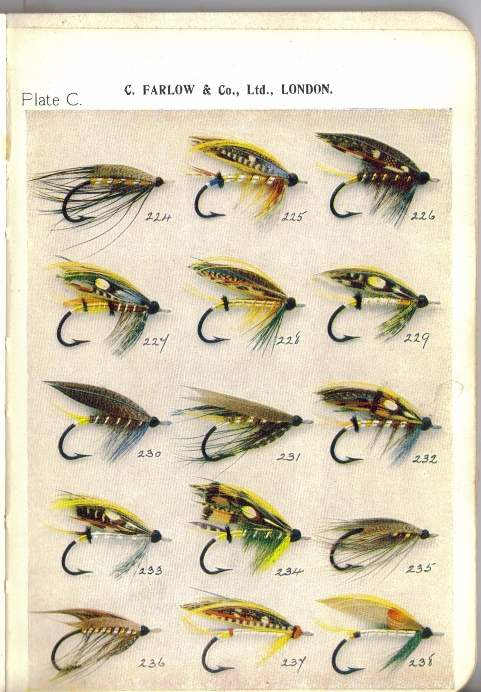 1910
224 Carron, 225 Childers, 226 Claret Jay, 227 Claret Jock Scott, 228 Dunkeld, 229 Dusty Miller, 230 Fiery Brown, 231 Glentana, 232 Gordon, 233 Greenwell, 234 Green Highlander, 235 Grey Heron, 236 Green King, 237 Helmsdale Doctor, 238 Joe Brady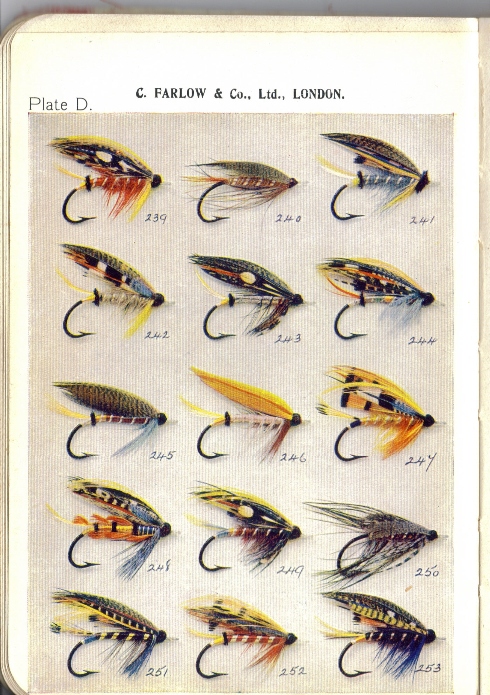 1910
239 Kate, 240 Lady Caroline, 241 Lee Blue, 242 Lemmon & Grey, 243 Lion, 244 Lizzie, 245 Logie, 246 Mystery, 247 Parson, 248 Popham, 249 Poynder, 250 Purple King, 251 Rogan's Claret, 252 Red Rpver, 253 Sapphire Blue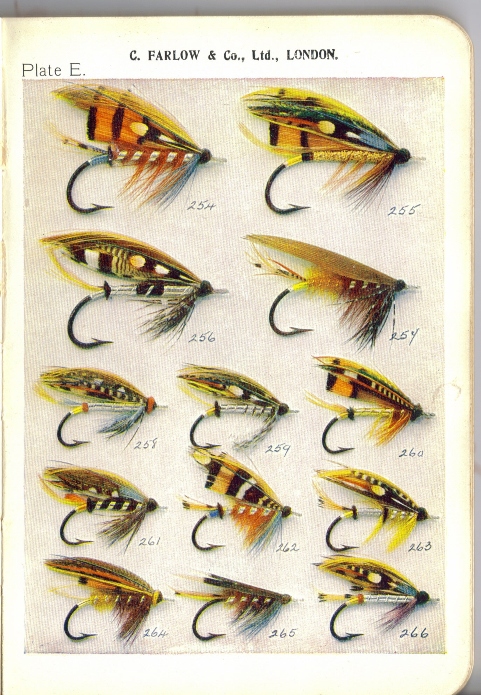 1910
254 Thorndyke, 255 Gold Ranger, 256 Mar Lodge, 257 Claret & Yello, 258 Silver Doctor, 259 Silver Grey, 260 Sir Herbert, 261 Sir Richard, 262 Stevenson, 263 Torrish, 264 Wasp, 265 White Tip, 266 Wilkinson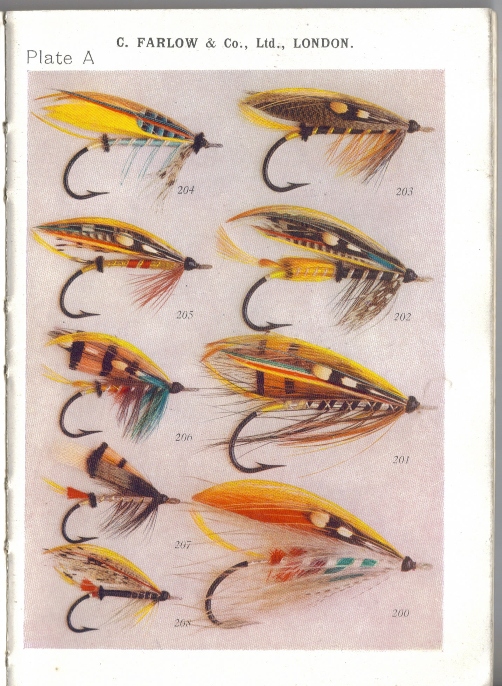 1920
200 Grey Eagle, 201 Delfur Fancy, 202 Jock Scott, 203 Thunder and Lightning, 204 Blue Limerick, 205 Frederic Morgan, 206 Durham Ranger, 207 Prosser's Black, 208 Little Inky Boy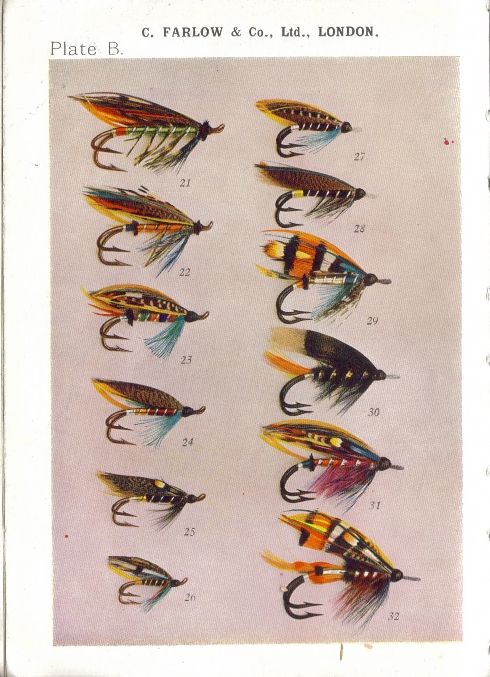 1920
21 Green Grouse, 22 Orange Grouse, 23 Lizzie, 24 Logie, 25 Jeannie, 26 Black Silk, 27 Blue Charm, 28 Black Spean, 29 Dandy, 30 Black Eagle, 31 De Winton, 32 Douglas Graham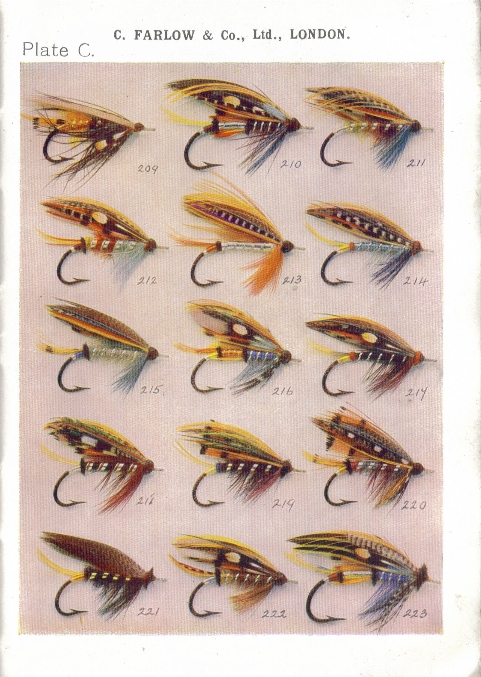 1920
209 Akroyd, 210 Baron, 211 Bell Irving, 212 Benchill, 213 BP, 214 Blue Doctor, 215 Blue & Grey, 216 Blue Jock Scott, 217 Black Doctor, 218 Black Dog, 219 Black Dose, 220 Butcher, 221 Black Fairy, 222 Brown Dog, 223 Bull Dog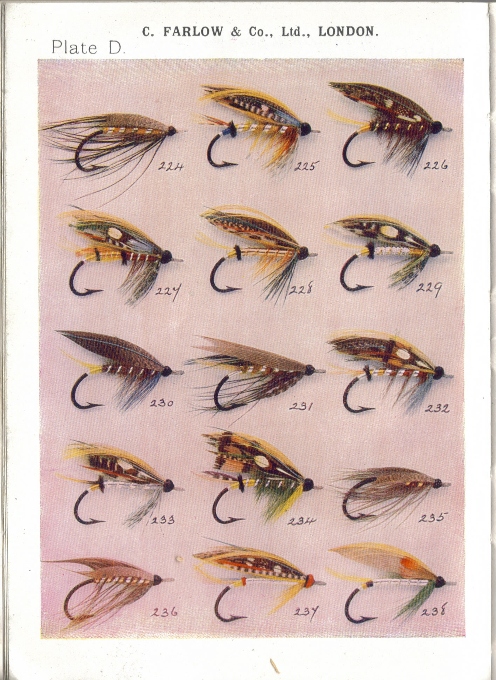 1920
224 Carron, 225 Childers, 226 Claret Jay, 227 Claret Jock Scott, 228 Dunkeld, 229 Dusty Miller, 230 Fiery Brown, 231 Glentanar, 232 Gordon, 233 Geenwell, 234 Green Highlander, 235 Grey Heron, 236 Green King, 237 Helmsdale Doctor, 238 Joe Brady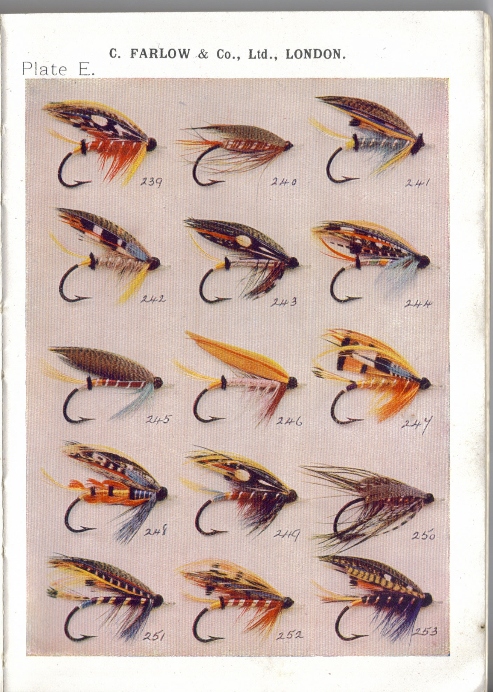 1920
239 Kate, 240 Lady Caroline, 241 Lee Blue, 242 Lemon & Grey, 243 Lion, 244 Lizzie, 245 Logie, 246 Mystery, 247 Parson, 248 Popham, 249 Poynder, 250 Purple King, 251 Rogan's Claret, 252 Red Rover, 253 Sapphire Blue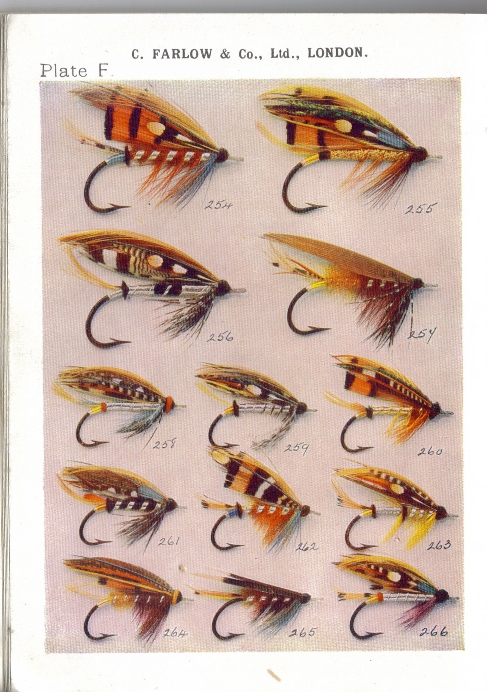 1920
254 Thorndyke, 255 Gold Ranger, 256 Mar Lodge, 257 Claret & Yellow, 258 Silver Doctor, 259 Silver Grey, 260 Sir Herbert, 261 Sir Richard, 262 Stevenson, 263 Torrish, 264 , 265 White Tip, 266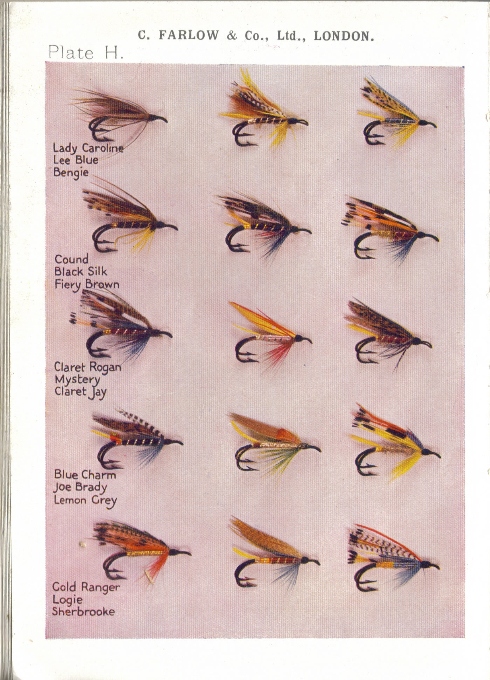 1920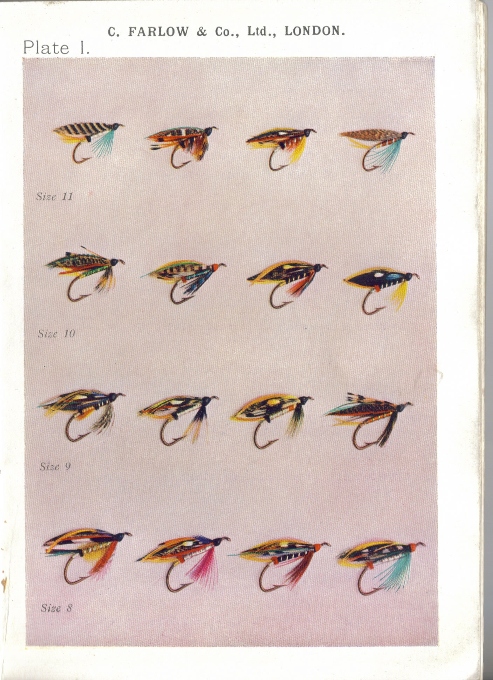 1920
Top Row: Silver Blue, Butcher, Kate, Logie; Second Row: Green Grouse, Blue Doctor, Thunder & Lightning, Mitchell's Fancy; Third Row: Jock Scott, Silver Grey, Dusty Miller, Orange Grouse; Bottom Row: Childers, Wilkinson, Black Doctor, Silver Doctor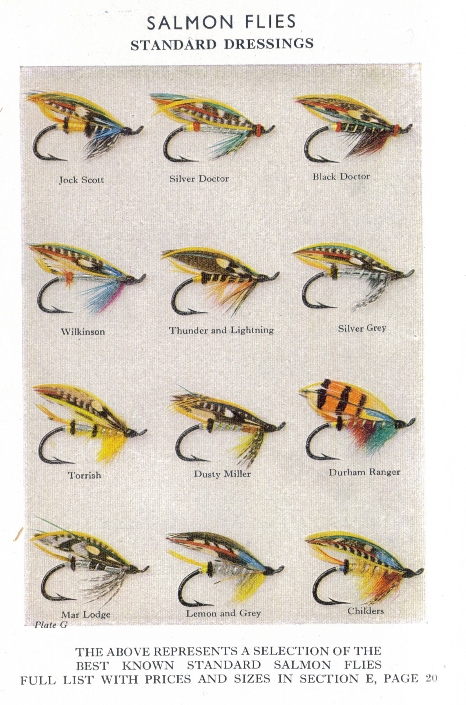 1937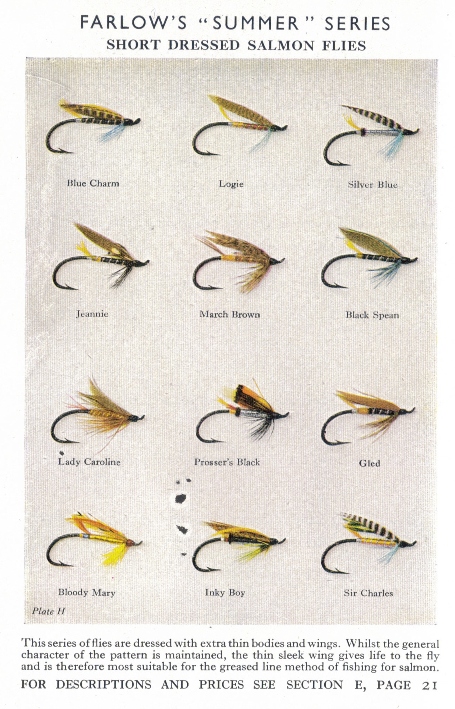 1937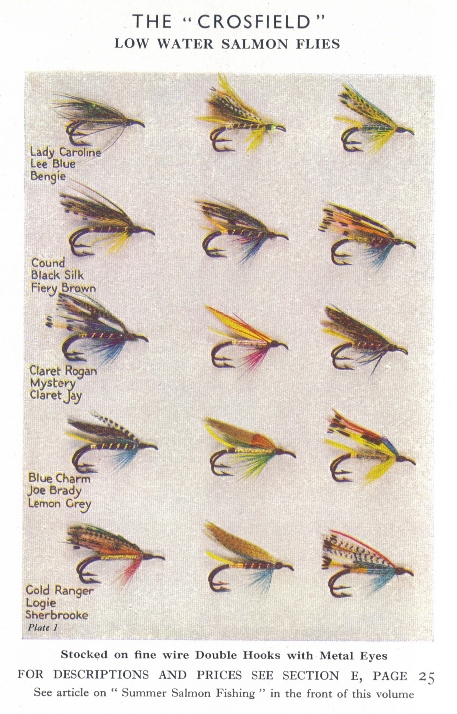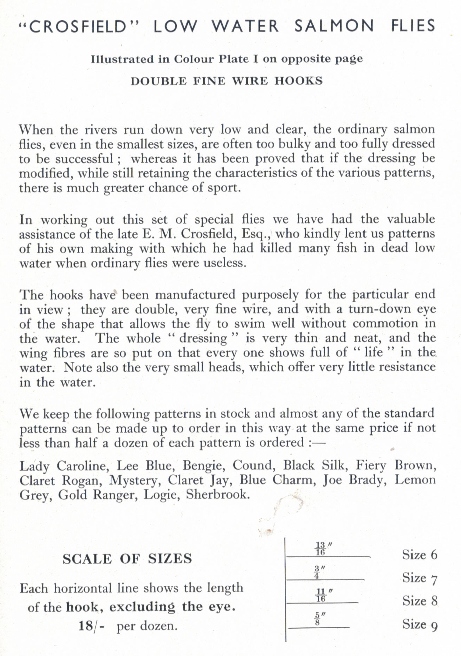 1937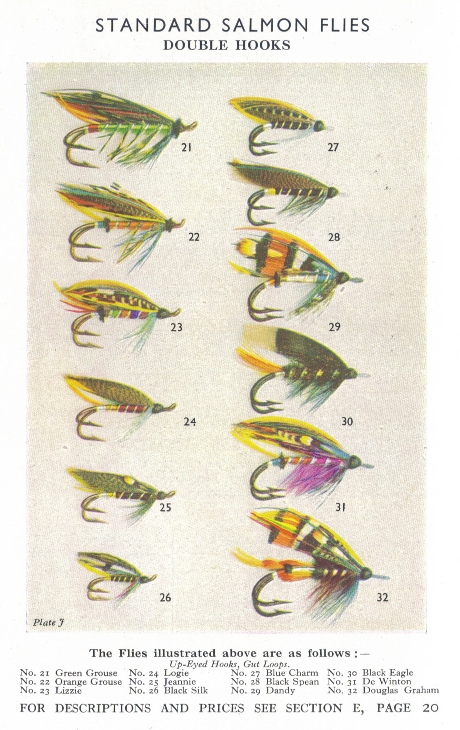 1937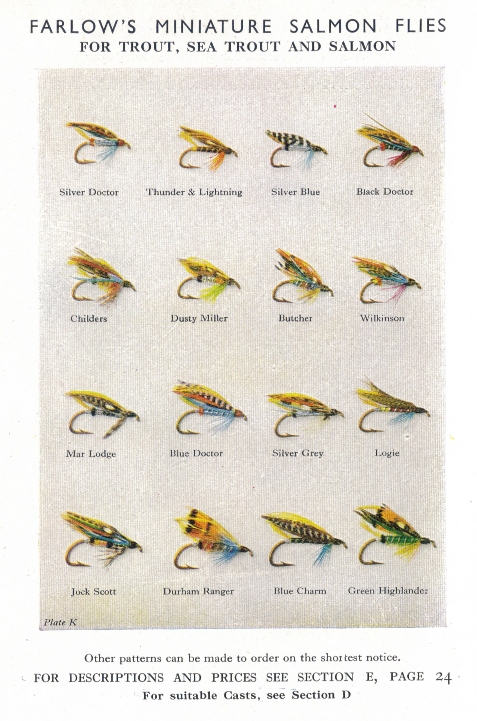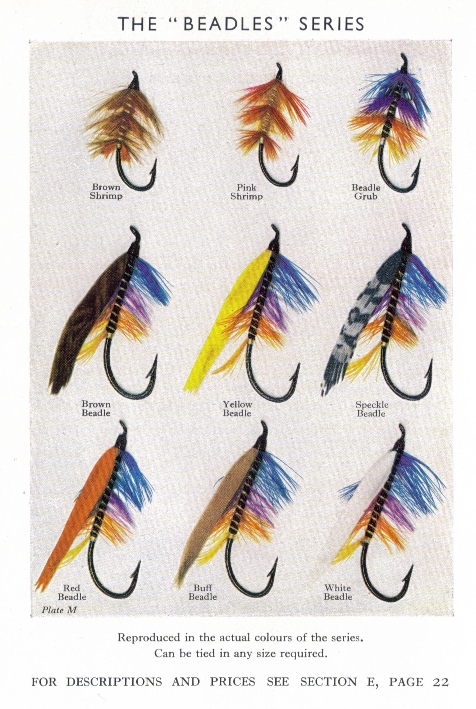 See also Not Dee flies for examples of these
1937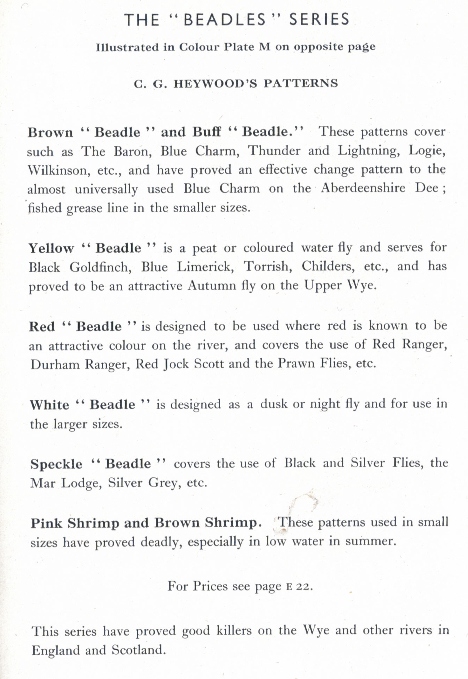 1937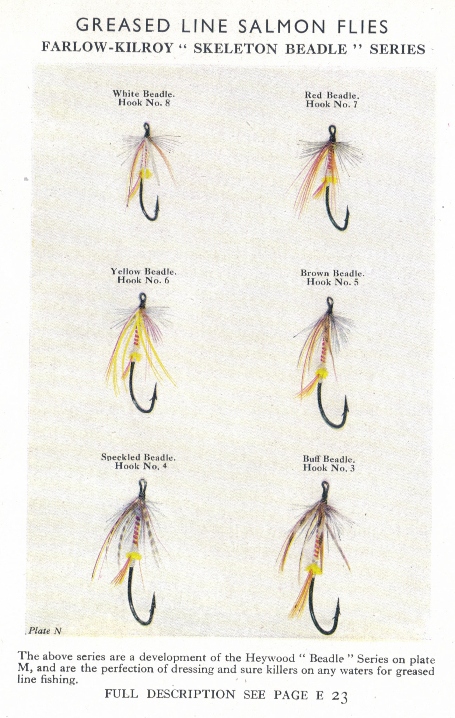 1937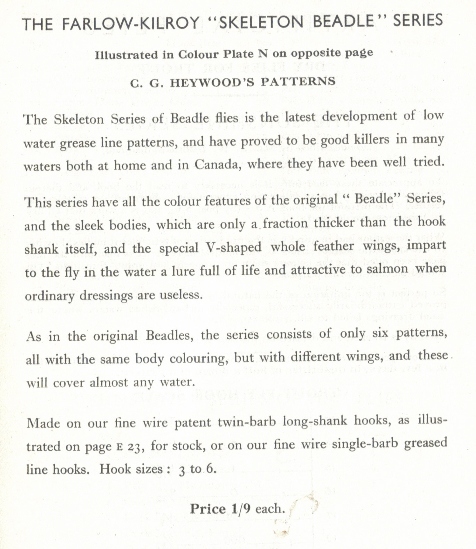 1937
Fly plates from Forrest of Kelso catalogue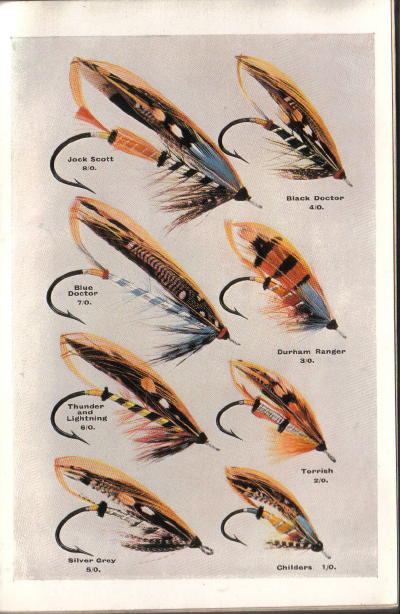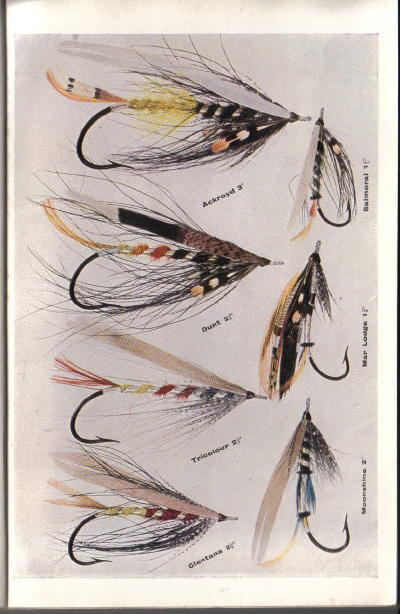 Fly Plate from Garden of Aberdeen 1917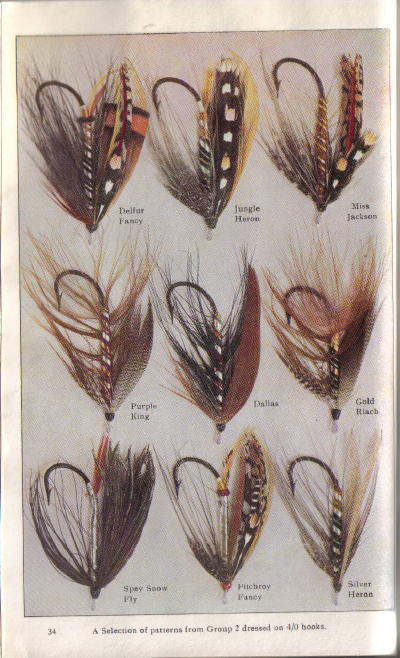 I like the Spey Snow fly

Weird and Wonderful flies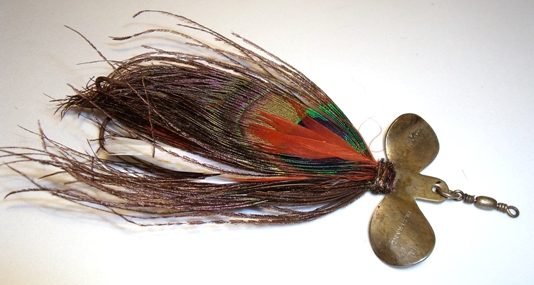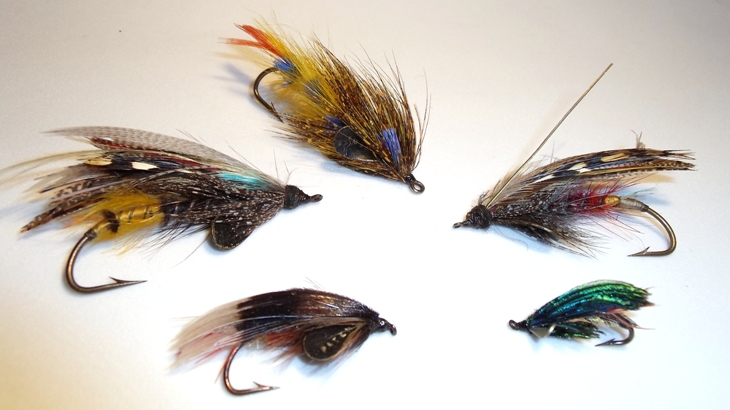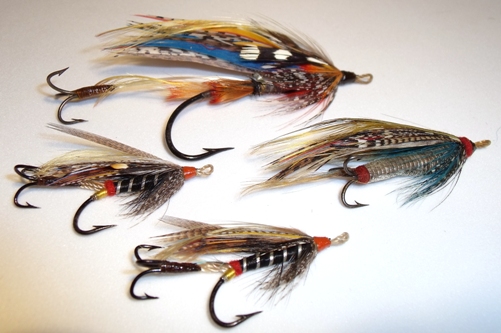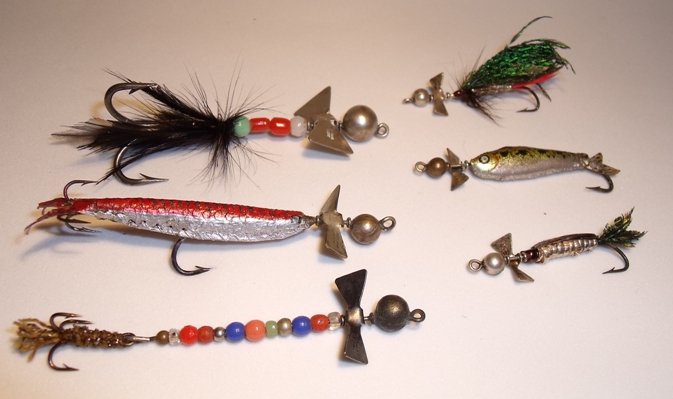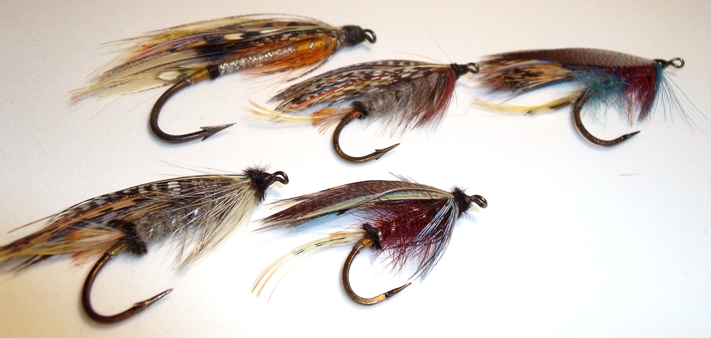 Below, sample Spey flies from JAJ Munro probably around 1920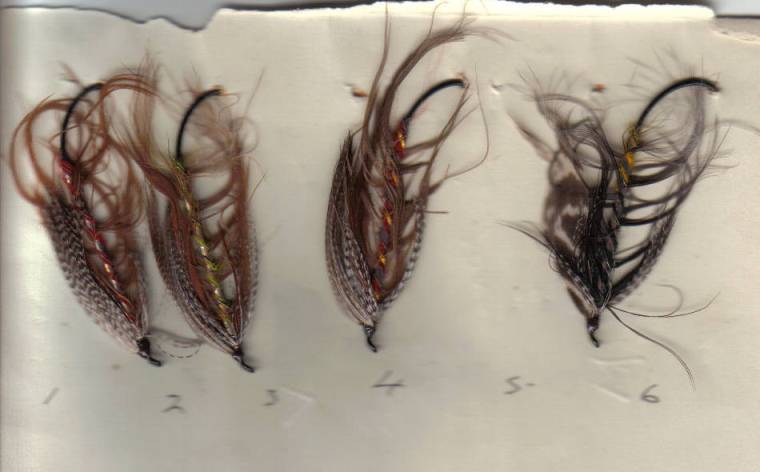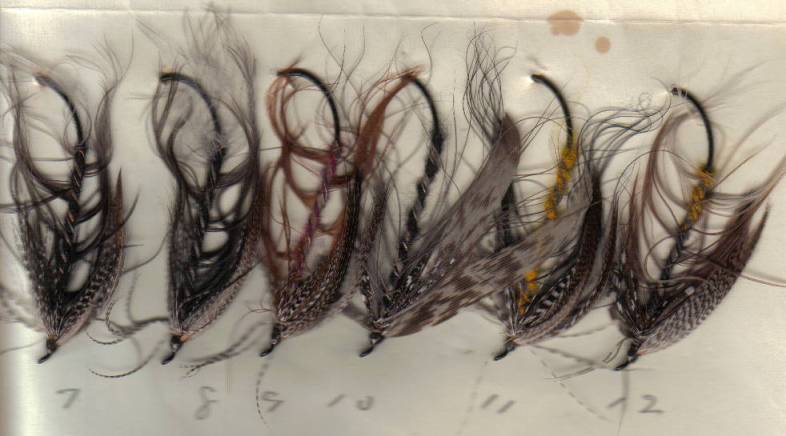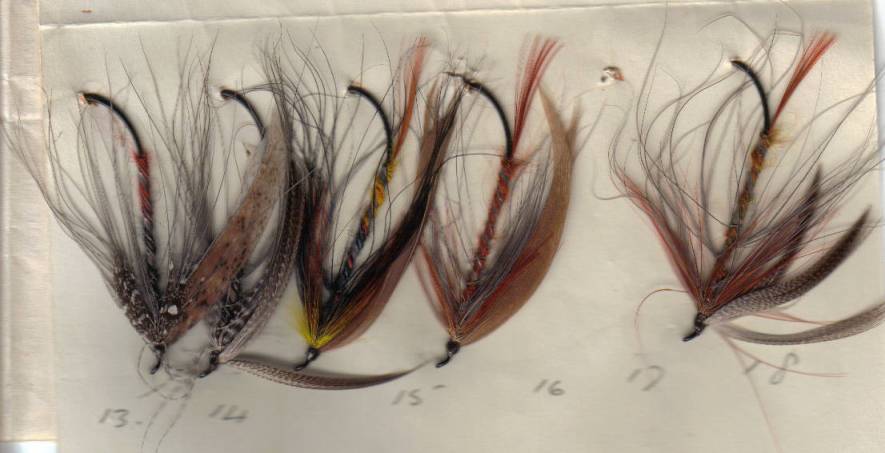 I know these aren't great images - I'll take some better shots - the flies are in the correct order and the key to names is in the letter below - replacements for the missing flies (3, 5 and 17) have been tied and I'll also include them shortly - better pictures of the individual flies now on the Spey Fly page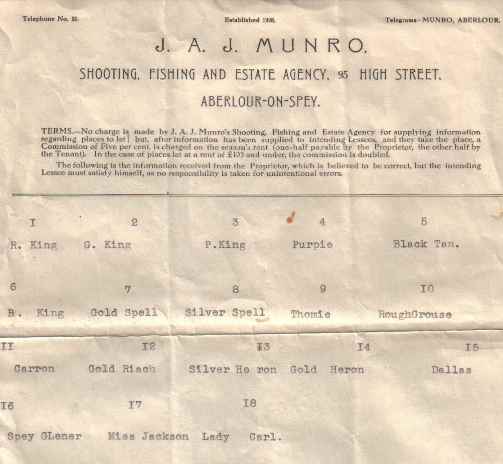 Graham of Inverness - List of Salmon flies 1912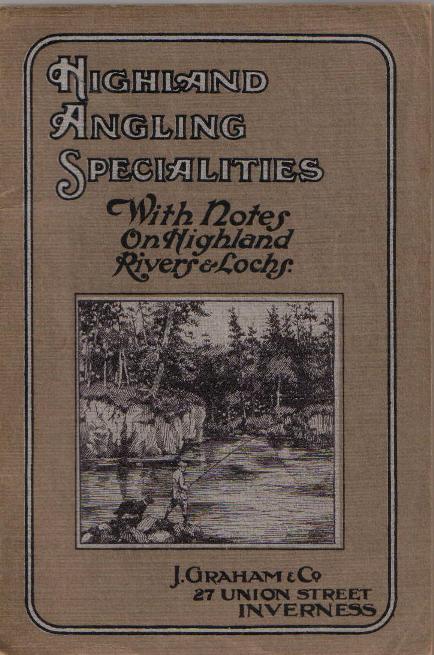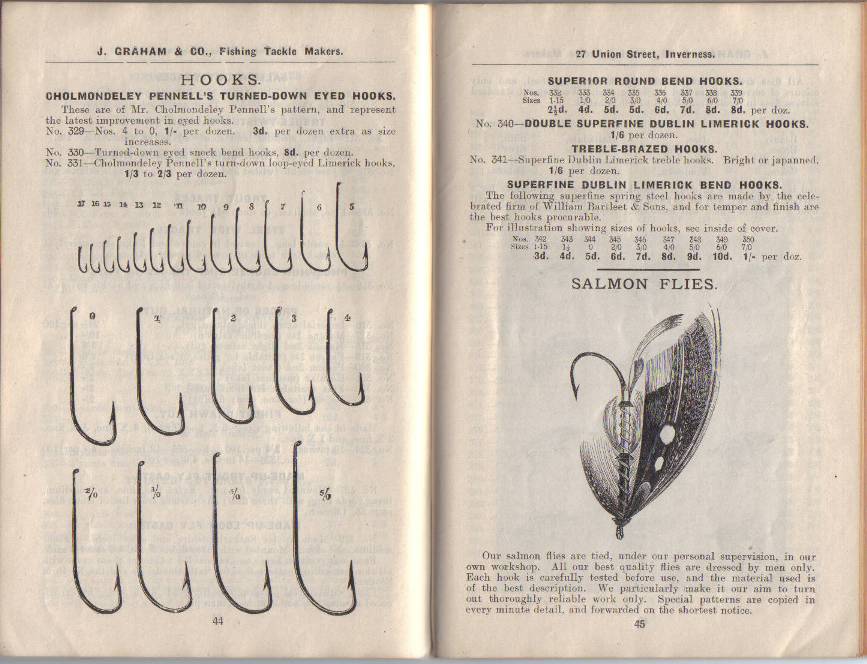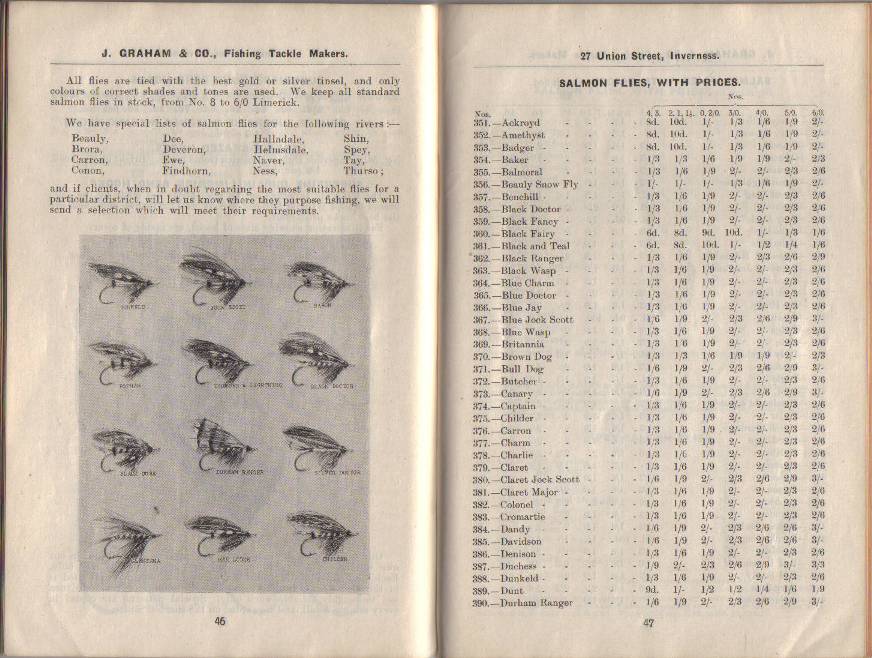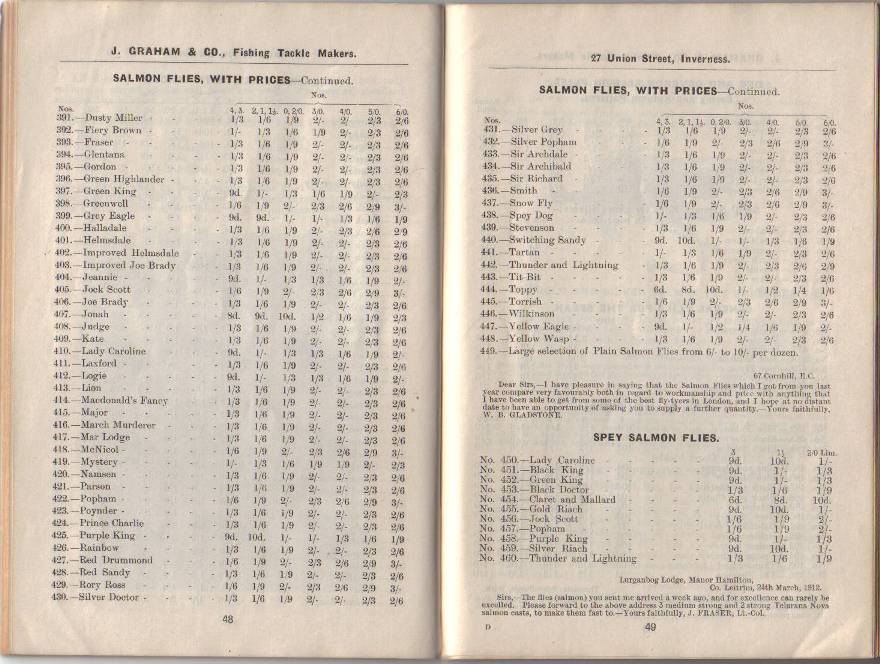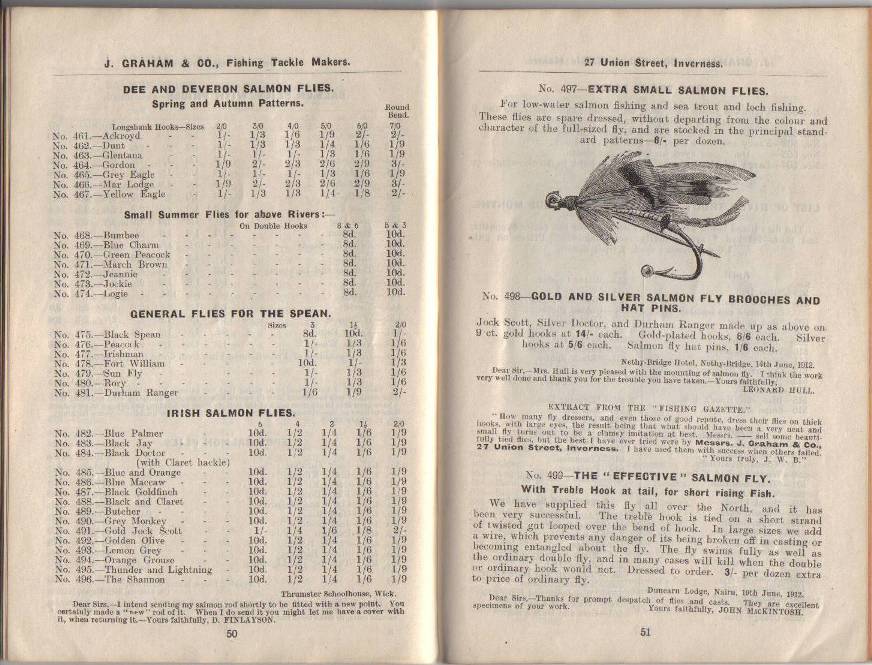 Millwards list of salmon flies from 1911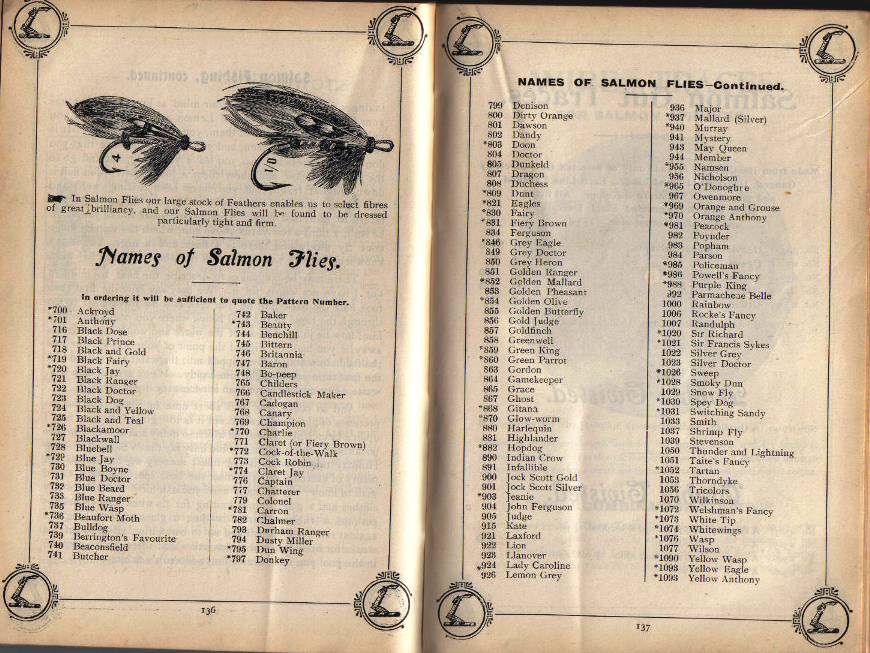 Forrest & Sons Kelso
| | | |
| --- | --- | --- |
| | List | c1938 |
| Ackroyd | L | X |
| Alexandra, with Jungle Cock | B | X |
| Alexandra, without jungle Cock | A | X |
| Amethyst, fancy | D | X |
| Amethyst, plain | A | X |
| Avon Eagle, grey with variegated body | E | X |
| Avon Eagle, yellow with gold body | E | X |
| Avon Eagle, yellow with variegated body | E | X |
| Balmoral | L | X |
| Barnes | B | X |
| Baron | F | X |
| Beauly Snow Fly, no ruff | A | X |
| Beauly Snow Fly, with ruff | B | X |
| Beauty | F | X |
| Benchill | D | X |
| Beryll | E | X |
| Black & Claret | C | X |
| Black & Teal | E | X |
| Black Doctor | E | X |
| Black Doctor, claret hackle | E | X |
| Black Dog | E | X |
| Black Dose | E | X |
| Black Eagle | A | X |
| Black Goshawk | D | X |
| Black Jay | C | X |
| Black Prince | F | X |
| Black Ranger | E | X |
| Black Silk | D | X |
| Black Spean | B | X |
| Blue Boy | B | X |
| Blue Charm | C | X |
| Blue Doctor | D | X |
| Blue Grey | C | X |
| Blue Jay | C | X |
| Blue Palmer | C | X |
| Blue Tandy | C | X |
| Blue Wasp | C | X |
| Britannia | F | X |
| Brora | B | X |
| Brown Ackroyd | B | X |
| Brown Admiral | A | X |
| Brown Dog | E | X |
| Brown Turkey | A | X |
| Bull Dog | F | X |
| Butcher | C | X |
| Canary | D | X |
| Candlestick Maker | F | X |
| Captain or Blue Jock | F | X |
| Causapscal | D | X |
| Charlie | D | X |
| Childers | D | X |
| Claret & Blue | C | X |
| Claret Jay | C | X |
| Claret Jock | F | X |
| Claret Palmer | C | X |
| Claret Wasp | C | X |
| Cluny | S | X |
| Coiner | C | X |
| Colonel | D | X |
| Commeau | B | X |
| Corbet Fly | D | X |
| Critchley's Fancy | C | X |
| Curtis | D | X |
| Dalhousie | D | X |
| Dallas | C | X |
| Dandy | F | X |
| Dark Torrish | F | X |
| Delfur Fancy | F | X |
| Dirty Orange | C | X |
| Donkey | C | X |
| Duchess | F | X |
| Duke of Edinburgh | F | X |
| Dun WIng | A | X |
| Dunkeld | D | X |
| Dunt | L | X |
| Durham Ranger | E | X |
| Dusty Miller | E | X |
| Elliot Fly | E | X |
| Fairy Brown | A | X |
| Fairy, or Dark Fairy | A | X |
| Fiery Brown | B | X |
| Five O'clock | E | X |
| Fottler | C | X |
| Gilnockie | D | X |
| Gledwing | B | X |
| Glentana | L | X |
| Golden Olive | D | X |
| Goldfinch | C | X |
| Gordon | E | X |
| Gray & Orange | C | X |
| Green Highlander | E | X |
| Green Parrot | B | X |
| Greenwell | E | X |
| Griswold Grey | E | X |
| Grey Eagle | L | X |
| Grouse and Orange | C | X |
| Habersham | E | X |
| Harrison | E | X |
| Helmsdale Doctor | D | X |
| Hogg's Dunkeld | E | X |
| Holmes | E | X |
| Hunter Fly | E | X |
| Inky Bok | C | X |
| Invincia | S | X |
| Irishman | B | X |
| Jeannie | S | X |
| Jockie | S | X |
| Jock Ferguson | E | X |
| Jock Scott | F | X |
| Joe Brady | D | X |
| Jonah | B | X |
| Jungle Heron | F | X |
| Kate | E | X |
| Kelly | A | X |
| Kennedy Fly | A | X |
| Lady Amherst | E | X |
| Lady Caroline | A | X |
| Lady Mary | E | X |
| Lanctot | E | X |
| Leadbetter | B | X |
| Lemmon-tipped Grey Monkey | C | X |
| Lemon Grey | C | X |
| Lion | E | X |
| Lizzie | D | X |
| Logie | S | X |
| Lord James | E | X |
| Mackenzie | B | X |
| Major | E | X |
| Major Dee | E | X |
| Mallard & Blue | C | X |
| Mallard & Silver | S | X |
| Manchester Swell | E | X |
| March Brown | S | X |
| Mar Lodge | F | X |
| Member | D | X |
| Mitchell Fly | E | X |
| Montreal | A | X |
| Moonshine | A | X |
| Mugwumps | E | X |
| Munroe's Favourite | E | X |
| Mystery | D | X |
| Namsen | C | X |
| Nepissequit Gray | B | X |
| Newfoundland Red | C | X |
| Nicholson, fancy | F | X |
| Nicholson, plain | B | X |
| Nigger | A | X |
| Night Hawk | E | X |
| Old Parson | F | X |
| Oykel Butcher | D | X |
| Parmacheen Belle | B | X |
| Parson | D | X |
| Peacock | C | X |
| Peacock | D | X |
| Piper | E | X |
| Popham | F | X |
| Poynder | E | X |
| President | F | X |
| Red & White | A | X |
| Red Rover | E | X |
| Red Sandy | E | X |
| Robin | C | X |
| Salzcraggie or Pale Torrish | F | X |
| Sandy Burns | D | X |
| Sapphire Blue | C | X |
| Sherbrooke | D | X |
| Shrimp Fly | C | X |
| Silver Blue | S | X |
| Silver Doctor | D | X |
| Silver Grey | E | X |
| Silver Jock | F | X |
| Silver White | A | X |
| Silver Wilkinson | F | X |
| Sir Archdale | D | X |
| Sir Charles | S | X |
| Sir Herbert | E | X |
| Sir Richard | D | X |
| Smith Fly, Red | E | X |
| Smith Fly, Yellow | E | X |
| Snow or Spirit Fly | F | X |
| Spring Grub | C | X |
| Stevenson | F | X |
| Stuart Fly | E | X |
| Sun Fly, plain wing | D | X |
| Sundal Fancy | F | X |
| Sweep | A | X |
| Tarpon White | E | X |
| Thorndyke | F | X |
| Thunder & Lightning | E | X |
| Tim Fly (Davis) | B | X |
| Toppy | A | X |
| Tricolour | L | X |
| Vansittarts Wasp | C | X |
| Variegated Sun Fly | F | X |
| Vicar | F | X |
| White Admiral | A | X |
| White Wing | A | X |
| Wilkinson | E | X |
| Wingfield | D | X |
| Yellow Eagle | L | X |
| Yellow Mohair | D | X |



Westley Richards Salmon Flies and cases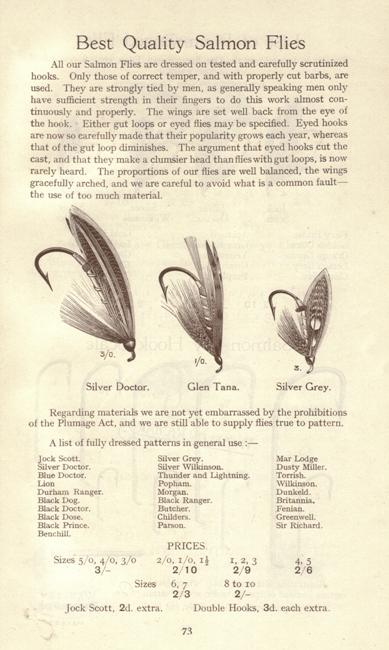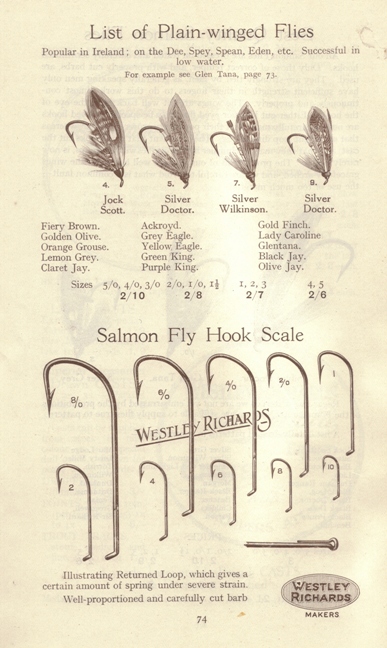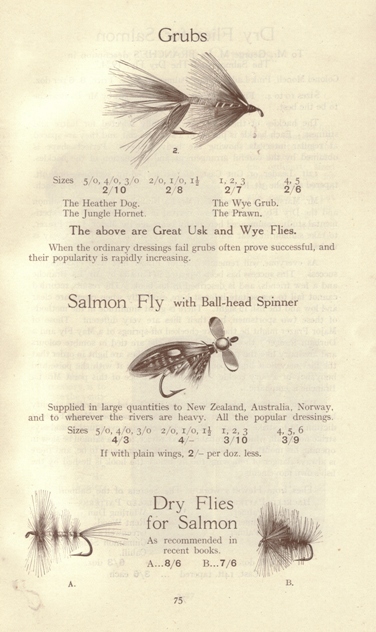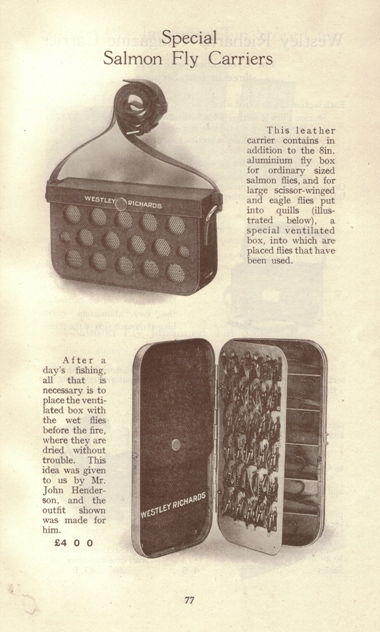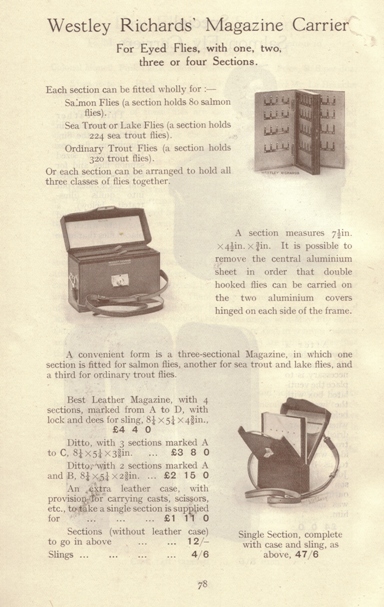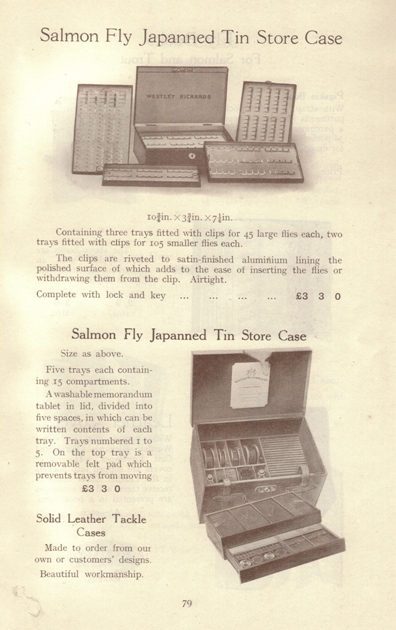 The following 3 photos are of materials supplied by William Brown in the early 1900s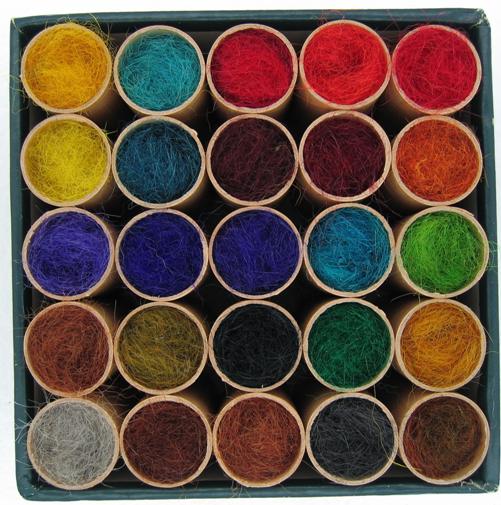 A set of seal's fur in, I guess, the standard colour range

A sample card of the tinsels supplied by William Brown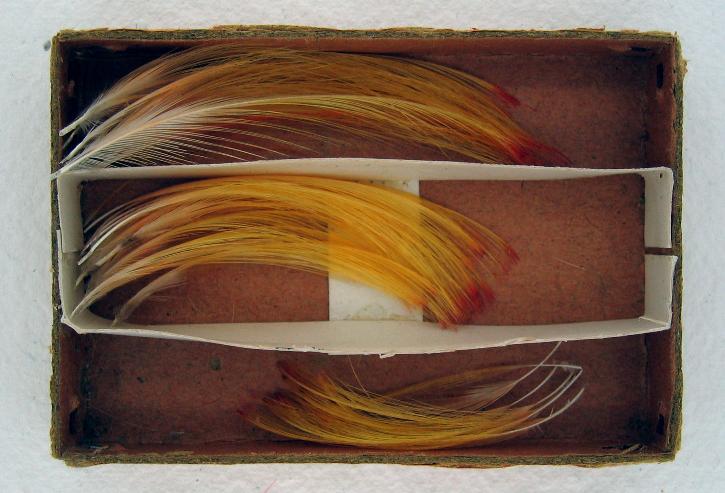 Some rather tasty GP crests
UNKNOWN (to me) FLIES
The following flies came to me in a collection of standard Dee flies (including the Drum Lightning), I think they probably are recognized patterns, but what are they - please let me know....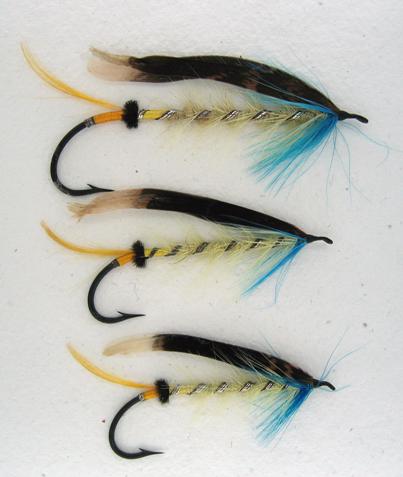 Should have got the one above! It's the Helmsdale (Kelson/Hardy/Hale) - see another version on Not Dee Flies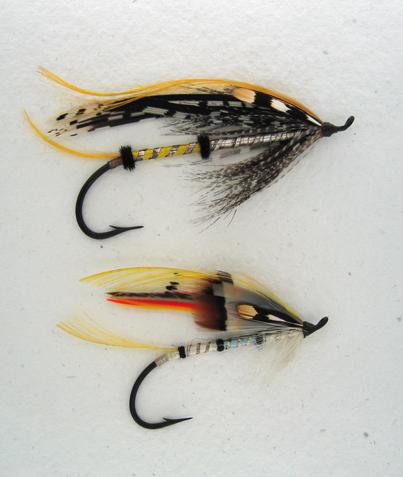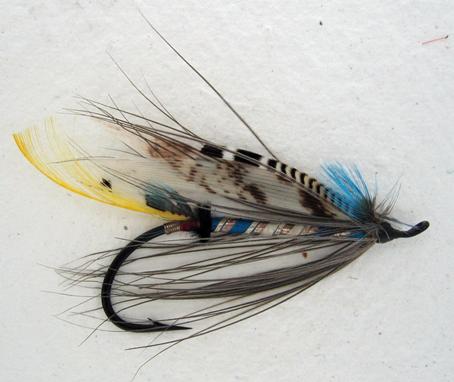 The fly above has been identified it is the Irvine
Now for something different, Salmon Flies tied by Pryce Tannat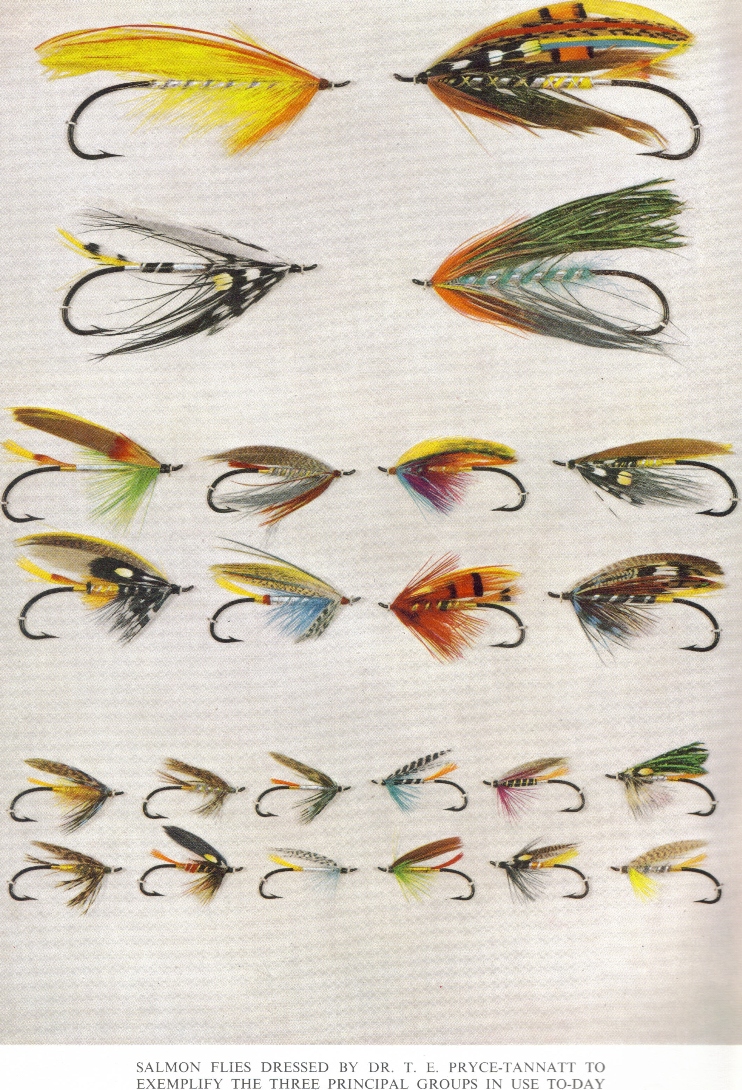 Thurso Canary, Delfur Fancy
White Wing, Beaulieu Peacock
Joe Brady, Lady Caroline, Iris, Gled Wing
Jock Scott, Silver Doctor, William Rufus, Black Silk
Invincia, March Brown, Haslam, Blue Black Teal, Red Gauntlet, Silver Peacock
Perl Max, Watson's Fancy, Silver Blue, Green and Gold. Jeannie, Sally
When Pryce Tannat wrote his book on Salmon Flies he had only been tying for a few years - and the book's illustrations show this - he continued to tie and as you would expect got a lot better at it, and his style developed, the only other illustrations (apart from auction catalogues) that I know of are in Taverners Salmon fly book, and the above plate that appeared in The Field Annual for 1952 along with the following, its interesting to compare these illustrations with those of the recent auction of his flies at Mullocks.
The Field Annual 1952
THE EVOLUTION OF THE SALMON FLY
By T.E. Pryce-Tannatt
Though substantially the same in essentials as when originally devised, the salmon fly of the present day reflects some of the changes brought about by the modified outlook and practice of salmon fly fishermen during the intervening years. There are many who think that is has improved in looks and is more practically serviceable production, but it would be easy to prove the modern article is, in fact, more deadly than either the comparatively primitive buskings used by Scrope in the 1830's or the more elaborate creations sponsored by Kelson sixty years later. Owing mainly to the advent of the metal-eyed hook, salmon flies nowadays are more dependable and more durable. On that score it can be claimed that they are more effective. But whether salmon really like them better is not so certain.
To Kelson, more than to any other, is to be ascribed the conventionalisation of the salmon fly. It is the fashion now to decry Kelson as a humbug; but what he had to say was not all nonsense. In any case his patterns accounted for many fish; and it cannot be denied that the flies he and his associated produced were, in their way, works of art, though the dispassionate utilitarian of later years might consider them more appropriate as adornments to headgear than as instruments of capture attached to the end of a cast. Overloaded they tend to be, and being initially under the disability of having to figure on hooks furnished with twisted gut loops, they could not be made as slim in the body or fine in the head as subsequently became possible with the metal eyed hooks.
A fat body and a thick head in a salmon fly – as in other objects – are contemplated with disapproval by the cognoscenti, though there is little evidence that the salmon is as aesthetically sensitive. The salmon fly is, after all, a very artificial thing. What it might represent to the salmon is largely conjectural. In the circumstances it would be unwise to be didactic about it; or to go so far as to assert that a spare and slim build, per se, is more in accordance with the salmons tastes than something of a more substantial proportions. Corporeal obesity and hydrocephaly may not be as repellent to Salmo salar as to Homo sapiens. Incidentally, plug baits and boiled prawns are not sylph-like, yet they are taken (and at times eagerly) by salmon.
However, a slim spare build seems to be the planned feature of the modern salmon fly, producing a sort of stream-lined effect, noticeable as a popular characteristic in a number of different compositions at the present time, dominated as it is by the rage for speed. There may be something to be said for it in relation to the salmon fly, which, as has previously been remarked, is a very artificial thing, so that any expedient which can be applied to mask its artificiality is probably a help to the angler. Economy of material in dressing checks a too flagrant visibility, and the stream-lining which is at the same time achieved facilitates smooth unobtrusive passage through the water, producing a transient impression of something alive and in motion, merely glimpsed and affording scant opportunity for close scrutiny. The salmon has to make up its mind quickly about it. That is a theory which is perhaps no less plausible than other theories, being based on the assumption that the salmon, fool though it may be, is not a complete idiot and, impelled by the predatory instinct rather than by hunger, has sense enough to be warned by too obvious subterfuge if it is allowed to see overmuch. Nor is there anything inconsistent in this with the fact that the more slowly moving surface fly, at the end of a greased line, is at time taken readily enough.
This affair of visibility is clearly of importance. It probably accounts for the proliferation of patterns, these being the expression of succeeding generations of anglers as to what is considered suitable under particular conditions in particular circumstances. Associated with it is the question of size, which at the outset had relation essentially to visibility, but is now acknowledges is also influenced by the temperature of the water (and air). Speculation on both subjects is endless, discussion sometimes engendering a certain amount of heat, with the honours of debate frequently being carried off by the cynically inclined who aver that guessing plays a predominating role – one guess being as good as another.
Nevertheless, ideas have continued to smoulder and from the embers there can perhaps be recovered something not wholly without significance; at all events as regards the form and structure of the salmon fly as at present found acceptable by anglers – leaving fish out of the account for the time being.
The fairly well marked stages in the process of evolution, so to speak, of the salmon fly in recent years a s illustrated in the black and white photographs.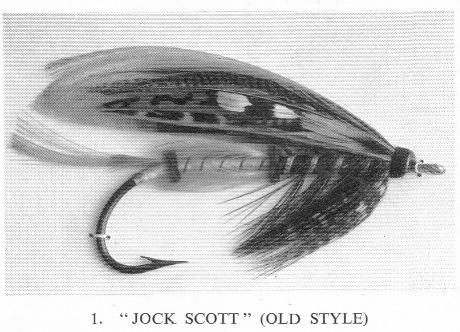 The Jock Scott in Fig. 1 is typical of the Kelson convention. It was dressed professionally and was the accepted concept at the beginning of the present century. It is modelled on expansive lines, aldermanic in proportions and resplendent in raiment, being generously furnished with the exotic plumed, deemed essential at that period, and procurable now with difficulty, if at all. The build wing, the outer covering being of married strips from five different feathers, plus strands of peacock herl and an overall strip of brown mallard, is embellished with jungle cock sides and blue chatterer cheeks; blue macaw horns and a couple of golden pheasant toppings completing as imposing structure calculated to catch the eye – of the angler at all events. The jointed body is designed on the same generous lines, the tag being carried down so as to occupy an appreciable portion of the hook bend, with the object perhaps of forestalling the possibility of any cavilling at stinting of material. The head is large – inevitably so having regard to all the stuff that had to be tied in – with the thick twisted gut loop and all to add to the general plethora. It is, in fact, remarkable that the head is not larger, and the redounds to the credit of the tier, as indeed does the whole fly, which as an example of fly dressing leaves little to criticise.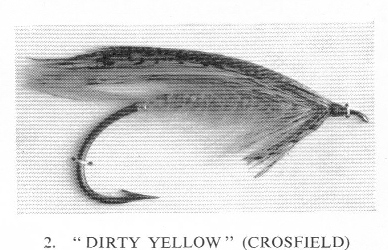 Somewhat different is appearance is the fly in fig. 2, which was dressed by Ernest Crossfield, facile princeps in the art of fly making, the salient features being the slim, sloping wing, the neat head, the designedly abbreviated body and the manifest restraint exercised in the quantity of hackle applied. Though the wing is of small bulk it is composed of six different feathers, viz. golden pheasant tippet strands, fibres of golden pheasant breast feather, golden bird of paradise crests (two of them), strips of Amherst and golden pheasant tail and brown mallard scapular feather over all. The slope of the wing is almost horizontal. This is achieved partly by the natural set of the feathers selected and partly by tying in all but the brown mallard covering strip behind the throat of the blue barred jay, in the small space between the throat and yellow ribbing hackle, an expedient characteristic of all Crossfield's patterns and which, moreover, made it possible to achieve the small neat head, for which they are likewise noted. Wings and tail tips coincide at a point not far behind the hook bend, and the hinder end of the tag is in front of the barb on the vertical from the shank. Crossfield considered it important to refrain from encroaching on the bend of the hook with any part of the dressing so as thus to leave the bend clear and without involving any of the dressing, more particularly the tag, in the risk of being chewed and damaged by the teeth of the fish after the hook had got hold. The whole fly is thus not as aesthetically pleasing but is very definitely designed with practical considerations in view. Although dressed on a substantial hook with a wide gape (Crossfield liked a hook which could take a "good bite of meat"), it is free from grossness, and its streamlined build would ensure a smooth and steady swim in the water.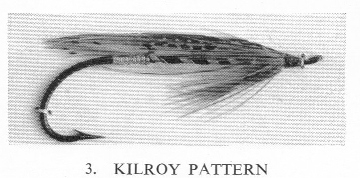 Economy of material, carried a stage further in the process of slimming, is very marked in the fly shown in Fig. 3 This is one of the Kilroy series of patterns (produced by the late Surgeon Captain L. Kilroy, R.N.) inspired by A.H.E. Wood in the patterns favoured by him for use with the greased line. The wind consists of strips of the symmetrically disposed feathers from the breast, neck, upper coverts, flanks and back of certain birds, left adhering to stalk or central quill, the latter being tied in on top of the hook shank, in such fashion as to cause the strips, each of the same length, to lie horizontally on either side, in much the same style as is to been in the Dee strip-winged patterns. The fly in Fig. 3 carries four strips, paired, from two such feathers (one from a teal flank and one from a cock pheasant upper covert feather). An Amherst pheasant topping, tied beneath the central stems of the strips, lies horizontally over the hook shank. The body consists of the bare hook, ribbed with ribbon tinsel and oval gimp. There is no ribbing hackle. Two turns of ginger cock and one turn of dyed guinea fowl breast feather comprise the throat. The posterior end of the tag, on which the same emphasis is laid, lies in front of the hook point on the vertical from the shank. The tips of tail and topping, coinciding at a point, do not extend as far back as the outer edge of the hook bend. I will be observed that abbreviation, as well as attenuation, is a feature here.
Killroy used celluloid varnish freely to provide a film over the tinsel, the object – and the effect – being to secure a firmer cohesion of the tinsel turns and at the same time protection from the tarnishing commonly resulting from exposure to the atmosphere. An excellent notion, which, moreover, can be extended to embrace floss silk, in bodies and tags, a similar protective covering providing an impermeability proof against the discolouration which is liable otherwise to occur after immersion in peat-stained or dirty water.
The attenuation of the Kilroy style might be considered by many as excessive for normal requirements. A compromise between it and the Crosfield style would perhaps be deemed to be more in accordance with practical, every day needs. The professors of the greased line cult, however, will doubtless particularise as to the patterns considered appropriate for that speciality, an exiguous abbreviation of a somewhat emphatic brand being the recognised article. Wood himself favoured a fly which had been shorn of most of its feathery adjuncts. He, in fact, came to use apparently with success, a bare hook the shank of which had been painted red or blue. Simplification could hardly be carried further than that.
The experience and knowledge acquired during the last 30 years or so have cleared up some of the things that heretofore were regarded as mysteries. As a consequence the present generation is apt to be somewhat contemptuous of the older school of empiricists for failing to see what now seems obvious. Those old stalwarts, it is true, did not include a thermometer in their equipment, nor where they very inquisitive about the chemical reactions of the water in which they fished. They were not scientifically minded. They contemplated angling as an art rather than as a science. But they were not by any means mentally deficient. They could and did teach quite a lot. And they did catch fish. Without being able to give convincing reasons they knew that a large fly, fished slowly and deep, was most likely to be effective in the early part of the season when the water was cold; and that a small fly kept playing on the surface was the better alternative later in the year when weather and water had warmed up. At other times they used flies in varying sizes, fished in what was considered the orthodox manner, more or less submerged below the water surface.
Except possibly in a more conscious application, the position at the present time does not seem to be so very different. Large flies, well sunk, are still used early in the season when the water is low in temperature. Small flies fished close to the surface are the acknowledged prescription later on when the water temperature has risen. And there still remains – unexpurgated – the fly of medium size fished in what can be called mid-water, used regularly and with success by a conservative majority, notwithstanding the dicta of the greased line enthusiasts who believe that these medium sizes are of no practical significance and can be ignored.
There would thus appear to be at the present day, as was the case formerly, a practical trio grouping applicable to salmon flies; the flies themselves, though substantially the same as they were 50 or even 100 years ago, "modernised" in accordance with what, in deferential terms, might be described as the sophisticated refinements of the mid-twentieth century salmon fly fisherman. The components of this trio grouping could appositely, if irreverently, be labelled as (i) bottom grubbers, (ii) mid-water swimmers, (iii) surface riders. The flies reproduced in the accompanying colour plate purport to exemplify these three groups.
The four patterns in the two top rows represent the sort of thing intended for presentation at a depth below the surface. Larger sizes are used (up to 3 ¼ in.) but the available space hardly admits room for the inclusion of anything larger than the 2 ¼ in. hook which carried the Delfur fancy. As a matter of fact it will be found that this is quite a considerable implement to heave out at the end of long line on a day of buffeting winds. One of the desirable features of the patterns comprising this group is simplicity of design; a freedom from extraneous embellishments with which it would go ill when subjected to the hard slogging involved, not to mention the formidable dentition of the well-mended kelts likely to be in evidence at that time of the year. Thurso Canary and Beulieu Peacock are appropriate samples of this simplicity.
The eight patterns that make up the third and fourth rows are more or less stereotyped brand modified in an attempt to conform to the "new look." They are what the salmon angler of the conservative type might see fit to use in the ordinary, old-fashioned mode of presentation, that is to say somewhere near mid-water, or at all events well below the surface; a pull rather than a rise being expected from a taking fish.
Normally, in the range of sizes associated with this group (from 1 5/8 in. down to 1 ¼ in.), a date in mid-April registers the transition, which is apt to be sudden, from mid-water to surface presentation, when the water temperature is approaching the 50 degree mark on the Fahrenheit scale. There are, however, many occasions subsequently, especially in a cold, wet summer, the air being often colder than the water, when it is profitable to revert to the mid-water presentation with flies of the sizes indicated. This also applies to the early autumn fishing, sometimes and in some localities as early as mid-August.
These patterns exemplify eight of the nine recognised modes of winging, the winging of a fly being the chart by which the salmon fly dresser steers his course when familiarising himself with the details of his craft. The eight modes in question are the simple strip wing (Joe Brady), Spey wing (Lady Caroline), topping wing (Iris), Dee strip wing (Gled Wing), built wing (Jock Scott), mixed wing (Silver Doctor), whole feather wing (William Rufus), layered wing (Black Silk). The ninth mode is indicated in the Beaulieu Peacock (q.v. above); if a bunch of herl tied in without any particular order can he regarded as a wing. Incidentally, Gled Wing and Black Silk were two of Crosfield's famous patterns. But the specimens figured were not, of course, tied by that master craftsman. They are, in fact, "a long way after Reynolds."
The 12 patterns in the fifth and sixth rows indicate, some of them, what the professors of the greased line might perhaps consider appropriate. The long shanked, lightly ironed hooks which have become accepted form for such patterns are commended because "they swim well, and, in a stream, do not hold the water" (A. H. E. Wood). They certainly seem to be suited to the spare and abbreviated dress characteristic of these patterns. The relatively narrow bend, by restricting the weight of the metal, no doubt co-operates in maintaining the fly close to the water surface. Whether this advantage adequately counterbalances the risks entailed by the shallow hold is a question on which differing opinions might well be entertained. The hooking in the angle of the jaw, which is the aim of refraining from striking and letting the fish hook itself, must quite often fail to result through a very human inability to follow what would seem to be a council of perfection too exacting for a great many.
However, this mode of presentation, which at times might appear to be rather over-emphasised by the enthusiasts and too apt to be advocated almost as of universal application at all times and in any circumstances, will probably undergo a process of adjustment in due course; and, among other things, the form of the hook may be changed.
It has been suggested that the response of a salmon to a surface riding fly – buoyed up by a greased line – is prompted by memories of the days when it was a parr feeding in the river on natural insects. Hence, doubtless, the attempted resemblance among these patterns to some of the larger and more prevalent insects frequenting the neighbourhood of rivers. As, for instance, Perl Max (which is short for Perla maxima, the big stone fly much in evidence on most salmon rivers during April and May), March Brown (which might be Rithrogena haarupi, commonly seen being taken by salmon during a hatch), Sally (which might be mistaken for the subimago of Ephemera danica), Invincia (possibly suggesting a caddis fly).
The fact that the sizes used are substantially larger than the natural insects is held to be immaterial, inasmuch as their relative size to the adult is approximately the same as the natural insect to the fish when it was a parr. It is an intriguing notion, which, however, does not explain the indisputable efficacy of the patterns which cannot reasonably be associated with any insect; nor, for that matter, with anything else, alive or dead.
No useful purpose would be served by burdening a dissertation such as this with the details of fly making. Two hints pertinent to the subject have, however, earlier been transmitted, culled from the technique of two finished experts, relating respectively to the production of a small neat head and the provision of a protective and strengthening covering the tinsel and floss silk; these being considerations of practical importance applicable generally. Parenthetically, as regards the first of these hints, it would be as well to bear in mind that the size and form of the metal eye can exercise a dominating influence. A large, heavy eye, especially when turned too much up or down, can negative any effort to produce a small, neat head.
The eyes of the hooks illustrated in the plate may not be too aggressively impossible in this respect, though they fall short of near-to-perfection style indicated in fig. 2. The metal eyes of many hooks on the market still leave much to be desired. The attention of hook makers could usefully be directed to this important detail. At the same time it might be very much to the point to consider, on the basis of mechanics and statics, the form and dimensions of the hook itself. It may well be that the hitherto popular Limerick has had its day. Another type might be better.
How to tie Salmon Flies by P D Malloch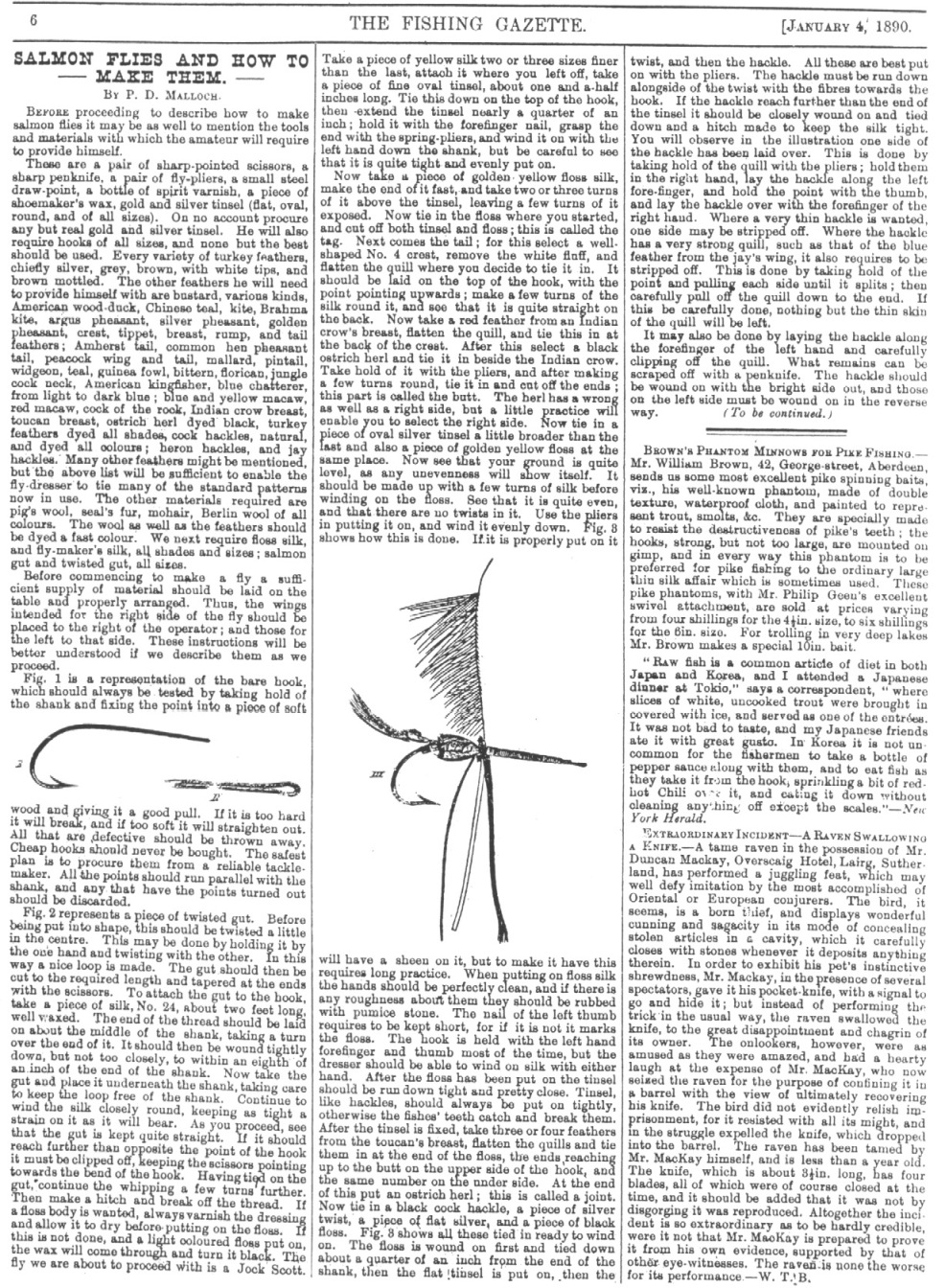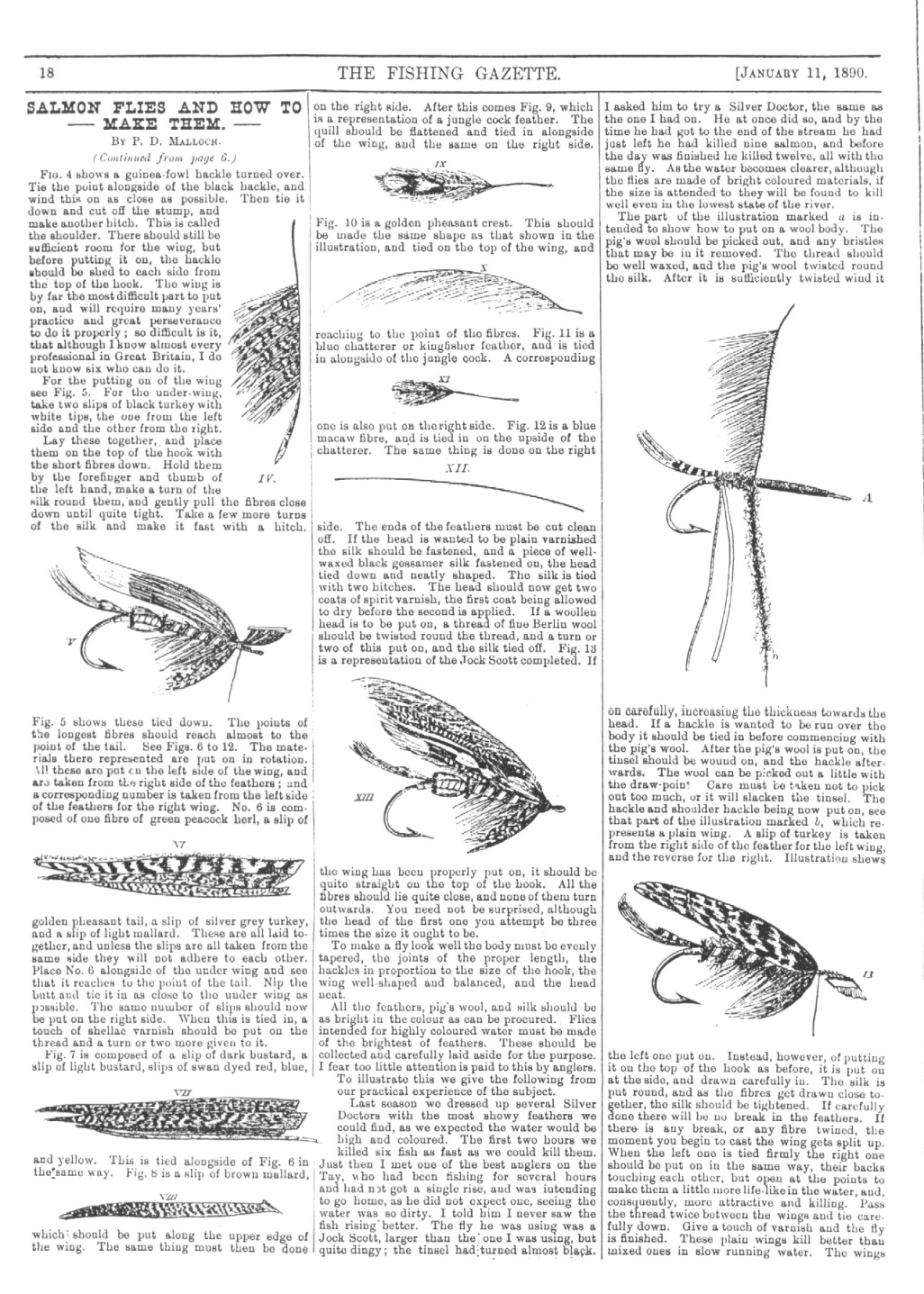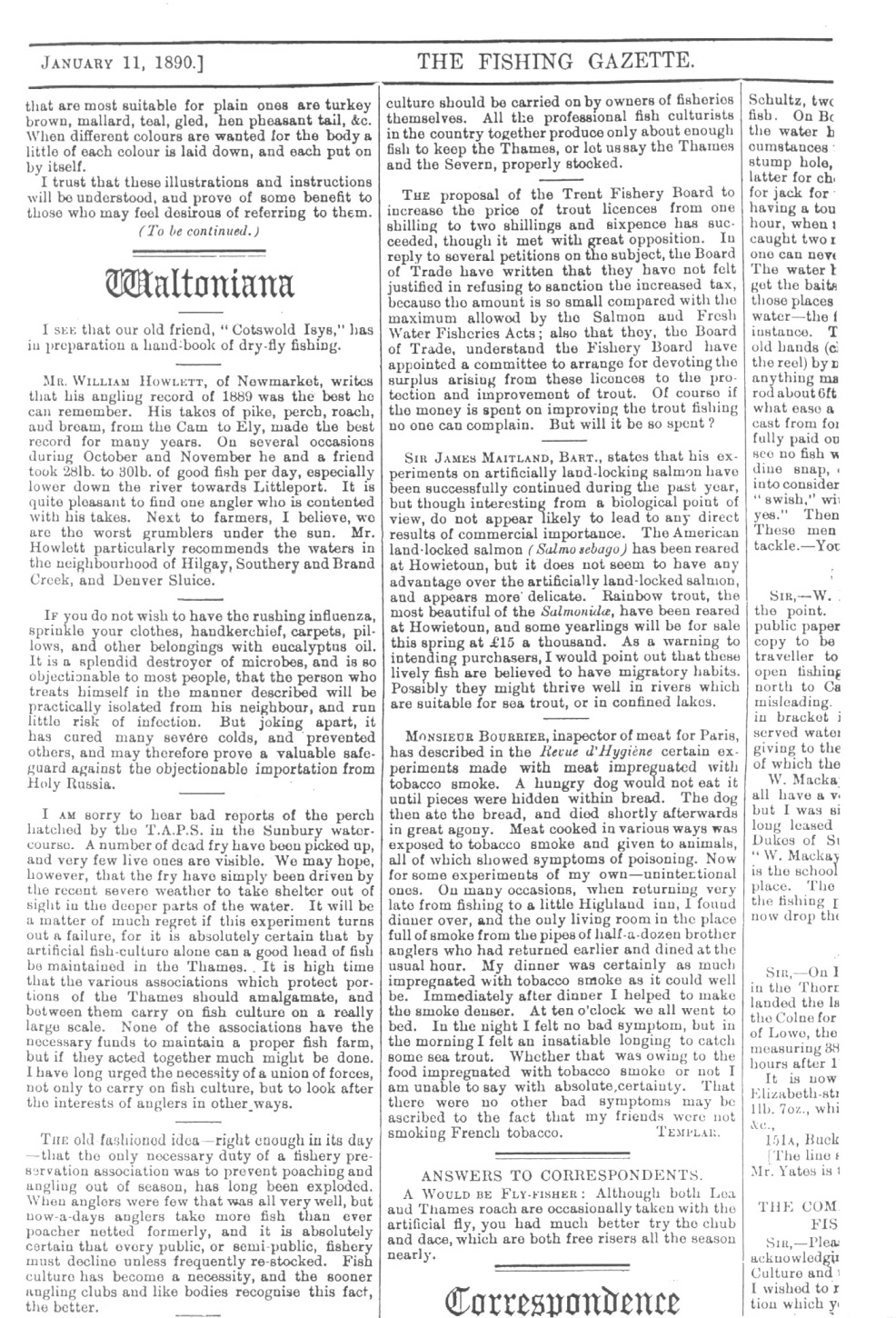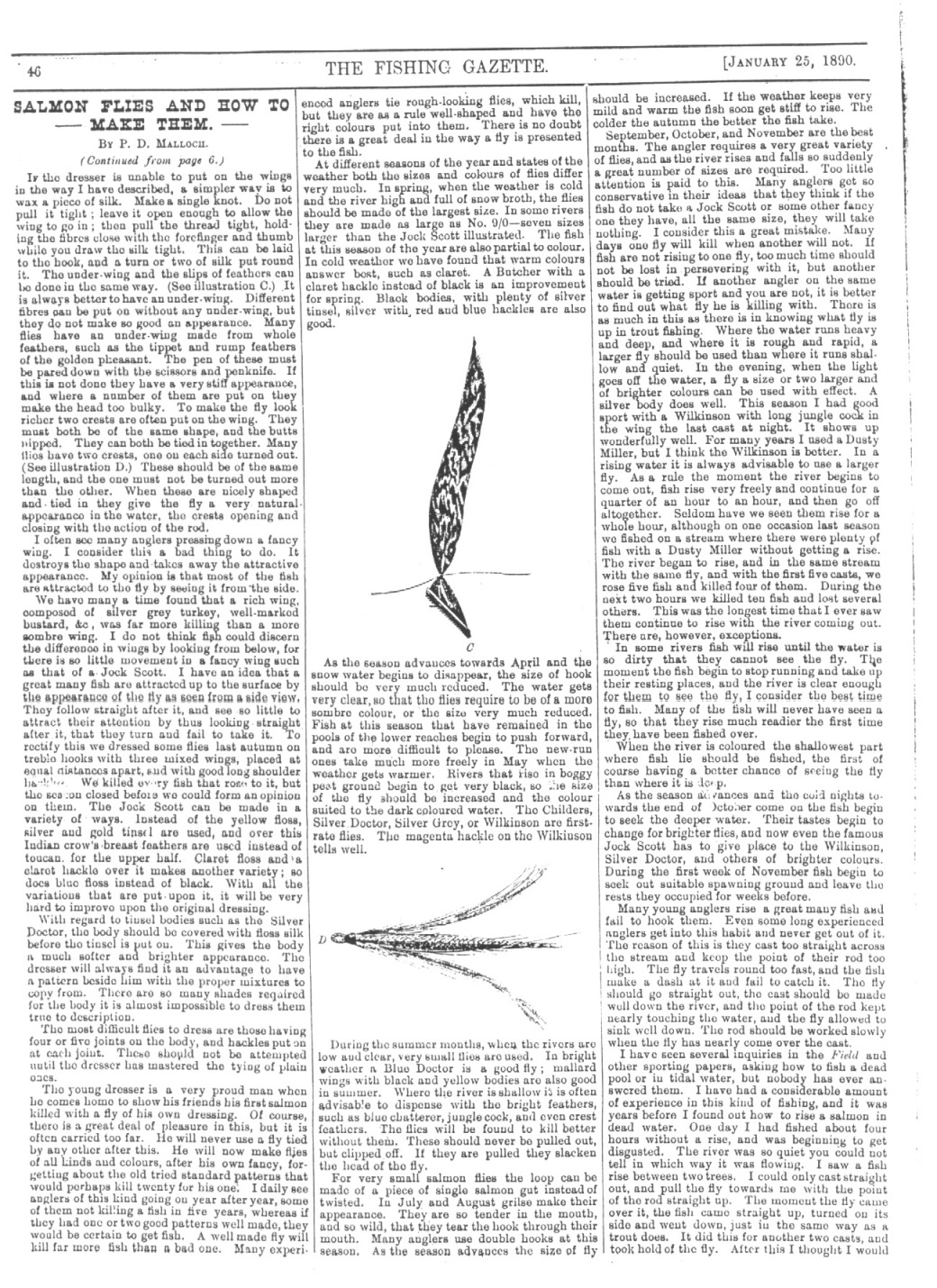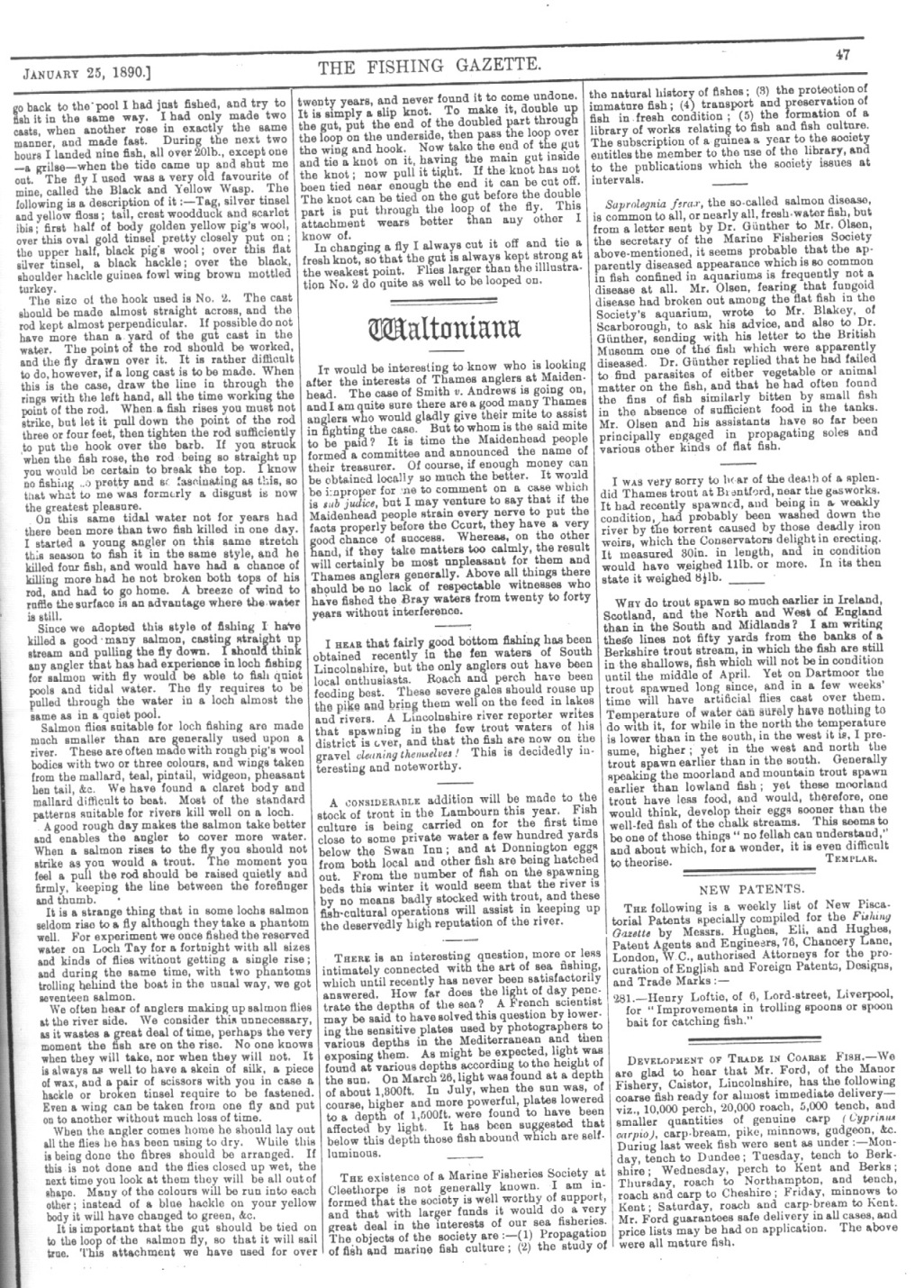 How to Tie the Black Silk by Ernest Crosfield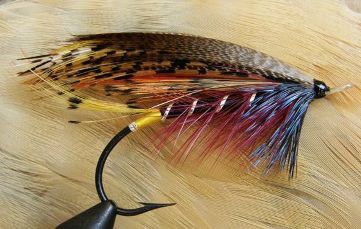 A Black Silk tied by Bob Fransden using the Crosfield method described below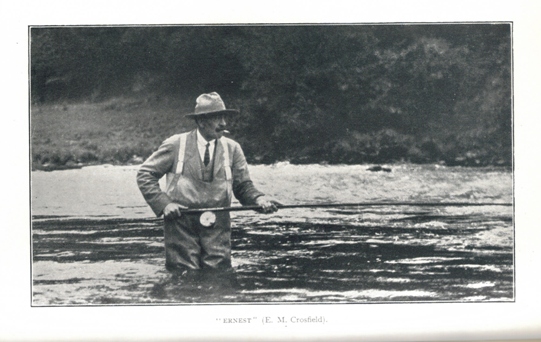 Ernest Crosfield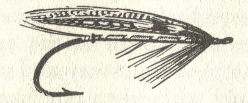 Illustration of fly tied by Crosfield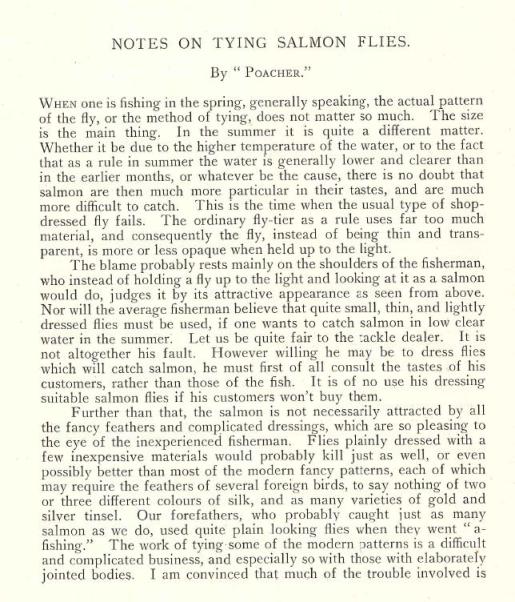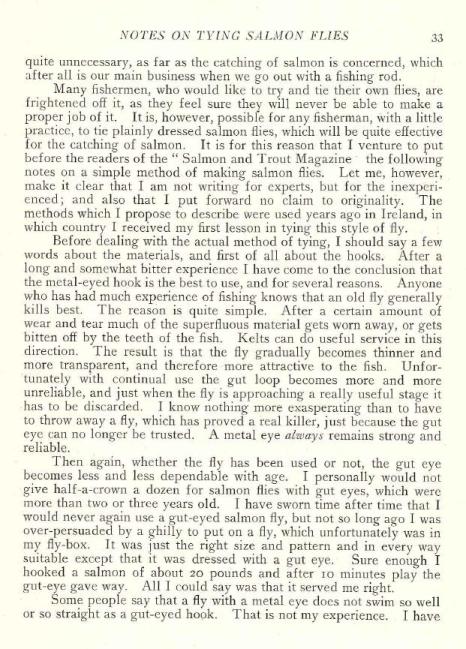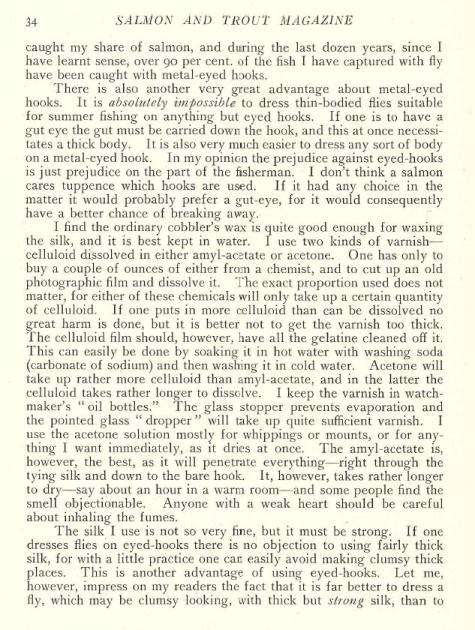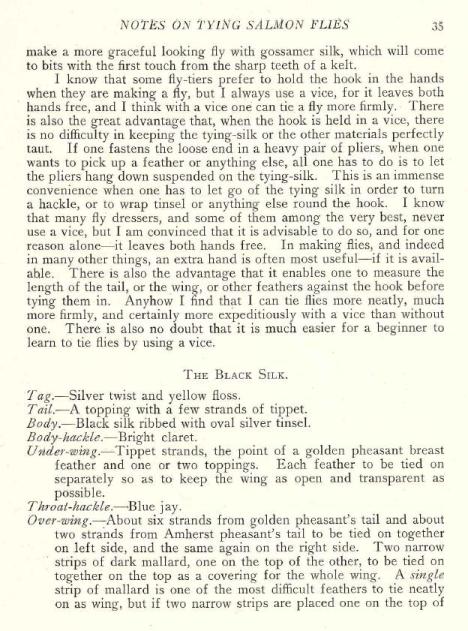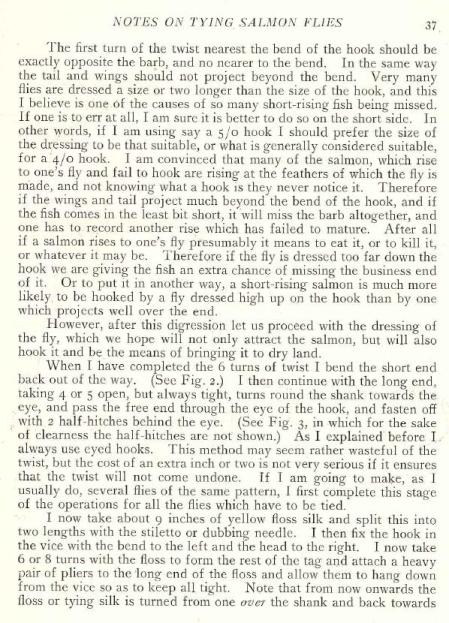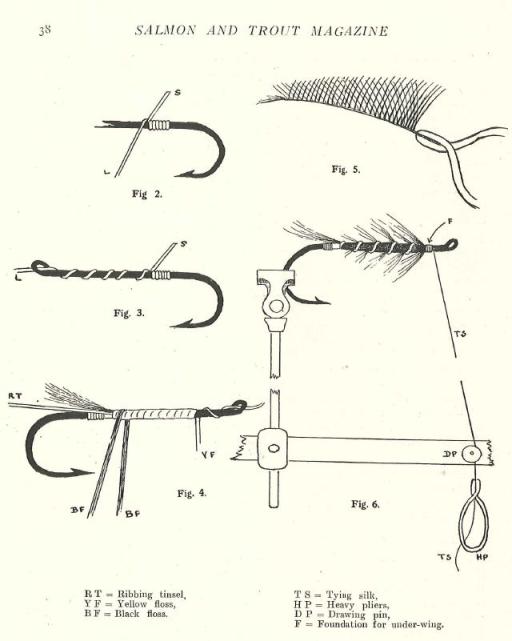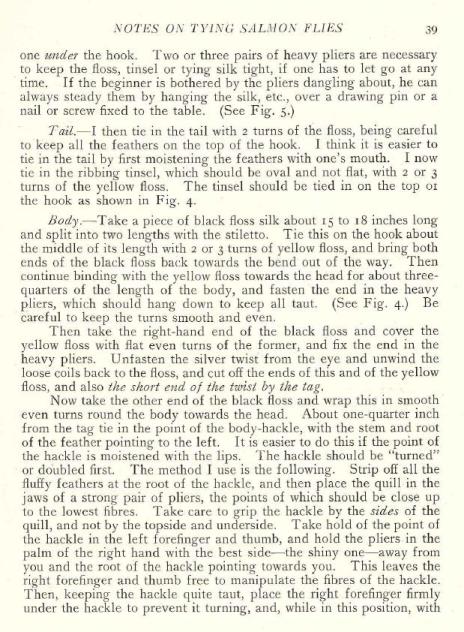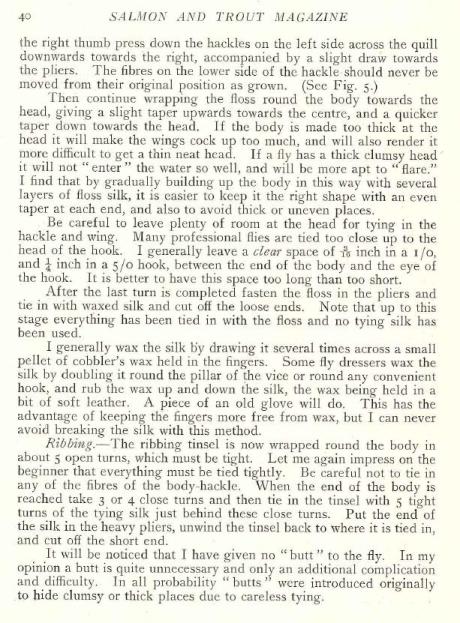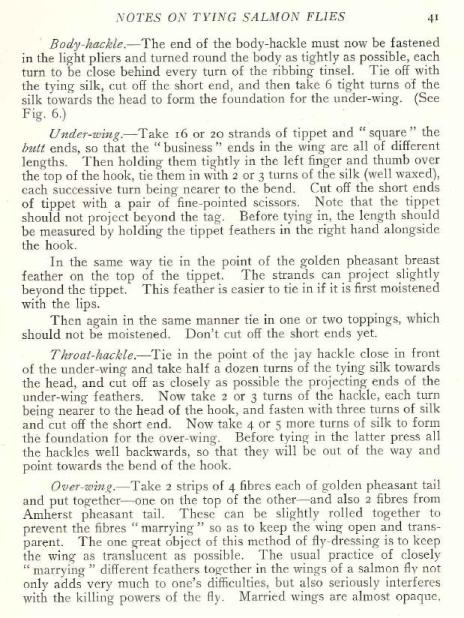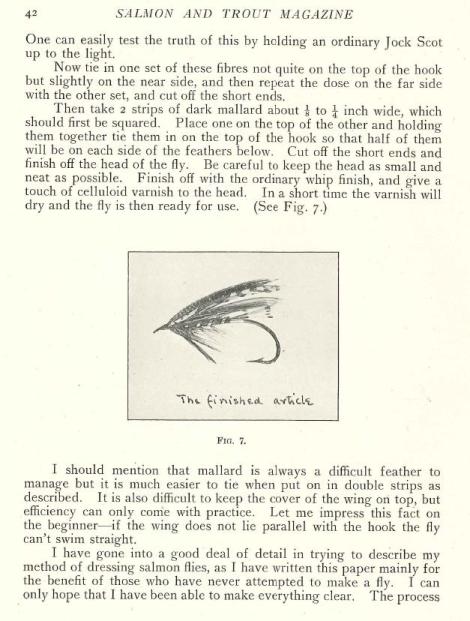 Game Fish Records - Jock Scott - 1936
Mr Ernest Crosfield
""A great figure in the world of support" - that, perhaps, sums up Mt. Crosfield in the fewest possible words. For the purposes of this volume we are chiefly interested in hid career as a fisherman; but his abilities as a game shot, stalker, big game hunter and - in his younger days - cricketer and footballer, should not be overlooked. He was, in fact, one of the best all-round sportsmen of his day, and one of the most charming personalities.
I owe to Mrs. Crosfield and Mr. P. D. Williams the opportunity of including his records, for which I am grateful; for to write a volume of angling records and omit Mr. Crosfield would be unthinkable.
Greatly to my pleasure, I found on reading his game books, a complete record of the Lough Erne Mayfly seasons from 1884 to 1895. It is so seldom that one is able to obtain details of Mayfly bags on Irish loughs. I have given Mr. Crosfield's actual catches together with the duration of the rise for each season, and they show very fine results."
The catch records for the years 1884 - 1895 are then listed - the best of which was 1889 when he caught 266 trout between the 23rd of May and June the 12th, and 1894 when his best fish were 7 1/4 and 7 1/2 lbs
"It is, perhaps, as a salmon fisher that Mr. Crosfield is chiefly celebrated. His experience was wide, for he fished the Wye, Dee, Helmsdale, Ellidaa (Iceland), hannon, Spey, Tay, Shin and other rivers.
It was in 1902 that he visited Iceland and fished the Ellidaa River. The fish ran small, but they made up for lack of size by their number. In his diary Mr. Crosfield has "lumped" salmon and grilse together, and I have no means of separating them.
He commenced fishing on June 5th, and his last day was July 24th - 20 days' fishing, 299 fish."
Details of individual days and weights are then listed.
"This visit must have pleased Mr. Crosfield, in spite of the low average weight. His largest fish was 13 1/2 lb.
In 1894 he caught a 29lb salmon at Doonas, and for many years this remained his heaviest fish. The lower Wye, however, provided him with a "big yin". He was fishing Coed Ithal without a ghillie when he hooked and landed a 40lb. salmon. The fish measured 47in in length and 24 1/4in in girth: the girth at tail was 9in, and the spread of tail 13in. The date was March 5th, 1918, and the beat Brockweir.
From April 12th to 16th, 1918, Mr. Crosfield had a capital run of sport; he landed 27 fish weighing 549lb."
Detail of individual days catches are then listed
"All these big fish were gaffed by Mr. Crossfield, and the beat was Gwernyfed Park.
His lucky year was apparently 1918, for fishing in the River Shin on September 13th he caught eight salmon in the day, weighing alb, 14lb., 14lb., 13lb., 13lb., 11lb., 22lb.
In October if the same year, Mr Crosfield struck a remarkable patch of big fish on he Dee (Aberdeenshire) when fishing Park House. Eleven successive fish weighed 20lb., 22lb., 17lb., 22lb., 23lb., 30lb., 24lb., 23lb., 22 1/2lb., 27lb., 27lb. An average of 23lb.!"
Details of fish from the Wye, sea fishing, more on the Ellidaa, East Africa big game hunting and walking in Scotland are then recorded
"One of Mr. Crosfield's best days on the Helmsdale was August 6th, 1913, when he caught 10 salmon, best fish 10lb.; and his larges Helmsdale salmon was one of 30lb.
To the end of 1919 Mr. Crosfield had caught nearly 1,500 salmon.
As a fly-dresser dresser he ranked as one of the best amateurs of his day. Many judges would, no doubt, place him above the professionals. I believe that he originally learnt the art from the late Michael Rogan, but there is little doubt that in after years he developed a system of his own. The chief points of his flies were their beautiful translucency; the discarding of every scrap of superfluous material; so that each feather performed its allotted task; the beautiful rake and small head. His flies 'entered' the water without a semblance of flare and fished with a minimum of feather-drag. He was undoubtedly, one of the pioneers in the modern movement towards slim, translucent, streamline flies. The old-fashioned salmon fly resembled a feather mop when wet, and it must have been quite impossible for such a mass of feathers, often of a very stiff nature, to show any life at all. Further, they fished vey badly in strong water.
Mr. Crosfield's flies were the exact opposite; he ruthlessly discarded each feather that appeared redundant. Mr. Hutton has told me that of all the fly-dressers he has seen Mr Crosfield was by fare the quickest. In later years he also made up several rods.
So far as I am aware, Mr. Crosfield only published one article - on summer salmon fishing in Fisherman's Pie - and it is to be regretted that he never gave us a book on salmon-fly dressing.
In conclusion, I do not think I can do better than quote the words of a friend: "Crosfield was one of the best fishermen, charming friends and all-round sportsmen I ever met; and no one could tie flies like him".
Mrs. Crosfield is also an enthusiastic angler; her record salmon, caught at Gwernyfed Park on the Wye and gaffed by Mr. Crosfield, weighed 26lb. Her best day's sport was on the River Monar when she landed 2 salmon, 3 grilse and 7 seatrout to her own rod; and it is interesting to recall that she gave Mr Crosfield his first lessons in fly-tying"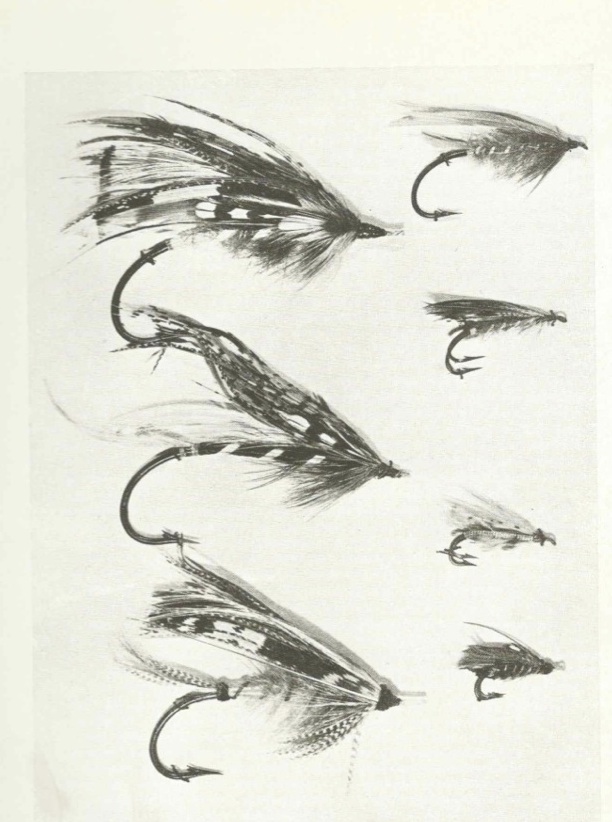 The above is the frontis from GAme Fish Records and is a photo of flies tied by Crosfield
How to tie Spey Flies by William Brown - Now moved to the Spey Fly Page
A letter to the Fishing Gazette
The following letter was penned by James Harper owner of Browns Fishing Tackle shop in Aberdeen in the 1900's - a great insight into commercial tying in the late 1800's early 1900's
Dear sir,—With regard to the present con­troversy in your columns touching the subject of mixed wings for salmon flies, my earliest lessons in fly-tying were from my father at Aboyne about the year 1876. Before I tied complete flies I used to prepare his material, and in so doing arranged the wing mixtures of "gaudy" flies (as we used to name the more showy mixed-wing patterns) in 'rights" and "lefts" and wedded together such parts as would units, so as to tie on in arranged masses.
I never knew of my father having learnt this of anyone. In these days many keepers and local anglers made their own flies, as my father and uncles did. Perhaps the commonest "tail" then in use for Dee dressings was the red breast-feather of the golden pheasant.
In 1881 I went to tie flies for Mr. Bernard, of Church-place, Piccadilly, and I well remember the Black Dose being the first pattern I tied in his service. Mr. Bernard was then an old man, and a first-rate fly-tier, and I young with much to learn. He spent a good space of time daily with me, and taught me better ways to do many things in the art. He, too, arranged his parts of a mixed wing in clumps before tying on, but, rather to my dismay at first, as soon as the tying on had been secured, he proceeded to break up the mass with thumb and forefinger.
Although from a fisherman's view I prefer the well broken up wing as typified in Irish dressings, the system of wedding the parts is very convenient, and I have so developed it of my own initiative that the arrangement of wing in my stock flies is absolutely regular, and but for the fact that certain kinds of feathers vary considerably in thickness of fibre, it would be an easy matter to regulate to a fibre all this part of the mixed wing.
For a great many years my custom has been to make up stock of these built, or wedded, parts for my stock flies, and have them ready at hand when wanted in paper folders containing an equal number of "rights" and "lefts" of one size, from the smallest to the largest. For amateur fly-tiers this is highly convenient, as it saves them much fin-nicking detail and buying and preserving a lot of material they are not likely to make use of. I occasionally supply customers with these, and were it known they could be had in this form there would doubtless be a considerable sale for them. Yours truly, James Harper, 150, Union-street, Aberdeen
Different again.....
19th April 1884, R. B. Marston, Spring Trip to Scotland, Fishing Gazette
In the evening Kelson and I went on to Aberdeen, where Mr. Bell, who now has the late Mr. Brown's fishing tackle business, meets us with the offer of some fishing on Don next day. We put up at the Imperial, a capital hotel, the proprietor of which has a special tariff for Anglers.
Thursday, March 27 – Our holiday extends only three more fishing days. Loaded with our angling paraphernalia, we make our way through Aberdeen to George Street, to find Mr. Bell, and after a look at his capital stock of flies, made chiefly by his wife, we go with Mr. B. to the house of Mr. Fraser, who has kindly promised us the fishing on his water close to Aberdeen. Mr. F. gives us a hearty welcome, shows us over his extensive granite works, and among other things as immense granite sarcophagus, which he is making for an American gentleman and his wife who came over specially to order it. Mr. F. informed me that he had to pay £700 for the block which now has a recess cut into it so contain their coffins, before it was moved from the quarry. We then take the tram (fancy taking a tram to a salmon pool) to Mr. Fraser's water on the Don. Mr. Bell and a friend, Mr. Laing, go with us: Mr. Laing makes a splendid salmon fly. The water, we find, is a fine pool below a cruive of dam, of which there are only too many on the Don, and several fish rise as we are putting our rods together, Mr. Laing puts up a "Beaconsfield" fly for me, a really lovely fly, and I fish all day wading up and down the edge of the pool, without a single touch, change the fly now and again, try a phantom for a time, but all to no purpose. Kelson, with the ill luck which has followed him on this trip, gets fast into a splendid clean fish, well into the twenties. Of course, he is, as usual, where every chance is in the favour of the fish. Out in the middle of the stream where it is over his head in front, and on each side of him, and where unless he takes to the water and swims down the pool, as Mr. Fraser tells me Mr. Laing has often done, his only chance is to walk back, through a rocky, rough torrent, for twenty or thirty yards, to spot where he can wade to the side. The fish has been on for fifteen minutes, fighting most gamely. Once K. gets it almost close to the gaff, and then the great strain he has been compelled to put on to get the fish up steam wears the hold out. Later on in the same day he gets another fish in the same spot; as it is much smaller, he manages to cross by letting out a long line, and lands it. There are no kelts here, for we are only two miles from the sea, and this dam is the first impediment they meet with.
Were it not for those formidable artificial barriers at the numerous mills on the lower length of the Don, it would unquestionably be one of the finest salmon streams in Scotland. It is a thousand pities the landowners do not for an association for opening up the river by means of practical salmon ladders. The McDonald fish-way, now so extensively used in Canada and the United States, would, I feel certain, convert the Don from a third-rate into a first-rate salmon river. The fish-pass at present in use at that terrible mill-dam barrier at Muggiemoss, is practically useless, I am told. If any Aberdeen readers would like an illustrated account of the McDonald pass, I shall have much pleasure in giving it.
We has an extremely enjoyable day on Mr. Fraser's water, and hope Mr. F. will some day give us the chance of trying again. In the evening Mr. Murdoch, who has given us such valuable accounts of Don and Dee fishing and flies in the Gazette, called on us. He has got a day on Mr. H. McDonald's water, at Parkhill, and we decide to go there in the morning. After a long and pleasant chat with Mr. M., K. and I have a game at billiards, and experience how impossible it is to hold a cue properly after salmon fishing, which is certainly hard work, and a long day of it makes one's arms feel as if they had been boiled then sewn on.
Friday. – On getting down to breakfast, we find a pressing invitation from Major Traherne, who has rented a stretch of the Dee above Banchory, to go out and have a day with him, which we naturally accept with pleasure, and decide that we will go on there this evening. Just before starting for Mr. McDonald's water, I rush off to see if I can get a packet of that tobacco that I have ever tried, Messrs. Lambert and Butler's honeydew. If any of my readers who smoke this have not tried this, I can strongly recommend them to – it is so cool and sweet and unvarying in quality. My plan is to carry it in the lead foil in which it is packed, as this keeps it moist and un-crumbled. The lead foil has often served me in good stead to put under the winch plate when it does not fit tightly. My hunt for my favourite smoke almost made us miss our train, and quite to forget our lunch. "Kitty Brewster – that is a queer name for a place." Says K., as we stop at a station. One of our fellow passengers informs us that it is called after a local celebratory of that name, who once kept a toll gate here. On getting to Dyce junction, where Mr. Murdoch told us to alight, the station master informs us that Mr. M. has been out by an early train, and left us instructions to go on to Parkhill, the next station. Very good of him to take all this trouble on our account, and another instance of the hearty manner in which our Scotch friends tried successfully to make our visit a pleasant one. Our instructions are to begin at the bridge, and Mr. McDonald will meet us. We now discover we have the day before us, not a particle of food and no Inn within Lord Beaconsfield's measurable distance. K., who is never at a loss, decides to see if the old lady at the lodge by the river, who is engaged in cooking her morning meal, cannot kelp us. In we stalk, and K. explains the situation and asks for the loan of some bread and cheese. We understand her to say she has none. "Try her with oat cakes," I suggest. "Capital," says K., and after bawling into her ear for some time he makes her understand, and a pile of big three cornered cakes is soon forthcoming. K. then makes her happy with a shilling, which she hardly likes to take, and then she blushes like a rose as he asks her when the wedding is going to be. "Yes, wedding – I hear you are going to get married very soon," and he appeals to her grand-daughter, who has just come in with a can of water for the porridge, to confirm his statement. On getting to the river we discover there are two bridges. The old lady had informed us she was sure McDonald's water was above the bridge – but which? We held a council of war, while putting our rods together, and as there is a most likely look pool in front of us, but above the lower of the bridges, decide it must be alright. "But suppose it is not," I suggest, and ask him how a paragraph in the papers would look to the effect that "Mr. Geo. M. Kelson, the well-known salmon angler, and the editor of the Fishing Gazette were brought before the Parkhill magistrates for trespassing in pursuit of game on Lord McTavish's estate." What can we say if the keeper comes? "Say? Why, say we were told to begin here; besides, the old lady said it was alright. We have a good laugh at the idea of giving old Kitty Brewster, as we called her, as our authority for fishing a splendid salmon pool! K. is soon ready, and as I get into friend Thomas's big waders, who should appear on the scene but the keeper, with his double barrelled gun under his arm – wonderful the way these fellows will drop from the clouds when you least expect them. "Good morning sir; nice fresh morning, but rather cold for fishing I fear." He turns out to be Mr McDonald's keeper come to help us with our things, and show us the water. Then Mr. McD. Himself appears, and very genial and pleasant we find him. In course of conversation we find that Mr. McD. Has got a splendid stretch of the Don and about fourteen hundred acres of partridge shooting which he wishes to let, and the marvel is that he had not let it. Fancy four on four or five miles of the Don, fair shooting, an eight-roomed cottage, the use of a horse and trap and boy and Mr. McD.'s own services, all for the sum of £160 for the whole season!
In spite of the dams, in a heavy water a great many salmon do get up the Don, especially in the autumn, and the trout fishing is simply superb, the fish running very large, and a 10lb 20lb or 30lb. basket being no uncommon thing to one rod in a day. "Although I think we can beat you at salmon-fishing we don't understand trout fishing as you English anglers do," said Mr. McD. As we walk up to the "Burn Mouth" pool. He "is sure any good trout angler would have wonderful sport."; and I can well believe it. The Burn Mouth, where the day before young Mr. Forbes had killed two clean fish, proves a blank to us; as did a pool below where I waded out among a lot of salmon pits formed by the fish when spawning. Rather a ticklish wade I found it. The pressure of the stream almost forces you down, and the knowledge that any instant I might find myself overhead in wading trousers and with a sprained knee, made me wonderous careful. Acting of Mr. McD.'s advice, we walk upstream about a mile, past splendid trout shallows, to the top of his water on his side. The river makes a sharp curve here between rocky banks, and, after falling over a series of ledges, forms a fine pool, easily fished from the bank. Here I rose and firmly hooked a strong fish. K. and Mr. McD. Are some little distance below. I sing out, and they come hurrying up with the gaff the fish leaps clean out of the water after a rush across the pool. He fights like a clean fish, taking line again and again and Mr. McD. Says it is a likely place for a "fish." The pool is full of big, jagged rocks, necessitating my keeping level with him every time he rushes upstream; and indeed, you should, if possible, always keep above your fish. As he comes into the slack water, and shows his big, black tail, our hopes of a clean fish are dispelled, and abig kelts os soon tumbled back again, doubtless wondering why such an awful fright should follow the taking of that pretty "Childers."
As the fish are "sae dour," as the keeper calls it, K. decides to get on to Banchory this afternoon, where I am to join him in the morning. Mr. McD. And I go over the stream up to some lovely water above, but this kelt and one trout which rose to a trout fly I had put on my cast, and got foul hooked by the salmon fly as I struck, was all the sport I had; but I had seen the Don, and been delighted with itand made up my mind to give it's trout fishing a good trial – we were fully a month to early for trout fishing. At Parkhill station we heard the sad news of the death of Price Leopold, almost as soon as it was known in London.
Saturday – our last day. After paying a visit to Mr. Garden, fishing tackle maker and angler, and inspecting his fine stock of flies, including some most taking-looking "creepers," with glittering bodies and wings tied down at the tail, which, I am sure, would kill trout if fished in A.R.I.E.L.'s "fly fishing Spinning" style. I took the train along Deeside to Banchory, about twenty miles upstream. I found` Major Traherne and K. both in a salmon pool, called the "Moral," playing a kelt. The major very kindly gave up fishing, and took me up to try the garden pool. He told me he was greatly disappointed with his fishing, having only taken fourteen clean fish the whole spring. His water – I forget the name it goes by [Woodend] – is capital in the autumn, or "Back-end," as Scotch anglers generally term it; but in spring the clean fish run on through it, and, from what the major said, he certainly will not take it again. At the garden pool I had hardly made three casts before I was into a fish, which plays in such a lively manner we feel sure it is not what it proves to be after ten minutes fight – a 15 or 16lb. kelt, which, in order to avoid injuring it with the gaff, the major "tails," i.e. catches by its tail very cleverly. I try from the boat, but the catches are down the opposite side, and as it is "common land," they have been well thrashed by several anglers from the bank. Then I tried wading, the bottom being large, round pebbles, and the Dee as clear as glass. This is quite pleasant work after the rough bed of the Don. Its crystal clearness is characteristic of the Dee; you can see the bottom of all but the deepest pools, and yet the Dee flies are generally dressed very large, the fish being free risers. But in this cold wind and bright sunshine not even the numerous kelts, which are tumbling about, will look at the fly, and it was not a little to the Major's astonishment when taking up his rod again for an almost hopeless try, he hooks and kills a pretty clean-run fish. Kelson, who has worked with his usual care and skill, and has not even a touch. Mr Farley a gentleman who has the water below Major Traherne's has been more fortunate, having killer over sixty fish, including three today. K. is going to stay over Sunday with Major Traherne; and, as I want to catch my train back to Aberdeen, Mrs. Traherne very kindly drives me back to the station. There is not a minute to spare, the splendid little pony goes like the wind, but can hardly have been a teetotaller from the way she shies from the pump. In the evening I called, with Mr. Bell, on Mr. Fraser, and, intending only to stop a few minutes, stayed some pleasant hours.
Next morning, when the boots knocks on my door, I feel much more like a rest than starting on a five hundred mile railway journey home. Mr. Murdoch looks me up after breakfast to show me a little of the "Granite City." I cannot close this sketchy account of our trip without thanking him and other Scotch friends we met for their many kindnesses; and I am sure both Mr. Kelson and Mr. Thomas will heartily join me in doing so, and acknowledge that the pleasure of our holiday was greatly enhanced by the trouble they took to assist us in every way. If those of my readers who have waded through these line want further information about the fishing, or flies, &c., I shall be happy to help them as far as I may be able. R.B.M.
William Murdoch's Notes from the Fishing Gazette
Fishing Gazette 23rd Feb, 1884 - The Dee (Aberdeenshire) Flies (Second Article)
In our last article on the Dee and Dee flies we hinted that on this occasion it might be found necessary, for the sake of illustration, to change in imagination either the weather or the water. Now, in regard to these two elemental subjects, the former is certainly the one least likely to be affected by us if our endeavours are applied in a literal manner. To anyone possessing the merest smattering of science the idea of attempting to upset the laws of aerial nature would appear the height of modern absurdity. We therefore leave undisturbed for the present the gentle zephyr and balmy breeze, the gorgeous cloudland and murky sky, and proceed to name and describe a few flies that, in our opinion, are well adapted to the common shades of discolouration which the Dee assumes when western winds, spring freshets, or copious showers lend its additional swiftness in
"Hasting to pay its tribute to the sea
Like mortal life to meet eternity"
If we bear in mind that the Dee runs almost due east, and that the greater proportion of its upland tributary streams are fed by mountain lochs of eastwards outflow, whose waters are generally of a dark brown or peaty colour, owing to the consistency of their surroundings, we can realise with considerable precision how a strong westerly breeze of any duration id likely to affect the size and colour of the river. So, then, it may be easily understood that when a perceptible increasing in its volume is thus occasioned, fishing in general, and fly-fishing in particular, until such time as a subsidence commences, usually proves what we may not inaptly term "labour in vain". Should anglers determine their fortune when the river is rising success may in some measure crown their patient efforts if recourse is had to the use of Brown's minnow or the clear Devonshire phantom. Though not personally partial to the use of the minnow, we have sought to obtain information regarding its success under such conditions as indicated above, and the result has verified our apprehension that reports of a highly favourable nature would prove very limited indeed. For all that, we hold that when the river is filling in consequence of the emptying of the lochs, and anglers not withstanding on the qui vive for sport, either of the lures to which we have referred is more likely than any other to insure the much-wished-for – the eagerly-expected result. Altered circumstances alter the case, and when the water begins to settle down a different story can be told. It is then, and particularly then for spring fishing, that we would recommend a trial of the yellow eagle. If the angler is fortunate enough to select a hook correct in size – corresponding exactly to the body of water – and fish are on the "take" at all, good results are almost certain to follow. It may not be generally known, though the fact is established, that the fish will cultivate the acquaintance of a larger hook in cold than in warm weather. We have seen them enticed with a large fly the one day, while on the next, though only a change of temperature had taken place, nothing larger than half the size of that used on the previous day could be found to stir a fin.
It has been invariably found that angling on the Dee when the water is of brownish colour is attended with most success if a fly in which orange or yellow preponderates us used. We have verified this statement over and over again in our own experience, and often heard it corroborated by professional anglers second to none on Deeside. A "grey heron", such as described in our last article, is frequently a very fatal lure when the water presents the appearance we have indicated. The "Saturday" tempts very successfully, but it seems to have greater fascination for kelts than clean fish, and is accordingly but little used.
Our ideal "yellow eagle" is made up thus: - Tag, silver tinsel; tail, golden pheasant rump feather; body, two turns blue mohair, and two turns claret mohair; silver tinsel and gold twist; a full deep yellow eagle hackle well down body; teal at shoulder; turkey wing, black and white distinct bars; black head.
An eagle of this description is, as we have said, the fly to which we would first give trial under certain circumstances. In the end of April and in May, the "Gordon," and "Childer," suit well, and by using them about that season anglers often obtain first-class sport. It should be noted, however, that he former ought to be used when the light is strong; the latter when it is duller, and toward evening.
Before we begin to enlarge upon the flies most in favour under certain other conditions of "wind and tide" then heretofore noticed, it may be as well to give a description of the ones left over in out last article because of insufficient space. These appear to be the "Balmoral," "Glentanar," "Tartan," "Grey Eagle," and "White Eagle." The Eagles are to the patterns which we have found suited best – the former a cloudy, the later a cloudless evening sky. In proceeding, according to the order indicated above, the "Balmoral" claims our notice first.
"Balmoral" : tag, silver tinsel and orange floss; tail, a topping and fibres of golden pheasant tippet; body, three turns green, and two turns black mohair; silver tinsel and gold twist, black heron hackle well down body; jungle cock feather on either cheek; dark brown Turkey wing with black tips; black head.
"Glentanar": tag, gold tinsel; tail, fibres of golden pheasant tippet; body, orange-red and blue mohair in equal proportion - blue at head; red in the centre and yellow beside tag; gold tinsel and silver twist; black heron hackle; teal at shoulder; orange in body well picked out; red turkey wings; black head.
"Tartan" : tag, silver tinsel; tail, red cock feather; body, one turn orange, two turns blue, and three turns claret mohair; silver tinsel, broad; grey heron hackle (sparingly) down body; teal at shoulder; distinctly marked black and white turkey wings; black head.
"Grey Eagle" : tag; silver tinsel; tail, golden pheasant rump feather; body, black mohair well picked out; broad silver tinsel; grey eagle hackle; teal at shoulder; mottled turkey wing, brownish tinge; black head.
"White Eagle" : tag, silver tinsel; tail, golden pheasant rump feather; body, red and blue mohair in equal proportions – blue nearest head; silver tinsel, broad; white eagle down for hackle – a considerable quantity; teal at shoulder; black and white turkey wing; black head.
Milne, Aberdeen; Blacklaws, Kincardine O'Neil; and Smith Ballater, supply well-tied patterns of all flies we have enumerated. If we may recur to the subject of angling on the Dee when the river is swollen by the emptying of the lochs, we would suggest that the "Yellow Eagle" should be used during the whole of the first day after the subsidence sets in; on the second day it should be alternated with the "Grey Heron," or perhaps the "Silver Grey," if the river has perceptibly decreased in volume. When the shades of evening are gathering around, a "White Eagle," or a larger size of a "Yellow Eagle" than that used during the day, ought to be the last thing offered if a natural minnow is not forthcoming.
In our next and concluding article on spring fishing and flies, we will refer to and describer such flies as are most used when the river is high, either in consequence of rain, or the melting of snow on Lochnagar, Cairngorm, Morven, Ben Macdhuie, Benaburd, Mont Keen, and Braereuach, &c. W.M.
P.S. – We are open to receive from fishing tackle makers and others, for inspection and mention in our subsequent articles, any pattern of flies (with notes regarding them) that have proved good killers on the Dee during the spring months. These will be returned (if wished) without undue delay. Of course it must be understood that we mean flies other than those already referred to in these articles.
Fishing Gazette, 1st March 1884 - The Dee (Aberdeenshire) Flies - (Third article)
Whenever, as recorded in the "Legend of St. Swithin"
"The wide and wasting Dee
Overflows its banks and sweeps its streams,
From Crathie to the sea,"
The veriest tyro as well as the greatest adept, in the art recognises the full meaning of the truism that "fishing is of no use." Not only on such occasions, but also when the river runs high in consequence of the rapid thawing of snow on the hills, is the angler likely to arrive at an almost similar conclusion? Master Salmon is not then in his active or sportive moods – quite the reverse; in fact we have observed that he in invariably rather lethargic in his habits when the river is snow fed to any great extent. On such occasions any of his species that are hooked will prove slow, sullen, and determined – most dogged in their resistance – long in exhausting themselves. How are we to dispose of this fact? Does it not tend to make us recognise that salmon, like the lords of creation, become depressed when the temperature is low? Like the "beathen Chinee," they are peculiar; their ways are "dark," difficult to divine. But this by the way. After a freshet or a heavy fall of rain in the early season, the water as it decreases in volume usually assumes a dullish chalky colour for a few days. The nature of the light when a canopy of laden clouds is overhead renders this peculiarity particularly apparent. It is then that anything white or greyish in appearance seems to obtain the acme of favour. During the last two days of the first, and the first two days of the second, week of this year's spring fishing, there prevailed precisely such conditions of cloud and water as we have indicated. Accordingly it was found that flies having light coloured or white wings, grey heron hackles, bright bodies, or any dressing that imparted the shades described, were used in general with much greater success than the best of the darker and more sombre hued compeers.
Prominent amongst the hooks of this description, in the way of bringing success to the angler, were the "White winged Tricolour," "Tartan," "Killer," "Grey Heron," "Ackroyds," and "Eagles." The introduction of the "Silver Grey" as a Dee spring hook is of quite recent date. Indeed, this year already it has been more used than ever it was at before this season. One day it does well; the next it is of no use whatever, and it therefore what we may term a very uncertain fly.
A hook called the "Marlie" that we imagined we had almost seen the last of, is beginning to revive in popular estimation. After having disappeared and apparently forgotten, like Ariosto's heroes, it comes to the front once more. "Sir Peter" is a very nice fly, not by any means new to the Dee, though the name may not sound familiar. We are to rank it amongst our standard patterns, because being a good killer, it is certain to obtain a wide popularity soon. The "Robbie," a very excellent spring fly (fancy), may be said to have died out with its inventor, Mr George Robbie. late land steward, Blackhall, than whom none could dress a Dee fly with greater exactness and finish.
A pupil of Robbie's himself, a very good fly-dresser, has kindly supplied us with a pattern of this hook, which we will afterward describe for the benefit of those who may wish to give the "Robbie" a trial. It is a fly well worth experimenting with, if appearance goes for anything. The "Badger" is a fly we consider would do pretty well in subsiding water of almost any colour incedent on the Dee. It is very fatal to grilse and sea trout in slightly discoloured, and, if tried might prove also to salmon also. "Dr. Corbet," or the "Minister of Drumoak," a favourite of long standing, is often used with good success in a moderated sized water during the spring season. We have also been shown a very attractive "Eagle" pattern dressed for A. Muirhead Aitken, Esq, London, who is presently fishing the Riverston section at Banchory – a piece of slow running deep water on which too large or showy a fly can scarcely be used when the river is heavy. This lure – a combination of the silver doctor and grey eagle – has not, to our knowledge, been previously used on the Dee. We therefore await the result of Mr. Aitken's experiment with considerable interest. It will no doubt be judged best that we should now complete our description of Dee spring flies, and reserve our notice of the standard flies till next week. Meantime it is our desire to make it understood that any good killing patterns (with notes regarding them) forwarded to us through the Editor for inspection and mention, will be included in our final notice. We will now describe the "Killer," "Marlie," "Sir Peter," "Badger," "Lady Grace," "Dr. Corbet," and "Robbie," in that order.
"Killer": tag; silver tinsel; tail, red golden pheasant rump feather; body, yellow, blue and scarlet mohair in equal parts; silver tinsel; grey heron hackle from half down the body; red golden pheasant rump feather at the shoulder, very light brown turkey wings; black head.
"Marlie": tag, silver tinsel; tail, golden pheasant tippet; body, red and yellow mohair; silver twist; pea hen hackle down body; yellow cock hackle at shoulder; white turkey wing; black head.
"Sir Peter": tag, silver tinsel; tail, golden pheasant rump feather; body, mixture of orange and yellow mohair; silver tinsel with gold twist; red cock hackle down body; mohair in the body well picked out; cock hackle (dyed claret) at shoulder; mottled turkey wing of brownish tinge; black head.
"Badger": tag, silver tinsel; tail, golden pheasant saddle feather; body, claret mohair; silver twist and gold twist; white cock hackle with black centre three fourths down body; mottled (distinct black and white) turkey wings; black head.
"Lady Grace": tag, gold tinsel and yellow floss; tail, golden pheasant saddle feather; body, one turn black and four turns orange mohair; gold tinsel; teal hackle dyed yellow; wing, white turkey dyed yellow; black head.
"Dr Corbet": tag, silver tinsel; tail, golden pheasant saddle feather; body, first half claret and green, second half claret; silver tinsel and gold twist; grey heron hackle; guinea fowl hackle down body; brown mottled wing with black tips; black head.
"Robbie": tag, silver thread with yellow floss; tail, two golden pheasant toppings; butt, bronze peacock herl; body, one turn light orange floss, remainder dark orange mohair; silver tinsel and gold twist; dark orange hackle from first turn; long grey heron hackle at shoulder; wing, fibres of bronze peacock herls, bustard, red, blue and orange swan, and golden pheasant tail; jungle feather on each cheek; topping over all; red and blue macaw ribs; black head.
Had the various small spates that have occurred since the commencement of this year's fishing been due in a greater extent to the melting of snow than the falling of rain, it is safe to say that our record of sport obtained would have proved less satisfactory. Though the best average results can be calculated on with certainty when the river maintains a pretty fair size and even flow for a week or two on end, anglers in general have little cause to feel disappointed with their sport on the Dee during the past fortnight, notwithstanding that the river moved up and down pretty frequently. Nothing gratifies us more than to hear of continuance of successful angling. W.M.
The Fishing Gazette, 8th March 1884, The Dee (Aberdeenshire) Flies (Last Article)
With the kind co-operation of the local fishing tackle manufacturers and several well known and experienced Deeside anglers, we have, from a consensus of opinion expressed, been enabled to make a collection of twelve of the most popular mohair dressed turkey-winged flies used by anglers on the Dee during the spring fishing season; and further, to determine with accuracy, in the minutest detail, the particular dressing of each. If to these we make the addition of three "Eagle" flies, there is good reason for imagining that even the most fastidious will find our list of plain patterns sufficiently varied to preclude the necessity for further additions. It has of course to be fully kept in view that such flies as the "Gordon," "Childer," "Robbie," "Silver Grey," and "Dusty Miller" (already noticed in these articles) may, at certain times during the early season, be used with equal advantage; but then it is not our object to treat these at present. Neither can we treat them as spring patterns in any sense, because, belonging as they do to the category of fancy flies, they are used more generally in summer and autumn. Our Dee standard patters, be it understood, are peculiar in respect that they are dressed with mohair instead of floss and have plain (turkey) instead of mixed wings. This style of dressing and make up has all along obtained and been regarded with high and general favour by angles on Dee and Don. Though we can well perceive these flies to be of a special make, and particularly adapted for Aberdeenshire rivers, we have learned that they have been frequently used elsewhere with a gratifying amount of success. On account of their cheapness and killing effectiveness we have good reason for predicting that their popularity, as they become better known, will prove very much wider in its range in the future than hitherto. We speak advisedly because we have received ample evidence that they kill as well, if not better, as flies twice or three times their cost, while the loss entailed to the angler if they are destroyed or appropriated by a fish does not prove a distressing financial calamity. Though we ourselves have always had a predilection for fancy flies, we are honest enough to confess that our best results have been invariably obtained when using the strip wing lures. This remark applies exclusively to spring fishing, and if anglers attach any value to it they may regard it as being give with our best wishes for their success whenever they think of experimenting with any of our standard patterns. En bonne foi.
With these prefatory remarks we proceed to classify the various flies, summarise briefly the times for using them, and alter, where necessary, any descriptions not give with accuracy in our previous articles. It may, however, be as well to state at the outset that in regard to minor details in the matter of dressing, it can serve no good end to draw hard and fast rules, only it ought to be carefully noted that the general appearance must not be very perceptibly altered, otherwise the name departs, and the production is simply a hybrid.
In our collection of standard patterns for Dee spring fishing we include the (1) "Balmoral," (2) "Gardener," (3) "Glentanar," (4) "Dr Corbet," (5) "Ackroyd," – white-winged and red-winged – (6) "Rintoul," (7) "Sir Peter," (8) "Grey Heron," (9) "Killer," (10) "Yellow Eagle," (11) "Grey Eagle," (12) "Red-winged Heron," (13) "Tartan," (14) "Tricolour" – white-winged and mottled-winged – (15) "White Eagle." These have been arranged into four groups, and shaded in a manner corresponding as nearly as possible, with the various appearances (brownish, greyish, yellowish, whitish) they present in the water under ordinary circumstances. For the purpose of enabling us to follow out our theory of adaption to aqueous and atmospheric conditions, we relegate Nos. 1 to 7 inclusive (5 red-winged) to the dark or brownish; Nos. 8, 9 and 10 to the yellowish; Nos. 11, 12, 13 and 14 (mottle-winged) to the greyish; and Nos. 5 (white-winged), 14 (white-winged) and 15 to the whitish shade. The "Ackroyd" and "Tricolour" have each two different sets of wings, but the rest of the dressing on both is precisely the same as described in one of our previous notices.
The black bodied "Grey Eagle" answers its purpose best on a cloudless evening after sundown, when brought to play upon clear, streamy water with a gravely bottom. In the evening, when the sky is unclouded, a "Yellow Eagle" is decidedly the best pattern to use in fishing deep pools. When a nebulous condition of atmosphere exists, fortune seldom favours abundantly. At such times, however, we cannot do better than recommend a trial of the "White Eagle" for pool or stream after sunset. As noted previously, a large sized "Gordon" often proves a resistless lure just before dark. But this by the way, previous to proceeding with a short dissertation regarding the adaptivness of our standard patterns to certain atmospheric and aqueous conditions.
On the subject we have in hand, nothing is more difficult than to speak with certainty. We have to call to our aid experience and observation, and in reliance solely upon these to make our application. If we fully in view of the fact that at certain times fish will not be cheated by any wile whatever, and that the angle is probably tempting where there is nothing to tempt, the ground is cleared somewhat. Again, we may remark that any observant angler knows full well that a great deal depends upon the manner in which the fly is played in the water. Presuming that most Deeside anglers are experts, we do not offer any observations on the point, but proceed to remark that in streams of even current little motion of the rod is necessary from the time the fly touches the water till the next cast is made. On the other hand, if pools are to be fished properly, a fair motion of the rod is necessary, while a well-sunk fly is half the success. Although it would be very absurd of us to assert dogmatically that a particular fly would be "certain" to prove fatal at a particular time, the combined experience of a few careful observers enables us to make a pretty near calculation in the main. Find you fish in humour, and then anything you may offer – if at all near the correct size – is pretty certain to ensure capture.
We now proceed to observe that flies of the dark or brownish order are better adapted for normal condition of river than anything else – the "Balmoral," "Gardener," and "Glentanar" when the sky is unclouded; the "Rintoul" and red-winged "Ackroyds" when light, fleecy clouds are floating about; and "Dr, Corbet" and "Sir Peter" when the nimbus clouds reminds us of our waterproof.
The time when flies of greyish pattern can be brought into requisition with greatest effect is immediately on the subsidence of the river into a fishable condition after a heavy fall of rain. We would commence with the "Grey Eagle" (the "Yellow Eagle" also does well), follow up with the "red-winged heron," substitute the "Tricolour" (mottled-winged) after a time, and end this order of flies with the "Tartan" just as the water is getting into its ordinary size and colour.
In subsiding water of peaty colour, no matter what condition of cloud may exist, the yellowish patterns, if given a fair trial, are certain to prove most deadly lures when fish are plentiful and fairly well on "the take."
If a pretty stiff breeze prevails, and a canopy of leaden-hued clouds is reflected in the water, the whitish patterns are oftenest used with most advantage. This particular shade is found to answer almost every atmospheric variation when the river is snow fed to any great extent.
More detailed information with regard to our Standard patterns, and when you use them, &c., will be found in former articles.
Our tack is done, and the question intrudes itself – To what end is all this discoursing? – Nous verrons
Fishing Gazette, 14th March 1885, Salmon Flies for Spring – Dee, Aberdeenshire, by W.M.
This year witnesses, as most years have hitherto witnessed, the revival of a few old favourites, and addition of several new patterns, to the already long list of Dee flies. No matter how many patterns have already or may yet come to the front this season, there are half a dozen capital killers – the pets and the invention of several good anglers on warious parts of the river – that have not yet been described, but which, with your permission, a description of may now appear in the Gazette. Keepers or fishermen of intelligence who have long fished certain reaches make flies a study, tie them themselves, and, for several beats, have usually the most suitable selection. We say this much because it would not be right to select a few of their "ideals" for the benefit of anglers, and, without acknowledgement, reproduce them here.
Having on a former occasion, fully discussed adaptation to time and place, when and where certain flies might be used with success, we proceed without preliminaries to observe that for spring patterns the conventional long shanked Dee irons – a special manufacture of Bartleet and Sons, Redditch – are all but universally used: that is to say, so long as the weather is cold, and the volume of water somewhat more than ordinary in size. For spring patterns such as described below, the irons range from 1¾ in. to 4 in. in length, and the Limerick bend is the approved style. The wings, which are strips of turkey feather, should be place so that the upper part of the shank at the head as to naturally extend about 10 degrees outward at the tips after being tied. In length, except when topping are used, they ought to stretch quite to the tip of the tail, or somewhat further than the extremities of the bend, the precise length that symmetry may be shown, to be determined by the size of the iron. The correct length of the tail feather or fibres should be likewise so regulated. When hackles of black or grey heron are used, they ought to be of the longest fibre, and wound on sparely and spirally down to the point indicated in the descriptions.
Fishing Gazette, 21st June, 1884
We hold that, unless for fishing in very heavy water, the irons, on which salmon and grilse are dressed, can scarcely be too slender, if sufficiently strong. In any swift-flowing river, such as the Dee, the advantage to the angler in possessing flies of this description cannot fail to be apparent. For one thing, they glide smoothly through the water, and are, therefore, more natural and tempting in appearance than flies of more expensive and cumbrous get-up. Ever since the long slender irons – specially made for Cosmo Gordon, Esq., he inventor of the "Gordon" were brought into use, they have been steadily growing in the estimation of the Dee anglers. In fact, at the present day our regular experts scarcely ever resort to the use of irons of a stronger make. In this respect, we imagine that such irons – 5 or 6 inches in length – are used for plain and fancy salmon flies, on any other "free-rising" river. In a swollen water, when it becomes necessary to sink the fly well, they are found less suitable than in ordinary circumstance. Still, on many of the upper reaches of the Dee they are constantly used, no matter what the condition of the river may be. So much for irons. Now for a word or two regarding hackles, &c.
The flies of a number of professional dressers are faulty, inasmuch as they are either insufficiently firm, possess too round heads, or too much hackle. Professional anglers, on the other hand, in regard to these points, run up their flies with rigid care. They do not aspire to work the silk so finely or lay on the tinsel as neatly as the tackle maker, but in general greater attention is paid by them to points of higher moment. Flies with nicely tapered heads cut the water easily, and spare, well-mixed hackles do not create a "furr." Their superiority therefore is obvious. While the hackles of Dee salmon flies frequently extend further than the whole length of the iron, and than it are seldom ever shorter, hence those used for grilse flies rarely go beyond the barb. These notes may be useful to those who intend to dress our patterns.
The Don (Aberdeenshire) - Fishing Gazette, 31st May, 1884
If the Bill now before a committee of the house receives the sanction of Parliament, Lord Huntly, Sir Charles Forbes, Bart of Newe, Dr Farquharson of Finzean, M.P., and other promoters of the Deeside, Strathdon, and Strathspey Extension Railway, will have the credit of opening up to the tourist angler a number of the finest trouting streams which the North of Scotland contains. Hitherto, save in name, these rivulets have been little known except to the dwellers in the glens. In these regions the iron horse has never yet;
"Broken the stillness of hill and glen
Or awed the spirits of mountain men"
Difficult to access, through a want of regulary established mean of locomotion, the upper regions of Strathdon retain much of their primitive simplicity. Though a few enterprising anglers have penetrated the esclusion of the upland straths and discovered the haunts of the famous brook trout of the Don and its tributaries, the Deskry, Nochty, Sperach, Ernan, and Bucket, the shepherds, gillies, and cottars have till now undoubtedly had the cream of the piscatorial pleasure. Sprot – talk of sport! – nowhere can better sport be obtained in May, June, and July. These steams swarm with trout, goodly sized trout, and trout that take readily. Then in the straths of Don we do not know of a single place where a beginner could hope to receive a more encouraging commencement. This we say from what we know of tyros having accomplished. We need say no more regarding the tributaries of the Don at present: they will be returned to and described more fully by us ere long.
Pursuing the course of the Don, "leaping onward with the stream," we arrive in the famous vale of Alford. Here there are two open (free) reaches of river, the one attatched to the Haughton Arms (Mr. Brown's), and the other to the Bridge of Alford Hotel (Mr. Mitchell's), in April and May these show splendid sport, but the tyro here has little chance, as fine fishing is required. Both hotel keepers give a free permit to their guests to angle for salmon and trout. Fly-fishing being principally practiced hereabout, angling nears its close towards the middle of june, as trout cease to rise freely. The flies used are similar to those referred to in connection with our description of other parts of the Don, the only difference being that all over they ought to be brought into use about a fortnight later than on Parkhill and Kintore waters. Good baskets of trout are invariably got on the Alford waters – 12 to 15lb. to a rod daily. Occasionaly a few small salmon are landed during the trouting season. The Jock Scott, Childers, Butcher, and Lady Caroline are the favourite flies. Many enthusiastic anglers from England and the South of Scotland frequent Alford during trouting season and enjoy the sport and change of air immensely. It is a lovely place; as a spring and early summer resort, it is all that could be desired.
Alford is the terminal point of the Alford Valley Section of the Great North of Scotland Railway. Proceeding the way of Aberdeen and down the river we arrive at Kemnay. Here permision to angle on the river for trout can usually obtained from Mr. Fyfe, granite merchant and contractor, a most genial, obliging, and hospitable gentleman. His splendid quarries and works are in every way worthy of a visit. At first, diverging away from and then approaching towards the river, the next station reached is Kintore – the connecting link with the main line. From this point we proceed northwards to Inverurie, 3½ miles distant. The inhabitants of the Burgh of Inverurie have a right to two splendid reaches of water – one on the Don, the other on the Ury.
Not far from the confluence of these rivers stands the famous Bass, of Inverurie, a large grassy mound, regarding the origin of which there have been no end of dissertations, controversies, and several rhymes. Of the latter the single quotation will suffice:-
"The Dee and Don shall still run on,
The Tweed shall run, and Tay;
But the bonnie water of Ury
Shall bear the bass away."
The Don in the vicinity of Inverurie, affords good sport to anglers for trout during the proper season. The Ury is also a well-fed and excellent trouting stream. Though the trout are equally numerous in proportion to the size of the stream – perhaps more so – they do not pocess the quality as the Don trout. Permission to angle on both reaches is granted, free of charge, by the magistrates of the Burgh. On the Don attached water good success in angling for salmon is the rule in the "back end" of the season. This reach, however, is pretty much fished, and the proportion per rod, in consequence, not very high. Some local anglers, nevertheless, succeed admirably. Flies: Jock Scott, Butcher, Childers, Popham, Thunder and Lightning, Lady Caroline, Dr. Forbes, Grey Heron, and Minister. A suitably-sized assortment of these will be found to be the best range of lures which one could possibly posses. With a few "eagles" – grey and yellow – for evening fishing, the equipment is complete. Train direct from Aberdeen four or five times a day – half an hour's run. First-rate accommodation and every convenience at the Kintore Arms Inverurie. Keith Hall, the family seat of the Earl of Kintore, with its extensive and beautifully-wooded grounds, stands on an eminence on the north bank of the Ury, about a mile and a half from the Burgh. W.M.
15th October 1887 - Scotch Waters - By William Murdoch
Hints - Flies, Baits, &c.
In following up what I said last week, it occurs to me that, in the first place, it would be best to still further enlarge upon experience from which some useful hints may be gathered, and in the second and last place to touch upon sundry subjects which, to save me titling them individually, I shall class under the general heading of "Adaptation to Circumstances".
Scene: Aberdeenshire Dee - a fine October morning.
Angler to Gillie: "What are the prospects - do you like the look of the day and the water?"
Gillie: "Weel, sir, I'm thinkin' we're nae tae dee muckle guid i' th' foreneen; th' watter's richt enugh in size, but we'el an' I ken, sir, it's niver muckle ?? fen banks o' cloods are settin' up a 'roon as they're daein' i' th' noo. Leuk, sir, ye'll see ilka stane i' th' boddom o' th' watter there, and mair nor that I'll tell ye ye'll distinkly see a' yer line, an' ye'r flee swimmin' i' th' watter as far oot as ye'r able to throw't. Na, na, it's nae ony guid fishin' i' th' noo; let's jist sit doon an' wite tull that confounit glare wears off. Gine we war tae fish th' noo we wad be scarin' th' fish, an' that wudna' dee ava. It's niver bit ance I've seen a fish ta'en fen th' licht was like this, an' it was ta'en ae frosty mornin' that th' watter wur verra sma'; an' sir, it wus mysel' that did it, an' I took it wi' a prawn. But sir, I shoor it's nae ony guid tryin' th' prawn th' day else we wud try't - th' watter's a'hantle over big, and it's far over fresh a mornin'. Deed, sir, it's nae bit fen we canna get fish ony idder wye that we work the prawn, an' aifter a' it's nae worth tryin' at this sizzen bit in a frosty mornin' or foreneen fen th' watter's verra verra sma' and clear. June sir, is oor best month for the prawn here, and I've seen Jock Skirton - ye ken Jock, dinna ye? - tak' oot seven fish wi't in less nor ao oor. The verra day 'at Mr. C---- and yousel' had th' thirteen fish Jock was prawnin' I' th' Telegram, an' pullin' the sawmon oot by th' breers o th' can; he had three in fifteen minnets jist aboot th' time th' sin was settin'. Jock's the best prawner'at ever I saw."
This yarn is the "say," in as near as the writer can remember the exact words, of a "braw fusher" on Dee, who is noted for his success with the salmon rod. His ideas about prawning and the nature of the light the writer can readily endorse, his own experience being his warrant for doing so.
A Triumph for the Fly - Four anglers were looking into a splendid salmon pool in the Ardoe water of the Dee. it was , not a fish has stirred all day, and it was hopeless everyone thought, as minnow, prawn, phantom, and all what not had been tried. It got very bright about ten minutes before the time stated, and I suggested that a trial should be made once more to see if the fly worked with a jerking motion would not fetch a "fush." I selected a small "Silver Doctor," and gave it to the fisherman, telling him to sink it well and work it with a jerking motion. First cast he hooked "'im." Four gentlemen saw this done. Now this bears out what everyone should remember - viz, to use a bright fly in clear water when the sun shines forth in full splendour. It was a calm pool that was fished, not a ripple on it, and the sinking of the fly and the jerking tickled salar's fancy. The fly was altogether a different character (suitably bright for the sting light and clear water) from all those that had previously been put over the fish during the day, and it was several sizes smaller. Than the Silver and Blue Doctors there are no better patterns for a bright day, clear water fishing in Dee at this season of the year.
On Don I have found the Yellow Eagle much more deadly for evening fishing than any other fly. On Dee the Gordon and Grey Eagle (I prefer it almost white) are much the best evening flies. It always is a good plan to offer the fish a very large fly just as it is getting dark. About the end of October anglers should offer them something really substantial for their supper! On very cold evenings a regular "rouser" put over them when one can scarcely see what he is doing, seldom fails when the cast is well stocked. The calm pools are the best for the big White Eagle and Gordon late in the evening. No one should give up for the day till both these flies have been tried. It is folly not to stick in to the last. "Perseverance is the horse to win with." When the river is a good deal swollen and very dark in the colour, the Yellow Eagle is a capital fly for day-time fishing; but when simply swollen (wanting the dark colour), the Dunt, Glentanar, Gordon (not too large), and Jock Scott are the flies to be recommended. A fly I call the Dee "Thunder and Lightning" I have found most killing at this season. I always lay great store by it, and well would need to, for I have taken fish with it late in the afternoon, and that, too, after several rods (still fishing the pools) had fished them all day with every imaginable fly and failed. Brown, 36 George Street, Aberdeen, dresses this fly. When the water is brown and swollen a bit, the Childers often does A1 on the Dee, especially on bright days. On Don, the Popham is perhaps the best bright day fly when the river inclines to the big size. Though some may experience differently, I can say without hesitation that on dull days late in October no fly used when the river is low is half so deadly as the Black Doctor. I put this fly far in front of all others, especially on hazy, calm days. Small sizes should be used, unless the casts are very deep and shaded, or of good strength of current and rough in character. I tone down the wing of this fly with material that gives it when wet a nice dark appearance, a greenish shade being distinctly observable. Little Guinea Fowl at the shoulder is what everyone should see to, as a lot of it neutralises the effect greatly. This is a discovery I made, and I may frankly state that until I found it out I had many and many a time but "so-so" sport on good waters late in the season when there was no sky or sunshine, and the river was low and clear. Of the Black Doctor, I never use when fishing in October a larger than 0 or smaller than No. 4 size. I use the 1, 1½, and the 0 sizes in cold rough weather when the trees are shedding their leaves.
Know The Water. - The first day I ever fished a certain splendid Dee fishery late in October I had very poor results. I was in company of a noted Thames trouter, and both of us were very foolish in declining to have the fisherman with us, as neither knew the "holds." We had a great day's fishing but only one fish. Next day I fetched out the fisherman, and guided by him to places O had not tried when along with the Thamser, I had good sport, killing two large fish with the Blue Doctor, and a small fish and a brown grilse with the Silver Doctor. It was a cloudless day all through. The following day was dull as dull could be - not a puff of wind, and under a leaden sky everything looked so bleak and cheerless that I felt quite depressed with the "sadness of the autumn day." In short, it could not have been more unlike its predecessor. The first pool I fished I got a clean-run fish 7lb.; I landed (and returned) a red fellow of 9lb., got in the bottom end of the same cast. Then I fished two pools, and saw nothing; crossed over the water, fished a fine catch and there had 'im - 19lb., then, going down a bit, I tried a narrow pool above rapids, and rose a "fush;" went on to a nice, long, slow pool, and killed a 23-pounder; had in the same catch a red fellow of 20lb., which, on account of his being "slightly broken," I returned to the water. All this was done with the Black Doctor. It was when I landed the last fish, so I at once decided to discontinue with the Black Doctor and substitute the Gordon, for which the time had now arrived, as the day was fast wearing away and the evening commencing to close in about. I went up to the cast where I had stirred the fish as I was coming down, and putting over it a Gordon just twice the size of the Black Doctor I had used during the day, I had 'im in five or six casts. That fish led me a dance, taking me down a series of rapids; he weighed 18 lb. Now it was dark - but down I went with all speed to the deep slow pool, on with a big "White Eagle" (a 7/0 long shank), and had it in the water and in a moment. Only a few casts and I hooked a fine big fish, played him with might and main (against time, as the train was nearly due), and had him at the side in no time; but by the bad luck, just as the fisherman with the gaff had almost reached him, the big "white Eagle" flew right into the shoulder of my jacket, and the fish; with a roll, sank into the depths! "Tam 'im," said Duncan, "but he was a gran' fush."
October 8th
22nd October 1887 - Aberdeenshire Rivers - By William Murdoch
Hints - Flies, Baits, &c.
If, after a night's keen frost, the sun comes out in great splendour early in the morning, the best casts are for the early riser, especially if he is a fly-fisher, are decidedly those that soonest catch, the full strength of the light provided it is not straight in the face of the fish. These are the morning or "early in the day" casts; they should all be fished before any of the others are tried, and on a bright morning to put a bright fly over them shows the angler's discernment. My remarks apply with special point to autumn salmon angling on particularly "sunshiney" mornings, and certainly, though not to the same extent, on all sorts of mornings, only it has to be borne in mind that a fly suited to the circumstances must be selected. Let, however, that fly be ever so near the right thing in size and general appearance it may possibly not be accepted by the fish as on many occasions they are dour and distant, and show no sign of livening up on the suitable fly crossing them the first time, yet after a rouser or much larger fly has played above them, it is not unusual for them to come full bang at the first fly the second time it is presented. If necessary this expedient may be resorted to at any hour during the day (circumstances favouring), only to give it a fair chance, the cast or catch, if other anglers have being thrashing it severely, must receive a substantial res before operations are commenced. It may here be as well to state that bright as the day is capable of being, if the river is swollen considerably and almost as dark as porter, the Silver Doctor plays seconds to such flies as the Improved Helmsdale, Silver Popham, Silver Grey, and Dusty Miller. Still, let that past - the Silver Doctor and Blue Doctor are greatly superior for all-round, bright day, clear-water, salmon angling on the Aberdeenshire rivers. The Popham is a "Standard" on the Don, the Silver Popham on the Deveron, and the Killer on the Ugie and Ythan - they are severally the best at times, and under certain conditions, during bright weather. Every river has its best flies, at least so far as discovered; but the grand "secret" is to know the best fly, and the best size of the best fly; always when one goes-a-fishing. Knowing this, as also the best water and how to fish it, the angler who preservers is the likeliest to have the top record in the long run.
Under certain conditions minnow is fully as deadly as fly at this season of the year, and the reason for this is that the fish, even those newly ascended from the sea, are nearly all in a brood state, and, consequently, less lively and free in rising than the spring fish are. Fishing deep pays best, and it is those who persistently adheres to this method that usually secure most large fish during the "back end." The minnow, from its greater weight, sinks better than the fly, and this is what gives it the pull over its rival. In general, however, it will not in catches of no great depth and with only a fair streamy current prove the better killing lure, but it certainly is a tickler for "potted" fish, and when the river is jumping up and down it is strongly to be recommended as it takes, more effectively than anything else, toll of the runners bent on going past. All round, I dare say that the natural minnow is ahead of either the Phantom or the Devon; but on bright days, the Clear or the Gold Devon, and on blustering days, if the volume of water is very heavy, the Phantom - blue rather than brown - will show to superior advantage. The Phantom is always well worth a good trial when the river is in full flood, no matter what kind the weather is, and it is also on such occasions that the large Dee flies, played deep in the water (where possible), gently with long draws, show their well-known usefulness to greatest purpose.
The Dodger is a desperate killer when there is much snow-water in the river Dee, It's a gran' sight the first swill of a huge fellow after he has gobbled a big fly. He gets a good mouthful, and once the hook is set "home" it hold so well that his chance of escape is small. For Dee if it is much swollen, the Yellow Eagle, Grey or White Eagle, Gordon, and the White Wing are the best flies. For Don the same flies, and sizes about ditto; 3/0 to 7/0 long shank Limerick - the extent of the flood, the nature of the weather, the time of the day, the angler to be guided by, in determining what particular pattern and size he should use. It is frequently the angler's fault (and undoubtedly it is much against his getting sport) to use far too small flies on rough cold days, and even more frequent is this the case when fishing in the evening - that is (in these northern parts) after at this season. With a slasher of a large hook I would say go at the fish till it is quite dark, for the last half-hour of the October daylight is very very often the only lucky time.
In order to avoid overcrowding, those anglers who fish free or nominally free fisheries should agree amongst themselves to divide the water as equally as possible. Overcrowding is most fatal to the maximum of sport being obtained.
Cast the fly straight down the water as possible; but at the same time as far across as it is necessary to do in order to cover the whole of the catch properly. Sometimes to effect this a very long line will be required; but in wadeable water it is sound policy to start with a short line.
After making the cast, recover a little line to put the fly in position, ten sink it well, and work round to the side, keeping all the time the point of the rod close to the water, and both line and rod true to the same angle. This method, if always practiced, will insure the angler against loss of many a fish, as there is then no slack line or "bagging," and consequently the communication between the fish and the fisher is instantaneous.
Heavy autumn fish, as a rule, have no fancy for swift streams and the strong rush of water in the necks of pools; and are oftenest found in "easy" water, and when the river is flooded they betake themselves to "quiet" places - the lower end of long deep flats, and eddies close to the bank outside the forces of the current. Therefore, it stands to reason that on such occasions it is there that the angler will look for them, "if he had all his senses about him."
While all salmon anglers know that a fly which is the right size for one "catch" may be too large or too small for another catch, and that it is of paramount importance to hit on a size to suit the state of the river, I would, in conclusion, just remark that, having already named the best patterns and stated when (in order to tally with my own experience) it is best to use them, I lay great stress on anglers bearing in mind that on a very cold day, rough and stormy, larger flies should be used than on a calm warm day, even supposing on both days there should be no difference in the volume of water. And now only one word more. Have confidence, I say, in being able to catch fish, and persevere. Confidence goes hand in hand with success. If the water is so very limited that it needs "resting," most assuredly let it have a "rest"; otherwise "aye have yer line I' th' watter"; if it's oot o't ye'll no catch fush." This advice was once given to me by a worthy old fisherman, and I'll never forget it.
May 15th, 1886 Salmon and Trout-Fishing in the Highlands of Scotland - XVI, By William Murdoch, The Ythan - Part 1
Among the rivers wholly in the county of Aberdeen the Ythan takes second place, ranking next to the Don in value, volume of water, and length of course. It comes from two springs, called the "Wells of Ythan," on the eastern slopes of the Bisset Hills, in the upland parish of Forgue, about a mile west of the boundary of that parish with Auchterless, and flows through these parishes, through those of Fyvie, Methlick, Tarves, Ellon, and Logie Buchan; and between those of Slains on the left and Foveran on the right, to the sea a little distance below the village of Newburgh. It runs mainly in a north-north-easterly direction till near the point where it first touches Fyvie, and there it is within four miles of the Deveron at Turriff, and then wheels suddenly on a new course; thence till it touches Slains it makes numerous sweeps, some of which are long, yet runs prevailingly towards the south-east, and over about three miles above its embouchure it flow almost due south.
It performs a run of 35½ miles; but in a straight line from its source to the sea the distance is a little over 25 miles. Its head springs are 760ft. above sea level; its water catchment area 225 square miles, and its minimum discharge of water into the sea fifteen million gallons daily.
The rental of the Ythan is increasing yearly; it stood at £573 in 1870, at £643 in 1875, at £746 in 1880, at £851 in 1885, and this year it stands at nearly £900. The Earl of Erroll is the owner of the most valuable fishings in the Ythan district. The chide proprietors of the rive are the Earl of Aberdeen; Sir Maurice Duff Gordon, Bart., of Fyvie; Lady Gordon-Cathcart, of Cluny; Colonel Turner, of Turner Hall; Lieut-Colonel Wolrige-Gordon, of Esslemont; Udny, of Udny; Mr Gordon, of Ellon; and Miss Buchan, of Auchmacoy.
The principal tributaries of the Ythan are the Burn of Foveran at Newburgh, and of Tarty in Logie Buchan; the burn of Forvie in Slains, and of Auchmacoy, or the Marsh burn, at Auchmacoy; the Brony and its tributaries above Esslemont, and the Ebrie water above the Kinharrachies; the Michael Muir burn opposite Anchedly, and the burn of Kelly at Haddow House; the burn of Schivas at Tanglanford, and of chapelton in the Belmuir Wood; the Burn Grains in Methlick, and the Little Water and its tributaries at Gight; the burns of Peaty, Farden, and Tifty in Fyvie, and of Pitdonlsie in Turriff, and the Garires burn, and other small streams in Auchterless and Culsalmond. The Ebrie and the Little Water - both capital trouting streams and almost wholly open to the public are considerably larger than any of the other mentioned. Sea trout and finnocks ascend with the October spates, and as the water is clearing off, anglers fishing with the worm often make pretty heavy baskets, For the common brook trout fly is the deadliest lure, and April, May and June are the best months. In the earlier part of the trouting season the trout got in the Little Water average about ½lb.. The Ebrie trout run smaller; but some large ones are now and again met with. Most of the other tributaries are good for a few smallish trout at any time, and for a fair basket when the water is filling or falling. In the autumn finnocks ascend several of the more seaward of these streams. The worm is most used - small red, or brandling worms for the common trout, and lob-worms for the finnocks and sea trout. For the Little Water, the Ebrie, and the Brony, the best trout flies are Hare Lug, Professor, Alder, Preist, Saltoun, Coachman, Black Gnat, Quill Gnat, Olive Quill, Blue Dunn, Green Fly, Partridge Ruff, Drake wing and red body, Woodcock wing and orange body, the Red and Black Spiders and other wingless flies.
Deep and slow running in many parts, the Ythan is a somewhat dour river to fish. It contains Salmon, grilse, sea trout, whitling, bull and lake-trout (a few). brook trout, pike, eels, and flounders. It flows through rich, deep soil, has abundance of aquatic vegetation, possesses fine sheltering banks, and is also a remarkably well-fed river.
The fishings on the seashore and in the estuary of the river, up as far as the church of Logie Buchan, are very valuable, as also are the mussel and cockle beds in the sleeks of the tideway. The abundance of food on the sleeks, and probably the mussel beds, attract a greater number and variety of sea-fowl than are know to visit the tidal waters of any other river on the east coast of Scotland. The Duck tribe frequent the estuary chiefly in winter, and gulls, gulliemots, cormorants, and terns, in great numbers, at most seasons of the year.
From the source of the Ythan to the old Castle of Towie Barclay, a distance of about seven miles, the water which issues from the clay slate of the district is pure, soft, sparkling, and almost free of animal contamination. But from Towie to the debouchure of the river, and in consequence of the peaty source of several of the tributary streams, the water is a little coloured, and contains abundance of organic elements, which are favourable in a high degree to pike and eel life.
The pearl mussel-fishing of the Ythan was once an object of considerable importance. A number of very valuable pearls have been got from the river, and the pearl-fishing is still carried on, though not to anything like extent as formerly. Often a hundred or more shells are opened before a pearl of any value whatever is found.
The Killer is thus described:-
Tag: Silver twist and brownish claret floss.
Tail: A topping, green parrot, and summer duck.
Butt: Black ostrich
Body: Almost two-thirds embossed silver tinsel, the rest (fully a third) brownish claret floss.
Ribbed: Oval gold tinsel.
Hackle: Canary colour (at shoulder only), teal over - sparely.
Wing: First, two broad strips of spreckled (black and white) turkey; then peacock, pheasant's tail, bustard, blue and yellow swan, teal (pretty broad strips), and a jungle topping over all.
Sides: Jungle (two spots).
Cheeks: Chatterer.
Horns : Blue Macaw.
Head: Black wool.
The killer is a remarkably good general fly. Dressed a small size, it is a great medicine for grilse. Eminently a clear water, clear day fly, it is used with much success on rivers possessing a great many open, bright, and shallow catches. One of the writer's angling friends, who has fished most of the best grilse rivers in the North, places special reliance on the Killer in summer. Already well to the front, the Killer is gradually, but surely, working into a foremost place among the North- country favourites. The above illustration taken from a true pattern of the Killer dressed by Mr. W. Garden, gun and fishing tackle maker 122½ Union Street, Aberdeen.
May 22nd, 1886 - Salmon and Trout Fishing in the Highlands of Scotland - XVII, By W. Murdoch - The Ythan - Part 2
For an east-coast river, the Ythan is a late one - so late, indeed, as not to be worthy of the name of a spring river. Fish, however, are got - chiefly in the nets - but very seldom in any great number till the spring is pretty well advanced. In the earlier months the rod-fishing is of very little account. Up to within a few years the capture, in spring, of a fresh-run salmon in the middle or upper waters, was regarded as quite an event. Since that time, however, the takes, owing perhaps to favourably seasons, have increased to some extent yearly. In the pools of Fetterletter, Gight, Methlick, and Haddow House (private water) a few salmon are now got in April and May. Fishing higher up the river than Woodhead of Fyvie, or more seaward than the Bridge of Auchedly, the angler who turns a scale before the middle of May is remarkably fortunate indeed. The spring salmon run small averaging about 8½lb. Several of the upper proprietors state that as the Ythan is a late river, the netting in the estuary should not commence until the middle of March, and they are strongly of the opinion that the extension of the close time to the date mentioned would tend, in a great measure, to improve the angling in the earlier months of the season.
On the Ythan there are no absolute obstructions to the ascent of fish, the cruives above the bridge at Ellon, being the only appreciable impediment; but as they are not now used as cruives, one proprietor states that it is thought that the upper proprietors would be willing to buy them up, and pay the expenses of removing them, if the cruive owner could only be got to give his consent. Although it is several years since this statement was made, no disposition to move in the matter has yet been shown by either party.
As regards the netting operations in the estuary, it is quite safe to assume that were they to continue as unremunerative throughout the whole season as they usually are during the spring months, the more expense of working the nets would more than exceed the total value of the fish caught. As the season advances matters improve very much - less, however, in respect of the capture of salmon than of grilse and sea trout, of which latter, owing to their great abundance, immense hauls are every year drawn to the shore in the months of June, July, and August. Sea trout commence to ascend in April, grilse in May; but the netsman seldom meet with a good run of grilse till after the middle of June, except in a especially early season. There is no rod fishing for grilse in the Ythan as the estuary is severely netted, and a clean sweep made of the ascending fish. Spates encourage the fish to ascend, and at all seasons the most favourable winds are those form points between and including the North and the South West. From 2½ to 3½ lb. at the commencement, the grilse range from 5½ to 6½lb. at the end of the season, but some as heavy as 8½ and even 9lb. are got. The annual take of sea trout by net in the estuary is estimated at from 5,000 to 6,000. It is chiefly during the darker hours of the summer nights that the nets play the greatest havoc amongst the sea trout. In his first annual report to the fishery board of Scotland, Mr Archibald Young, Inspector of Salmon Fisheries, remarks that "as a sea trout stream……the Ythan is famous…. but the re is a complaint that sea trout of too small a size are allowed to be taken, and a feeling that there should be a size fixed, and that all captured under that size should be returned to the river." The run of grilse is usually pretty well exhausted before the end of the netting season; but the run of sea trout and whitling - chiefly the later - generally continue, to some extent, till the middle of October.
Excellent sport with the rod is got in the autumn, as after the nets are off the heavy fish of the "back-end" enter the estuary and force their way to the angling stretches above. The "run" usually commences about the middle of September, and continues till the end of October, frequently somewhat later. Some seasons very good sport is got in the lower and fairly lower angling stretches during the latter part of the month of September; but unless spates or high running water occur soon after the close of the net fishing period, the angling at Methlick and Gight, and in the other up-river sections, is seldom of much importance till after the first week of October. On the whole, October is by far the best month for fly fishing on the Ythan. In weight most of the "back-end" salmon range from 14lb. to 18lb. Small salmon are comparatively few in number; but heavy fish are generally plentiful. A good many over 30lb. are met with every year. Several years ago a fish of 43lb. weight was caught in the pool above the mouth of the Littlewater o'Gight. Few fish reach pools of woodhead of Fyvie till after the close of rod fishing except in very early seasons. If spates occur early and fish are plentiful on the coast at the time, a good fishing season is almost certain to follow. In general, the lose and middle stretches of the river yield best; and the fish caught in them are heavier on average than those got in the stretches above the village of Methlick.
In the Earl of Aberdeen, who owns an immense stretch of the river, anglers have a distinguished and most liberal patron of the gentle art. When applied to personally, his lordship readily grants permission to fish for salmon, pike, brook trout, and sea trout, throughout the whole season, over the greater part of his fishery. The reach contiguous to Haddo House, his lordship's country seat - that and the water between the bridge at Tanglanford and the bridge of Auchedly, is private, but the several reaches above and below can be fished by those who possess the requisite permit. The Haddo House fishery is the only fishery of the Ythan that yields a few seasonable salmon to the rod in earlier months. In the upper stretches the chief casts for salmon are Fetterletter's Haughs and (going down), the woodside water (several pools and streams), Stone Cast, Siller Hole (near the upper log-house), Ana another just below that, Rofle Range Casts, Sandy Smith's Haughs (several casts), the cast above the mouth of the Little Water o'Gight, and one or two more down to the bridge of Methlick; the Kirk Pot at Methlick, the Broad water, the Gurger, the Laundry Pot, the Belmuir Wood cast, the Chapelton Pot, and down to the bridge at Tanglanford. The Federate Pot, in the private water, is perhaps the surest cast in the whole river. The lower stretch contains a number of good casts, of which the Pouten and the Bacl o'the Dyke are among the best. On this stretch the rods are limited to a certain number during the "back-end" fishing. As regards accommodation, Ellon is convenient for the lower water and Methlick for the upper. Several reaches of the Ythan are let to sportsman, and preserved by them; Haddo House, Turner Hall, Esslemont, and Ellon Fisheries are the most productive stretches of the river. The Haddo House Fishery alone yields from 300 to 400 salmon annually, and any number of sea trout in addition. As near as can be ascertained, the takes on the pricncipal sections last autumn were as follows; Haddon House, 380; Ellon, 59; Esslemount, 53; Turner Hall, 40.
The Silver Scott is thus described:-
Tag: Silver Twist.
Tail: A topping and Indian crow feather.
Butt: Black ostrich.
Body: In two sections, first section representing two-fifths. Silver tinsel, ribbed with narrow oval tinsel, butted with black ostrich, and having two Indian crow feathers tied in both on back and front of iron. Second section, representing three-fifths. Black floss silk, ribbed with oval silver tinsel.
Hackle: Black, down the black floss section.
Shoulder: Guinea fowl
Wing: Two broadish strips of mottled (brownish) turkey feather, with black bar and white tip; green peacock herl, pheasant tail, bustard, peacock wing, and blue and yellow swan, with a topping over all.
Sides: Jungle (two spots).
Cheeks: Chatterer.
Horns: Blue Macaw.
Head: Black wool.
Dressed either large or small, the Silver Scott is a very useful fly. For general fishing the "locals" hold that better fly can be put on the Ythan. Mr Garden 122½ Union Street, Aberdeen, who supplies most of the flies used on the Ythan, Ugie, and Deveron, dressed the fly from which the above illustration is taken.
May 29th, 1886, Salmon and Trout-Fishing in the Highlands of Scotland. - XVIII, By W. Murdoch - The Ythan - Part 3
So far as fishing with the fly is concerned, it is quite an easy matter to fish almost any of the best salmon casts with a rod of 16ft. in length, for the very simple reason that over the greater extent of the principal salmon stretches the average width of the river is under thirty yards. Wading is almost wholly unnecessary, and it is well that it is so, as owing too the general depth of the water quite close to the bank, it would, except is a few of the pools, be attended with very great risk indeed.
The Ythan is one of those rivers whereon a stranger, be he ever so crack a hand, is seldom so successful as a moderately skilled local fisherman. This is undoubtedly accounted for from the fact that owing to the great length, and the uniformly slow flowing nature, of many of the pools the "lies" are not in the least defined, and consequently ever so much water may be flogged with a out a single fish being crossed. As it is generally when running in pretty good volume that the river fishes best, the several pools in the reach to be fished ought, if possible, to be seen when the water is low and clear, as at that time the "lies" can be quite readily detected, and a fair idea formed as to where the fish would be likely to rest according to the state of the water. It is quite safe to assume that if a stranger, who is a good rod "prospects" in the manner indicated, he will soon be able to hold his own with the best of the local cracks. To possess a thorough knowledge of the casts is a matter of the very greatest importance.
Owing to the extensive geological operations - the general construction of the drains, &c. - in the Valley of the Ythan an the country around, the river is now a good deal more subject to sudden flooding than it was 25 or 30 years ago. In the "back-end" of the season it frequently assumes a dullish grey colour, which is caused by its receiving the surface water from the adjacent grass, stubble, and turnip fields. On such occasions, if the volume of the water is not too great, good sport is got with worm, fly, of phantom - with the fly particularly if fished deep, and by long steady draws brought close to the bank before being lifted. This is undoubtedly the most successful of the methods adopted, for though everyone has his own way, and in the manner of using any one lure no two anglers agree in every particular, the fly fisher is certain to find that in a heavy, dull-coloured water better sport can be obtained by sinking the fly lightly and prettily on the surface. On the whole, the fly is considered the best lure; but in the month of October, and most markedly towards the end of the month, Brown's phantom and the worm are equally, if not more, serviceable in discoloured or high running waters. A noted killer in the up river reaches, the phantom has for a great many years has occupied a foremost place in the estimation of the majority of the best anglers around Methlick. Skilled in the use of this lure, Geordie Ewen swears "By Jove, it beats a'"; and Jock Robertson solemnly declares that "Naething that's used at a' approaches it."
Bordered here by cultivated fields, and there by bands of haugh and meadow, the banks of the Ythan are uniformly flat - spate cut in some parts, and in other parts level with the water's surface, and possessing a strip of water filled sward, overgrown with rank, reedy grass, which greatly interferes with the casting of the fly as well as the playing of the fish. After midsummer this grass attains a great height, and in the autumn it is one of the greatest nuisances that the angler can possibly meet with, as after being flattened by the chill damp "easters" blowing up the valley, it gets swirled into the water, and, not being out adrift but simply broken down, forms nasty "trails" along the edge of the pools. In order to be full able to keep clear of the trails when playing a fish, the angler must necessarily provide himself with a very long rod, or else with stocking waders wherewith to enter the watery award. If a fish succeeds in fouling the line for a long distance underneath the bank, a break is the almost inevitable consequence. Of the salmon casts of the Ythan few are rock girt, or posses a rocky bottom, but in many parts the bed of the river consists of fine pebble. The shallow pools inevitably have a sandy, and the long, deep pools a muddy or clayey, bottom. The river on the whole, is weedy, and all along it course sloughs and backwaters are every now and then to be met with; it is therefore, on this account that the Ythan is such a "pikey" river.
Salmon Flies. - The most used, hence the best killing, salmon flies are the Jock Scott, Silver Scott, Green Parrot, Butcher, Popham, Eagle, Killer, Bum'bee, Dusty Miller, Silver Doctor, and several patterns of turkey-wingers. For bright days, if the water is clear, bright flies of a small size are generally used; but on dull, cold days, and particularly when an east wind is blowing and churning up the water, flies of a large size are the most effective. In the evening an Eagle or a large Jock Scott is as good a fly as can be used. The fish are peculiar - one season they take a large fly, another season a small one (in comparison, strictly speaking); and it is very seldom that for two seasons running, the average size of the fly is the same. Dressed on Limericks, the flies are of medium build of wing and fatness of body, and the sizes from 1/0 to 4/0 come in handiest.
Fishing the Ythan for salmon, or it may be for sea trout, or yellow trout, the angles, when desirous, can vary his pastime by having a spell among the pike.
Between Ellon and Fyvie, a distance of 16 miles, these greedy, destructive fish are very numerous in the deep pools, sloughs, and backwaters. In his first Annual Report to the Fishery Board of Scotland. Mr. Archid. Young, Inspector of Fisheries, remarks that "these are very destructive both to the yellow trout and to salmon smolts; and the Ythan Board are of the opinion that they should be allowed to use small-meshed nets, and take other steps to keep them down." By Ythan anglers this opinion is very heartily endorsed. Pike weighing from 6 to 10lb. are particularly numerous in the deep salmon pools about Gight. Fishing at Kinharrachie some months ago a gentleman from Aberdeen one day caught a pike of 25lb weight. Up to date, this is the largest pike ever known to have been caught in the Ythan. It is quite certain, however, that big fish are plentiful, and were piking experts only to try their hand there is every reason to believe that the record could be broken. Not caring for pike fishing themselves, Scotch anglers would warmly welcome good "pikeists" - such as Jardine and Co. - to fish their pikey waters. "B," who caught the big fish alluded to, has composed and circulated the following ditty, which is named -
The Song of the Pike
I dart and play in the twilight grey,
And I chase the trout afar.
I bound and spring on each lifeful thing -
The minnow and the salmon parr.
I lie in nooks, near streams and brooks.
When the waters backward swell,
And when morning flushes the reeds and rushes.
I'm up - as the fish can tell.
By the mossy damps and the reedy swamps,
In the dark pools I lie;
When the shadows sleep, my hole I keep,
But I forth can dart and fly.
When an end I see, or the minnows flee,
I gobble them up with speed;
'Tis the fisher's song, that "nothing come wrong."
And they call it Pikey greed.
I'm caught sometimes with their artful ines,
But I jump and dart a fly;
Their lines I bite, and struggle and fight,
Till close at the edge I lie.
My jaws I snap, while my head they rap,
For I find it hard to die;
But I've lived full well, as many can tell,
On the best of salmon fry.
The "Green Parrot," is a great killer on the Ythan, and a very good fly in almost any river in the North, it is thus described:
Tag: Silver twist and dark orange floss.
Tail: A topping, teal, and red and green parrot.
Butt: Black ostrich.
Body: Peas green floss.
Ribbed: Oval tinsel.
Hackle: Grass green, from first turn of tinsel.
Wing: Fibres of tippet; broadish strip of peacock wing; bustard, pheasant tail, teal, red-green and yellow swan, with a topping over all.
Cheeks: Jungle (two spots).
Horns: Blue macaw.
Head: Black wool.
The above dressing of the Green Parrot is given by Mr. Wm. Garden, gun and fishing tackle maker, 122½ Union Street, Aberdeen, who supplies almost all the salmon flies used on the Ythan.
A July Salmon on the Dee
July 29, 1905, Fishing Gazette
There was practically no water and very little chance of a fish when we started for a mid-reach of the Dee on Tuesday last about 3 p.m. in the afternoon. But then the fish that got away with the "Sunday's slap" – that is, the weekly close time – would be running up, and we were on their track. This was all our hope, and a forlorn one at best; but when one has made an engagement one must keep to it as best one can, and especially so when fishing is concerned and a motor-car is at the door waiting to transport one to and from the scene of action in the twinkling of an eye. He said it was fifteen miles and hour, but from the rapidity with which the road flashed under us and past I am certain that he was going at thirty. However, we met only one policeman in our twenty mile run, and passed him at five miles an hour, so as to earn his good opinion, I suppose, although my host again assured me that he had not altered the speed one single inch from the time we started. I said I believed him, but that was a lie, and said on the spur of the moment to keep him and the motor quiet.
Well, they are wonderful things, and destined to play an immense pat in the sporting world yet, and especially so to the angler. Probably more so to him than to the shooter, golfer, or any other out-door sportsman. He can dispense with trains, time-tables, etc., and study no one's outgoings and incomings but his own. The whistle of the distant engine does not frighten the life out of him, with half-a-mile of moor to cross before he can climb breathless into the belated train, with the curses and other blessings of the officials scattered around.
In the Tay, Dee, Spey, and most salmon rivers of any size there is a July run of salmon. They scale about 14lb. in the average, are beautifully shaped and well coloured fish, and run inland with the summer grilse. If there be a spate on the river they come all the thicker, and are often found in the mid-reaches of the river when searching for grilse.
My motor-friend believes in the minnow, I believe in the fly; so we can always divide the water, and, if need be, exchange rods or adopt each others tactics when sport is all to the one and none to the other. As a rule I go first over water, and to-night there was no exception "anything about, Geordie," we asked the old keeper, as we helped him to a dram and put our rods together. "Well, not what there should be; but I saw a 'beast' jumping in the 'Sauch Hole' this morning. You might do worse than try him."
There was noit to reason why. To the "Sauch Hole" we went, and trimmed for a run with a grilse, if there were no salmon about. The chances were ten to one that the fish had run up which Geordie had seen in the morning, and this conviction was being forcibly impressed on us after we had gone carefully over the water with the favourite Loggie, a famous Dee fly, and found no response. Neither salmon, or grilse, moved. My motor-friend – beg pardon, friend – had gone up the water with Geordie, and was no doubt minnowing the streams for trout or anything else that Geordie may suggest. The other night on the Don, hearing there was pike about, he went for them and killed three, and on another occasion, when there were neither pike nor trout about, he went eel hunting, and had one over 3lb. in weight.
I had a long smoke, and changed my fly to the Blue Charm. It proved the fatal lure. There was little of a pool to speak of, but a fair current of water was driving through the hole. When half way down, a flash in the declining sunlight, and the tug of an extra heavy fish told me like an electric flash that I was into him. So I was, and that with a vengeance. There was little room to play him, and accordingly less for him to swim in. Three times he cleared several feet in the air. Down went my top as he went out of sight on each occasion, and then a taught line again. I knew my tackle was all right, but these gyrations make the best nerves on earth shake, and for the first time for years I actually caught myself in a tremble. It made me concentrate my thoughts on the fish, and after a few more runs in the thick of the stream he slackened. The game was mine, the dog-call brought the needed assistance, and, at the sound of the whistle, both my host and Geordie were standing by, the one with the net the other with the gaff. I had more faith in Geordie than my friend, and adroitly managed to reel the fish close to his feet and within easy reach of the gaff. In a twinkling the steel was home, and the gleam in the old fisherman's eye as he carried him up the bank and well out of harm's reach will live in my memory for many a day, as also the broad grin on my motor-friend's face as I made him a present of "Geordie's July salmon." It scaled nearly 12lb., and was the only fish got that week for miles both above and below. But, then, the chances have been so small. However, they are slightly better now.
G.M. Mackay
July 22, 1905, Fishing Gazette - Trouting in July on the Don
The Dee for fish and Tree,
The Don for horn and corn
So says Thomas the Rhymer of the two sister stream which occupy the most prominent position in north-east Scotland, draining half of the county of Aberdeen, and debouching into the North Sea within a mile of each other's mouths. From the mouth of the one to the mouth of the other is a smart twenty minutes' walk, and in a short time now a beautiful drive will connect them along the Aberdeen beach – one of the finest in Scotland, and growing yearly in popularity as a summer resort.
But while Prince Arthur of Connaught, with Colonel Wyndham, was busy whipping the Balmoral waters for the chance of a salmon or early grilse, we chose a week on the Don for the certainty of its trout. The Dee certainly beats the Don for salmonn both in quality and quantity, but then the Don has not had even a look in during the past twenty years of pollution and water abstraction for mill purposes. The matter is sub judice just now between the Earl of Kintore and the Messrs. Piries, meantime the "poor old Don" suffers as far its salmon are concerned, although, with the exception of the paper works of Inverurie, its trouting waters are free from any molestation, and the best of them are found above the mills.
The Dee drains a valley rich in mountain scenery, deer forests, and grouse moors. The best pines come from Deeside, Glentaner, and the best salmon for quality, colour and shape are also found in its waters; while the Don, on the other hand, flow through a rich alluvial country, producing the fine Aberdeenshire beef and some of the heaviest oats and other cereals to be found in the north. So Thomas the Rhymer was right, in a sense, although he did the Don an injury in not mentioning its trout; bit in Thomas' day trout were not so much thought of, and if a crofter wanted a fry he seldom took his rod, but more often his net, and there helped himself, and though himself quite entitled to do so. "The land and the fullness thereof is the Lord's (or laird's); but who's is the water?" This was the universal text, and even yet the spirit of it lives, and in some places the ner too – not in the hands of poachers, but respectable crofters and shepherds.
The Don produces the earliest yellow or brown trout to be found anywhere. It also holds some of the largest fish, with the exception probably of some parts of the Deveron, where equal sizes may be found. May and June are the best months for the fly, and July and August for clear water worming and evening fly fishing. It was the latter game that was our special attraction last week.
For ways that are dark and tricks that are vain, the brown trout is peculiar. Without mentioning the waters in detail, our first night was a grand success with the Black Hackle. We had sixteen trout between 8 o'clock and 10.30 p.m., two and a half hours' angling. Business and trains kept us to the two and a half hours' limit. The round of the clock would have been too small if we had been free, but stern duty forbade, and our limited time had to be made the most of. The Black Gnat is a special favourite fly just as the sun is sinking in the west, and we seldom fish without it, especially on a dull, darkish night. The Black Spider and answers equally well, and the Priest (Black Doctor) is also a good variant.
On the second night we moved to fresh fields and pastures new. Strange it was Greenwell's Glory and the Red Quill that divided the honours; with the one we killed a 4 oz. trout and the other a 3¼ - pounder.
They lay in beauty side by side,
They filled one creel with glee.
We got hung up so often with weed and bank grass that the wonder and surprise now is that such a magnificent and above average fish ever reached the net.
On Wednesday (July 12) the Kintore Burgh waters, which are open to the public for a small fee, claimed our attention, but from the private water opposite. The Red Quill was the fly. In fact this is peculiarly the Don fly; it is the most popular. We had six fish weighing about as many pounds, and motored to and from the water, so that our time limit was in our own hands. On Thursday (July 13) we were out of it, with a fog, and only got one fish; but on Friday (July 14) this was fully allowed for when we had two of 2½lb., two of 1½lb., two of about ¾lb. each, and several lost and returned, all to the Coachman, Black Hackle, and Red Quill. The Grannom was on the water, but although we tried it where the fish were rising thickest, the fish preferred the imitation of another. Give me two hours of an evening, not midnight, on the Don in July or August, one needs no more to call life blessed and forget all that is otherwise.
G.M. Mackay.
July 22, 1905
Mr. G. Mackay, of the Sportsman's Depot, Bridge Street, Aberdeen, says the Aberdeen Journal, is finding his anti-midge preparation growing in favour. In the warm season a touch of this pleasant fluid is very efficacious. To anglers and those engaged in outdoor sports it ought to be welcome.
Snowie, Hugh, Inverness
Snowie is quite important the history of Aberdeen tackle makers as he served his apprenticeship with Charles Playfair in Aberdeen, moving to Inverness in 1827 to set up on his own. The following is an account of a visit to Inverness and Mr. Snowies shop.
Scotland - Field And Fern by H.H. Dixon "The Druid" 1865.
The new street from the station has given great life to Inverness as far as appearance goes. We like best to be there a day or two before "the twelfth," when the shooters are arriving, and holding mysterious confabs with stalwart keepers; and when some of the youthful hands are on parade in bran-new knickerbockers, and intensely pleased with their legs. It is always High 'Change at Hugh Snowie's on these days, and in fact throughout the season. There sits the veteran behind his shop-desk, with a large file of letters about moors and deer forests to let, at his side both learning and detailing the latest on dits of the trigger. The crack deer heads of the previous season keep, in conformity with custom, their silent vigil of knights on his walls for twelve months and a day. His henchman, Colin Read, has turned out three-and twenty annual sets of about six dozen each, and he is still working in his little laboratory behind. The tameless eye and the defiant snort of the forest-kings fade into very sober prose while they are put through his crucible. Some were waiting their turn most ignominiously, in boxes full of alum and shavings; the skins of others had reached the higher stage of soaking in a preparation of arsenic, while the jaw-bones were seething in a cauldron; and tow, tin, and putty as props for the mouth completed the post-mortem picture. A vigorous spring followed by a summer drought, as in '64, is of course sadly against the grass, and therefore fatal to the growth of the heads; but still Mr. Snowie had plenty of bright antler memories to fall back upon. The Reay Forest in Sutherland has furnished his finest specimen of Caber Slatches, or antlers without tines. A head, which he once prepared for Mr. Campbell of Menzies, had, it is true, only fourteen tines, but the length, span, and thickness of the antlers (which were all covered with indentations, as if the stags had gnawed their comrade while he lay dead for a day or two in the forest) earned a special mention from him. Perhaps the most remarkable of Colin's handiwork is in the Marquis of Londonderry's collection ; it has eighteen tines, and each of the brow antlers is not only double the usual length, but, after shooting in front of the head, bends backwards towards the neck.
A 29 lb. trout, caught on the Ness, but, as Mr Snowie says, "not in a very out-and-out sort of way," takes our eye among the eagles and ospreys in, the front shop, and reminds us that we might as well take a stroll up to the Loch. It was, however, a bootless errand, as we saw nothing but some very beautiful rock tints. We had no earthly intention of wandering off to Lochiel and Lochaber, to see if the Cheviot is holding his ground after "the Siberian sixty," and we were quite ready to take it for granted that on the top of Ben Nevis there is not vegetation enough even for a black-face. So we halted a day or two at Laggan Cottage, and when we had noted the wooden model of "My First Fish," and all the other paraphernalia of "the merry fisher's" life, we were quite enabled to appreciate the devotion of another of Sir Joseph Hawley's guests (Lieut. Col. the Hon. Fane Keane), who lingered, heroically dead to all St. Leger joys, four days after that party broke up, simply because a large fish was known to be in the Laggan Pool, and landed it triumphantly after a grand struggle of an hour and five minutes. It proved to be of 33 lbs. weight, and the largest fish that had been killed in the Ness within living memory. It is no slight illustration of the beneficial effect of the new Salmon Act, in increasing the size of the fish, that, in the following year, Mr, Denison landed one of 29 lbs., and Captain Vivian another of 27 lbs. in the same water.
Frank Farquharson
Famous Fishermen – Fishing Gazette, 9th March 1889
On all Deeside there are few anglers who can compare with Frank Farquharson, the head fisherman at Blackhall Castle. Frank is a braw man, a remarkable fine specimen of the noble gael. He stands fully six feet in his stocking soles. His muscular well-developed figure, his broad square shoulders, his brawny arms and "sturdy bearers," which show to great advantage in his knickerbockers and long stockings, all combine to give him the appearance of great physical strength and powers of endurance. He hails from Birse (where men of powerful physique are the rule rather than the exception), having been born some forty years ago at Balfour of Birse, where his father was for a long time a highly esteemed and faithful servant of the House of Balfour. Even in his native place, however, Frank would be esteemed a man of great physical power, second only to Donald Dinnie, the champion athlete, who was born in the same parish. His face is an interesting study, and to the observant eye his character is not difficult to read. A glance at his photograph might tell that he is a quiet, backward, unassuming man, and this is the reason, it may well be supposed, why a stranger recently declared that Frank was like "the hielanman's craw that thocht a great deal more than it spoke." This is quite true of him, though he is frank and open as the day, and when once you come to know him, a prince of good fellows. He is just not what you would call a bigoted teetotaller, and on rare occasions he does not object to just a judicious "wee nippie" of "rale good stuff" when he is cauld or wat, in pleasant company. Though he seldom tastes he is a rare judge of whisky, and his pet aversion is the bottom of the cask. A glass of this sort of stuff would make him profane, if anything on earth would induce Frank Farquharson to swear. He is, however, pre-eminently good natured, and bears this supreme trial with a comical endurance, but he cannot help thrawin' his face at the "gruns." Frank was born and bread in the Birse mountains, and from his earliest infancy he has taken the keenest interest in hill and river sports. It might almost be said that he was born with the gun and fishing rod in his hands; and as a callant he had the keenest relish for all the pleasures of the "hulls." Frank has not strayed far from his native regions. Nor does he desire to become a globe-trotter, though he could doubtless with infinite zest enjoy sport in many lands, and would with equal avidity be prepared to hunt the wild boar in Algiers, or the tiger in the Indian jungle. Albeit his heart untravelled would always dwell in his well beloved Aberdeenshire Highlands, and he would ever inn fancy tracking the wild deer to its lair, shooting mountain hares and winged game, and charming the salmon from the Dee. He is a splendid shot, and those that would see him at his best must accompany him on one of the grand days after the white hares at the Glen 0' Dye, when he and Pirie, and Craigmile, and Sadley, and the Doctor, and some other of the worthy men and best shots of Banchory and the district, are blazing away at the four footed game, trying who shall have a good cart-load!
Frank is a prince among fishers. He throws a "tearer" of a line, and wields his ponderous eighteen-feet Blacklaws rod as if were a mere trouting wand. When watching him fishing one would naturally be inclined to anticipate that his powerfully-built, square-shouldered, athletic chiel would give a "fush" short shrift. In justice to him it must be said, however, that though he is strong he is merciful, and he plays his salmon in a manner which becomes an enthusiastic votary of the gentle art. He strongly condemns the "rugging" in of fish by main force. He always handles them delicately himself; but such is his wily art that he puts off little time, and in his many years' experience on the Blackhall water he does not remember having a fish "on" more than a quarter of an hour or twenty minutes. He does not claim full credit for such speedy work, as he mentions that the fish in that part of the Dee "are not bad for sulky." At the risk of shocking his modesty it may not be too much to suggest, that the courteous manner in which the fish are handled may have the effect of promoting a good understanding on their part. Between Frank and the monarchs of the stream it is a fair fight and no favour. He would scorn to take a mean advantage. When even a big fish gets away from him after having given him a good deal of trouble, he does not swear or think profanely, as most anglers are inclined to do. He simply rubs his "een," and laughs heartily, and probably says, "I dinna grudge the beastie its liberty; it focht weel for 't, and it deserves to get away." Very few fish that are fairly hooked managed to escape him, and he can therefore afford to treat his losses philosophically. Many a good salmon, weighing from thirty to forty pounds, he has landed; and a good many time he has caught as many as six "sizable" fish at an outing.
He does not believe in unnecessary wading, which he declares often disturbs the fish. It is a fine sight to see him trying a far out cast where there are many slippery stones, a bit from the side, standing up out of the water. He leaps from one stone to another, often a distance of more than three yards. He is sure footed as a cat. He balances himself splendidly, and never misses his footing, no matter how slippery the stones may be. Once he has got his hooked he manages them with great skill. He does not put on much strain, but he keeps close up to them and holds them well in hand, following them up even in the most ticklish places with great dexterity and agility. This is probably the reason why he has never had to follow a fish any great distance. The longest run in all his experience was from the Green Spout to Ferroch, a distance of under half a mile. His greatest generalship has been shown in frequently taking fish down the Glister, and landing them successfully. The Glister, it may be explained, is long stretch of rushing wild white water, with numerous large boulders standing right up, and frequent ledges of rock causing falls of two to four feet in height. The footing of the bank is very bad, abounding in, scrub, boulders, and slippery stones. Frank is the only angler on his side of the river who has been known to pilot a fish successfully through the Glister. Every other disciple of the angle who has allowed a fish to get down this had cause to regret the loss of "the biggest fish he ever hooked."
The Blackhall water, which Frank has fished for many years, is one of the finest stretches on the Dee, either for spring or for autumn fishing; and for grilse angling it is unequalled. The variety of water is great, and it has been very justly remarked by one who knows every foot of the ground, that "never comes flood so high or drought so strong as to prevent fish being got in at least some of the casts." The best pools and steams following the course of the river are Moral and the Rowehead, Muckle Girnal, Green Spout and Scobbach, Ferroch, Grey Mare and the Blastit Stane, Floating Bank, the Cairnton streams and Whitcochs Hole, Kelpie Pool, the Rocks Head, Cannie streams, Mill Pool, Robbie's Neuk, Roe's Pot, Buhoar, and the Sandy Havens. On this excellent fishery the angler who is privileged to fish its waters has abundant room for choice, and the scenic surroundings are everywhere delightful. The banks of the river are well wooded, and there are many neuks which afford a pleasant retreat where, when the fish are not in humour, the angler can rest and enjoy the lovely panorama, and qualify the flavour of his choice Havanas with a wee wee drappie of the rale peat rock stuff. Frank knows all the pools and streams like the leaf of a book, and can tell almost to a certainty where fish can be got in any weather, if they can be caught at all. It is very difficult for him to give general directions. He varies his policy according to his reading of the subtle signs in the skies, the air, and the waters. And he cannot communicate at once to s stranger, or commit to paper the accumulated experiences of well nigh forty seasons on Deeside, for he began his fishing education in his infancy. Speaking generally, however, in a good round water, which is called on Deeside "float water," he would take the upper part of the Blackhall stretch, and under such conditions he thinks Green Spout, Muckle Girnal and Moral as the best casts. In a middling water he recommends Kelpie, Cairnton, and Ferroch. For autumn fishing he gives preference to Kelpie, Rockheads, Ferroch and Moral. For grilse casts the best are Millrush, Rockheads, and all the Cairnton streams.
Frank is a reader, a scholar of no mean order, and a capital penman. As a tier of flies he has few equals and no superiors on Deeside. He learned the secrets of his art from George Robbie, a famous angling worthy, who's wonderful fishing achievements were know to all frequenters of the Aberdeenshire Dee, when the present century was but half run. George was for many years the land steward at Blackhall, and as long as he was able he never lost a convenient opportunity for making a "saumon's tail toddle." After living his time he quietly departed, leaving behind him the reputation for being the best fly dresser of his day and generation. His mantle fell on Frank; and Frank's flies are so much in request, that he might easily make a fortune if he would devote himself to the business of tackle making. Like most of the best anglers, he does not believe in a large selection of flies, but maintains that by far the best plan is to stick to a few well-approved patterns, the merits of which have been fully attested by practical experience. For salmon fishing in spring or autumn the following is his list of the six best flies: Jock Scott, Gordon, Akroyd (white and red wing), Silver Doctor, and Glentanar.
To these he considers it essential to add a Grey and Yellow Eagle, and with this selection he does not think that any angler can be far out when the "fush" and in a humour to take. For grilse he recommends Jeannie, Logie, Silver Teal, and Blue Charm as the four most effective flies. As his views regarding Deeside flies have borne the test of a prolonged personal experience, his recommendations may safely be trusted.
He has a most intimate knowledge of the tastes and habits of the fish, and from the feeling in the air and the appearance of the clouds, without going near the water, he can almost infallibly tell whether the fish will be in a taking humour or not. He is keenly sensitive of their caprices; and when the water is the right size, and they have been taking freely, he will on looking at the clouds say quietly, "It's nae yuise (use) now," lay down his rod, sit down on a stone, and take a quiet smoke till the clouds come right. His companion on such occasions may be sceptical of his skill and fish on; but success will rarely be reward his efforts. When a "lay hold" is got under such conditions, Frank declares that the fish "is a silly fuile that would grip at onything." As soon, however, as the clouds come right, he is up and at the fishing again.
Frank is very popular with the gentlemen whom he guides to the water, and he puts them upon the fish so well that he deserves to be richly rewarded. On the first day of the season he or some other angler under his guidance frequently has the credit of killing the first fish that is got in the river. He has among his brother keepers and fishers a name second to none as a genial good fellow, and all the tenants on the estate and the folks around about have a good word to say in his favour.
Frank is kindly and considerate to all. Even the dumb animals love him. In bye-gone days, when his masters, Mr. Simpson and Mr. Warwick, occupied the old castle at Blackhall, which was probably "as old as the hills o' Birse," as the saying goes, the venerable sheltie knew Franks voice in the dark, and came galloping from the hillside across the lawn, past the stables, to meet him at the gate when he came up from the fishing at night; and the doggies in the kennels ane an' a' would always would be wagging their tails, and you could almost see a smile of welcome on their faces whenever he came near them, they were sure of being kindly caressed and rewarded with something to tickle their palate.
"It is really a pity that a manly fellow like Frank is no merriet yet." So say many fair dames on Deeside. Frank has often chased the lasses round the magnificent fir-tree in the Blackhall grounds called the "Queen of the Dee," which measures eleven feet round the bole; but though aye ready for a frolic, he has never gone in for serious courtship. This is probably due to his shy and retiring nature. In any case, explain it as we may, there is no question but the ladies have found Fran as ill to hook as a "potted salmon." His strong, imposing, manly figure, with genial face and fine curly black beard, has taken the eye of many a charming maid. Besides, he irightly considered a "good catch," for let me whisper in secret, "he is weel gathered"; and oine lass that could put the glamour ower him would get a good "doon sitting." Scores of bewitching damsels have set their cap at him, but, as he says of the fish, it has been "nae yuise"; not that he considers himself too great a catch – by no means; and he does not swell himself out with any undue sense of his own importance in the eyes of the fair sex, I am inclined to think there is hope for him yet> Speaking candidly as a married man, I should recommend him to make up his mind and ask the lassie he likes best "to walk along the plank" with him. He well deserves a good wife. With his kindly nature he would certainly make a model husband, and he should really begin to look out for a canty wee wifie to make a happy fireside. Besides, it is his duty to the nation to leave behind him some stalwart fellows on Deeside "to shoulder the musket, wield the rod, and tickle the sawmon's tail."
Note that Frank invented the Dark Bumble fly
Quotes from the Scotsman Newspaper about non Aberdeen tackle makers
Andersons
22nd May 1880
TO ANGLERS – R Anderson & Sons, Dunkeld, by Special Appointment, Fishing Tackle Makers to the Queen. Branch Establishment, 56 Princes' Street, is now open. Prize Medals awarded International Exhibition.
29th June 1915
The late Mr. Roderick Anderson, Fishing Tackle Maker.
A wide circle of friends in all classes of society will hear with deep regret of the death of Mr Roderick Anderson, fishing tackle maker, Edinburgh, which took place yesterday morning. A few years ago Mr Anderson was knocked down by a motor car in Princes Street, and sustained injuries which permanently effected his health. About a month ago he contracted a chill, which developed into pneumonia, to which he has succumbed. Than Mr Roderick Anderson and his younger brother, Mr Robert Anderson, there were no better-known men in the angling world. In that world, on account of their intimate personal knowledge of the subject and their high personal character, they occupied a position of quite unique character. Mr Roderick Anderson was born at Dunkeld about seventy years ago. His father founded there a fishing tackle business, which became widely known throughout Scotland. In the old coaching days his place in Dunkeld was visited by many noblemen and sportsmen going north. After his death in 1871, Mr Anderson was succeeded by his sons, who is 1882 transferred the business to Edinburgh, where it developed into a sports establishment of a first class order. The "gentle craft" owed much to the Messrs Anderson, for it is rather difficult to apportion the praise of many improvements in angling requisites between the two brothers, so intimately were they associated with each other in all their interests. The revolution of the fishing rod from the heavy, unwieldy thing that it was for many years, to the light and handy rod which both salmon and trout anglers now possess, was greatly due to the Andersons, who had the advantage if both being excellent anglers themselves and knew exactly what anglers required. Rods on the "Dunkeld" principle were largely the invention of Mr Roderick Anderson. Handy nets for loch and river were also his invention; and after the firm came to Edinburgh the improvement of golf clubs and balls, and the turning out of beautifully-finished curling stones, also occupied his attention. The firm had the honour of a special appointment as fishing tackle makers to Her Majesty the late Queen Victoria. The deceased Roderick Anderson was himself a successful angler; he could tell his clients with unerring precision the kind of flied which were suitable for ever loch and stream in Scotland, and his stories, only recounted to his intimate friends, of the riverside and of the gentle art in general, were always well worth listening to. Mr Roderick Anderson was a fine type of man, strong, independent in character, in association with a courtesy of manner which gained the respect of all who knew him.
Cowan
9th April 1879
Fishing Tackle
Messrs T. Chapman & Son beg to intimate that they will sell by auction, within their great rooms, No 11 Hanover Street, Edinburgh.
Tomorrow (Thursday), April 19th at .
A portion of the stock of the excellent fishing tackle and requisites belonging to Mr J Cowan; fishing tackle maker, Edinburgh, who is altering his premises, including salmon and trout rods, reels, lines, gut casts, flies, artificial minnows, fishing baskets, wading stockings and boots, bait and fly boxes, &c. and a quantity of gut, direct consignment from Spain.
Crockart
11th Feb 1922
Crockart – At Woodside House, Stirling, on the 9th inst., David Crockart, gun and fishing tackle maker aged 77 years.
2nd of July 1935
Mr. Robert Crockhart, Holly Cottage, Blairgowrie, who has died in his 80th year, was well known all over Scotland as a fishing tackle maker. He was son of the late Mr. James Crockhart, founder of the firm of J. Crockhart & Son, gunsmiths and fishing tackle makers, Blairgowrie. For over sixty years he was with the firm as a fishing tackle maker. Fishing flies made by him were much prized by anglers all over the country. His flies reproduced nature's colourings with wonderful skill, and he was recognised as an artist at his work.
Early in life Mr. Crockhart came under the influence of Moody and Sankey, the evangelists, and ever since he was leader in religious work in Blairgowrie. Every Saturday night for over half a centaury, he held religious meetings at the Wellmeadow Steps. He was gifted as a preacher, and has conducted evangelistic campaigns at many places in Scotland. One of the oldest members of Blairgowrie and Rattray Y.M.C.A., he had been an office bearer since 1878. Early this year he retired from the superintendentship of Blairgowrie Boy's and Girl's religious Society, a work he had carried on for a long period. He was for over 50 years superintendent of the South Church Sunday school, and "father" of the session, having been ordained an elder 45 years ago.
Mr Crockhart was predeceased by his wife, and is survived by three sons and two daughters – all married. Two of his sons – Fred and Andrew – are missionaries abroad.
14th May 1945
The business of James Crockart & Son, Gun and fishing tackle maker, Blairgowrie, is for sale; family business established 1852; excellent connection; satisfactory allocations; premises may be purchased or rented. Further particulars from Panton, Noble & Young, Solicitors, Blairgowrie
Douglas
2nd June 1838
Thirty Pounds Reward
To Fishing-Tackle Dealers, Pawnbrokers & Others
Whereas, James Duddridge, Apprentice to John Douglas, Fishing Tackle Maker, 61, Prince's Street, did, between the hours of 11 o'clock on the night of Friday, and 6 o'clock on the morning of Saturday the 20th instant, feloniously enter r Douglas's premises, and steal there from a large quantity of goods, viz.,- Rods, Staff, and 4-pieced; Lines patent and plain, from 20 to 100 yards each, carded and balled, various colours; Treble and Single Casting Lines; Minnow and Par Trolling Lines; Silk Cord; a lot of Gold and Silver Tinsel; Golden Pheasant and other feathers; Irish Salmon Flies; Limerick and Kendal Hooks; 49 gross of Box Swivels; a large lot of Salmon and Trout Silk-worm Gut; Gut Twisters, with double action; a lot of prepared Salmon Roe in large jars; Fishing Books and Cases; Landing Nets, Hooks, and Knives; besides other articles in the Fishing-Tackle line. Also, a lot of Tortoiseshell and French Horn Combs; Clothes, Tooth, and Nail Brushes of various sizes and qualities, and has absconded with the same.
A Reward of Thirty Pounds Sterling will be paid to any person who shall give such information as will lead to the apprehension of the said James Duddrideg, and the recovery of the stolen property; and a proportional reward will be paid for the recovery of any proportional reward will be paid for recovery of any proportion of the property, by Captain Stewart, Superintendent of Police, Edinburgh.
Description of James Duddridge
Apparently about 22 years of age, about five feet four inches in height; short set in the figure, light brown hair, blue eyes, speaks with the London accent, can talk French fluently, has very plausible manners, and is supposed to have resided some time in Geneva. When he left, wore a black coat with a velvet collar, spotted worsted trousers, tartan vest, white stockings, shoes laced in front, a dyed Macintosh surtout, logwood colour, long in the skirts, and a blue travelling cap. The goods stolen are supposed to have been packed into a large square wicker basket, and a travelling bag having an alphabet puzzle-lock.
Fishing-Tackle Dealers, Pawnbrokers, and others, are requested to detain any one answering the above description offering the goods mentioned for sale or pledge, and to give notice to the authorities of the fact.
21st Jan 1852
Scots Bankrups
Meetings
Creditors of John Douglas, fishing tackle maker, Princes' Street, Edinburgh, meet in Albert Hotel there 6th Febuary, at