J S Sharpe



Remember you can click on underllined words to find out more !
This page contains details of some of the earliest reels produced by Sharpes (more famous for their rods and although Sharpes retailed reels manufactured by Dingley, JW Young etc. they also produced their own - high qualiity - reels, before and after WW11, the reels prior to WWII were sometimes stamped internally with the letter "S" and often had check systems that were very different to the norm).

For all of you interested in dating your Sharpes rod - please can I direct you to this web site Sharpes Rod Numbering which provides details of the rod numbering sequence - note that |I cannot help you any further on this !
1920 – 1924 11 Belmont Street
1924 – 1927 37 Belmont Street
1927 – 1971 35 Belmont Street
In 1950 there was a name change to Sharpe J.S. (Fishing Tackle Limited) and in 1971 the business was taken over by Farlows. Sharpes did not only have a shop they also had a factory at 59 – 61 John Street between 1954 and 1971 (the factory continued to run under the control of Farlows till the late 1970s. There was also another factory at Seaford Road from 1958 till the early 1970s. See the note further down the page re post WW2 reel production.
Here is something for the Lure collectors - the description is a page is from the 1929 catalogue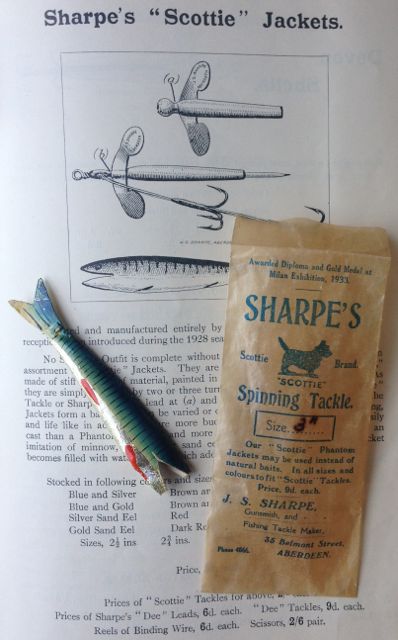 A match made in heaven
Farlow Sapphire reel (Made by Sharpe) and an 8 foot JS Sharpe Lightweight spliced rod
I think that Sharpes in their first few years sold mostly Dingley produced reels (I have seen many examples of these) and then turned their hands to manufacturing their own, they then sold these along with other makers reels - but they considered their own make as the best. The following scan comes from a late 1930's catalogue seems to back this up: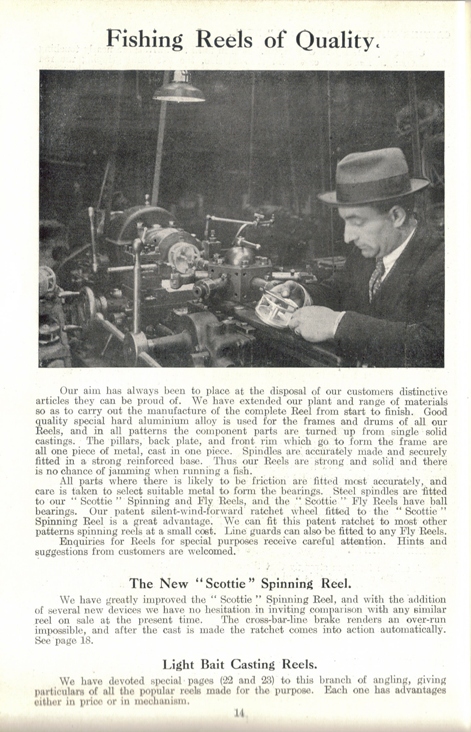 Reels made by JS Sharpe
JS Sharpes own "Silex" type reel 4" diameter - made by Sharpes and (I think) unique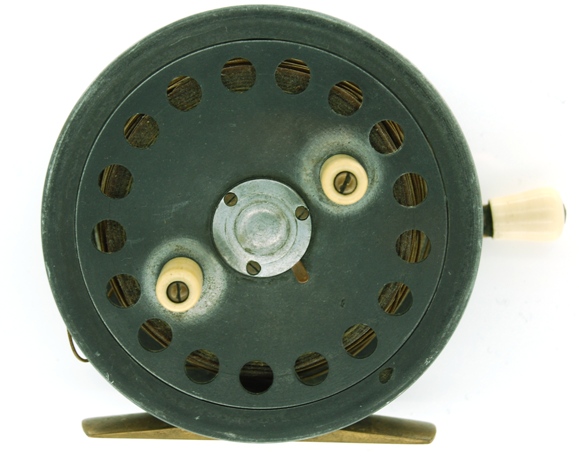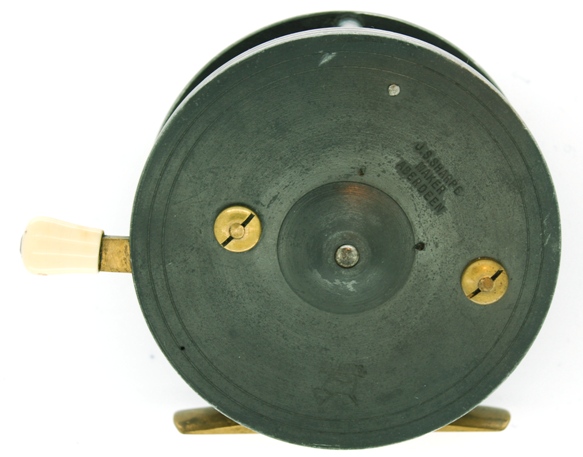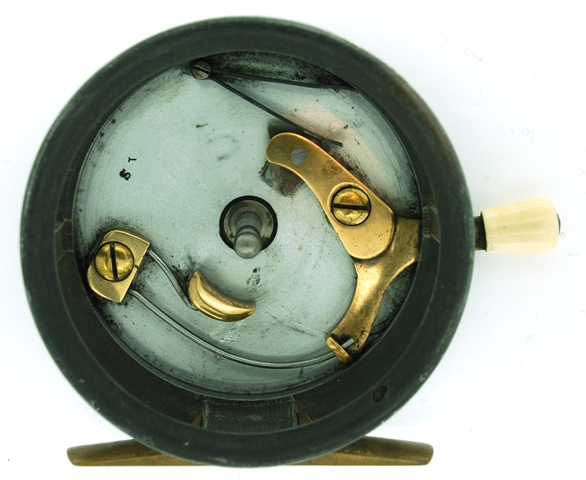 I bought this reel at auction on the 5th of August 1998, the sale included some of JS Sharpes personal items, including the carved salmon that sat in his shop window (I didn't get that) - I also bought some of his rods - not easy to display on the web - let me know if you want to see them photgraphed. The photo below shows JS with the above reel! Note the "S" stamped to the inside of the reel - also note the style of the back of the reel - this is what a lot of the early Sharpe made reels look like.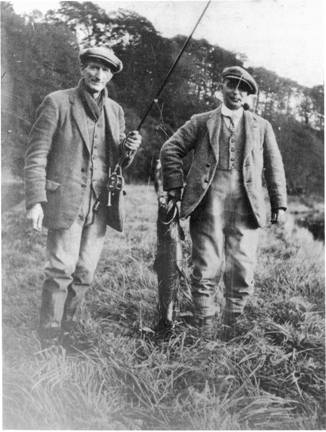 .
A simple Sharpes wide drummed salmon fly reel - again made by Sharpes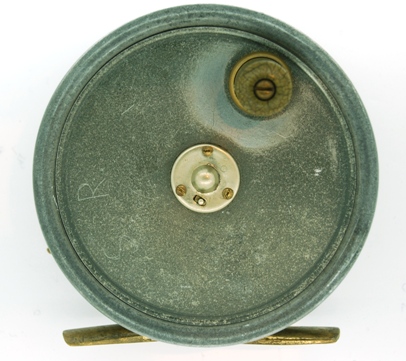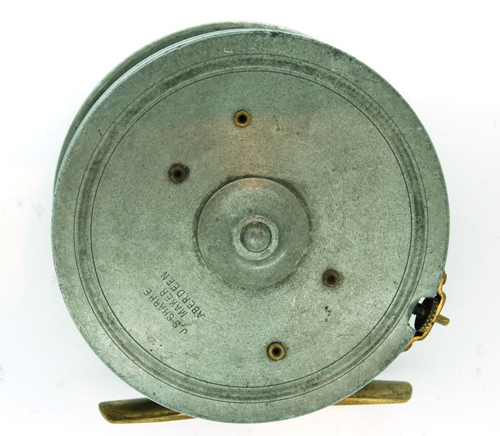 Next a simple version of the Scottie spinning reel - made by Sharpes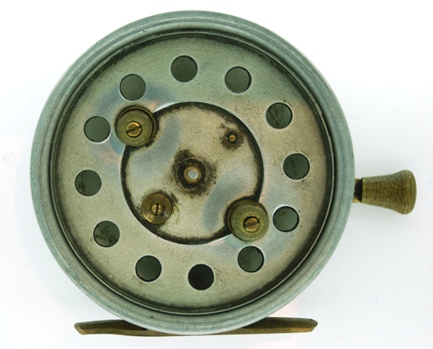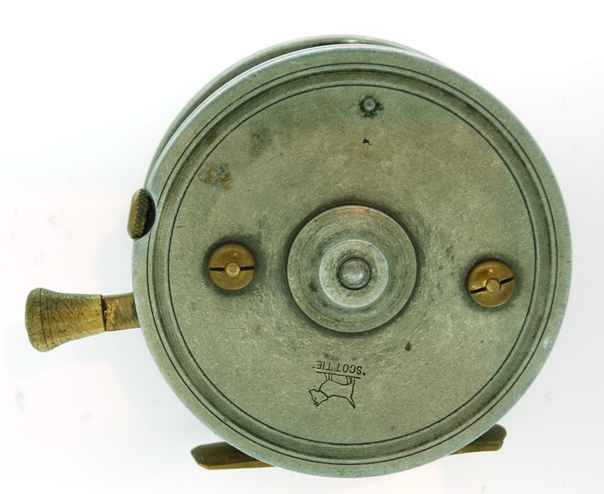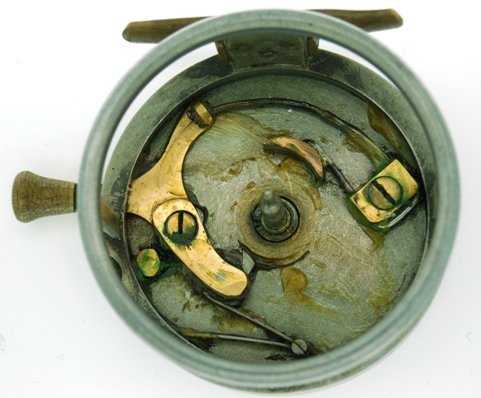 Next is the more complex version of the same reel - I've also scaned in the instructions for usel from one of the early Sharpes catalogues so that you can make sense of the mechanism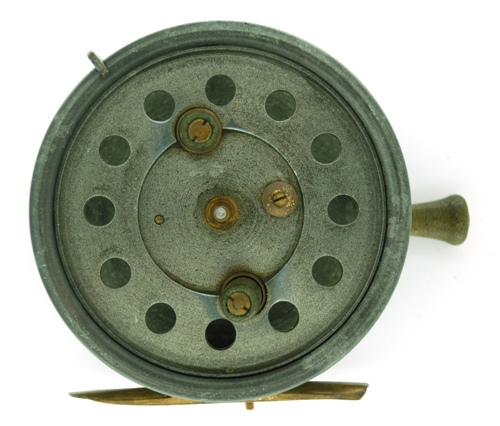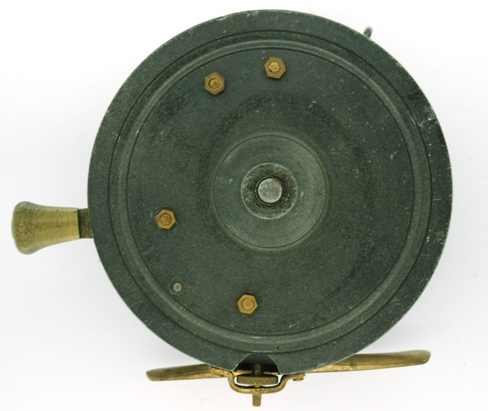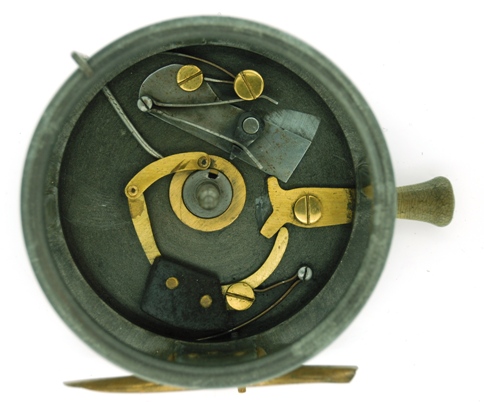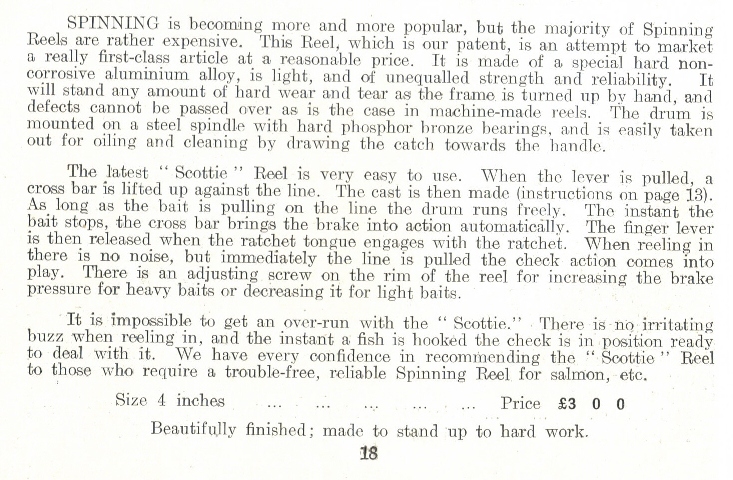 Although the following "Perfect" style salmon reel is marked with the name Playfair - See the next few reels for Sharpes reels with the same check mechanism so I suspect this was made by Sharpes - I have also see this reel in an unnamed state with the internal "S" - it was described by quite a well known dealer as a "Special prototype by Hardys".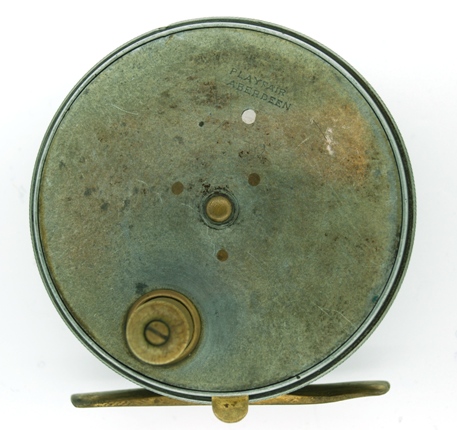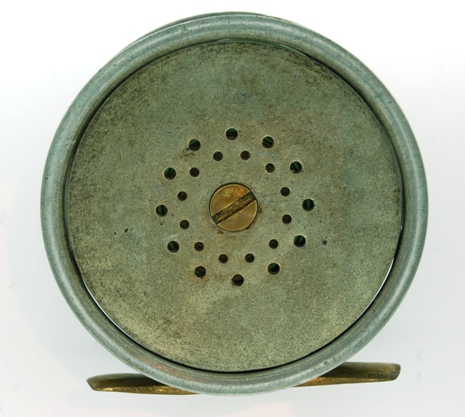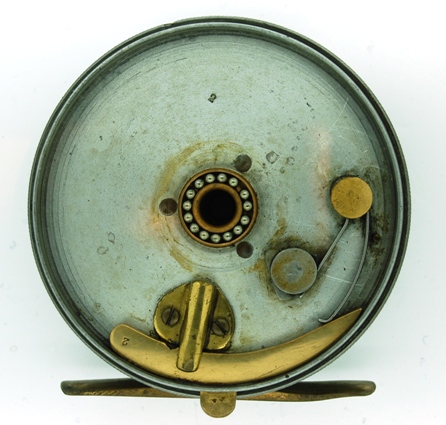 Next is a simple Salmon Reel using the same mechanism - Marked Sharpes with the internal "S" mark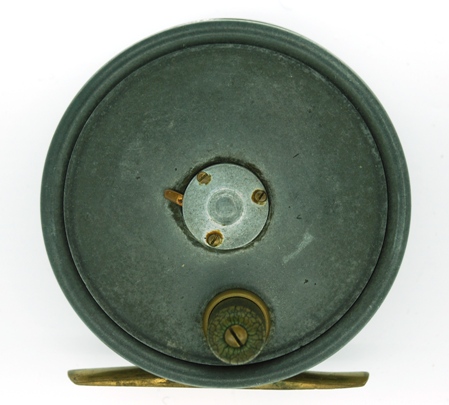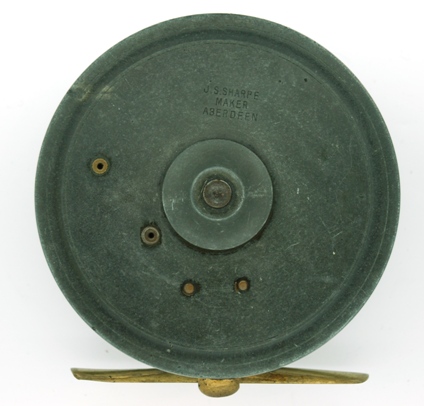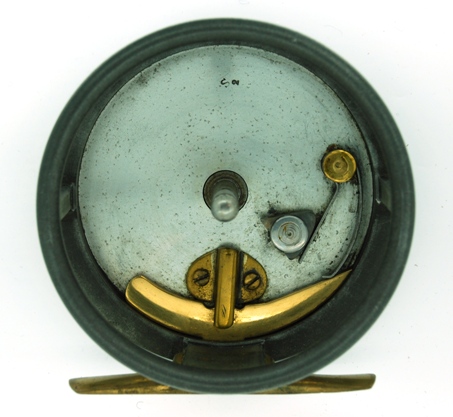 Next is a trout sized "Perfect" style Sharpes reel - again with the same mechanism (there is a crack on the face plate of this example - but as it is so rare I include it)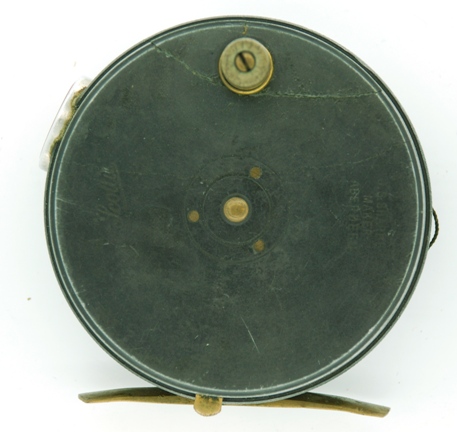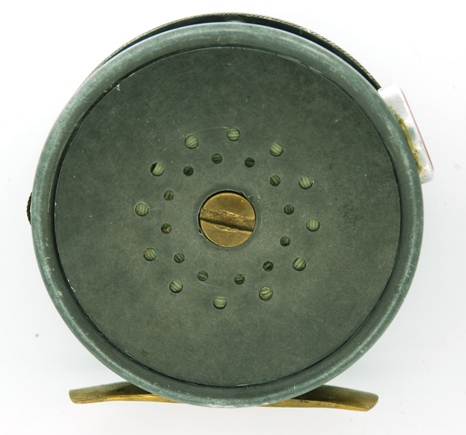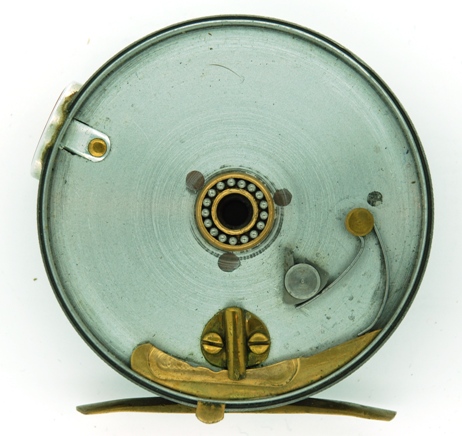 Now for another very simple Sharpes made trout reel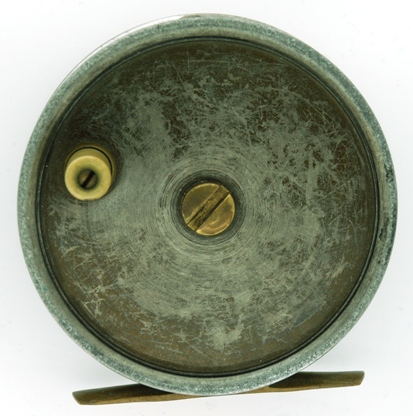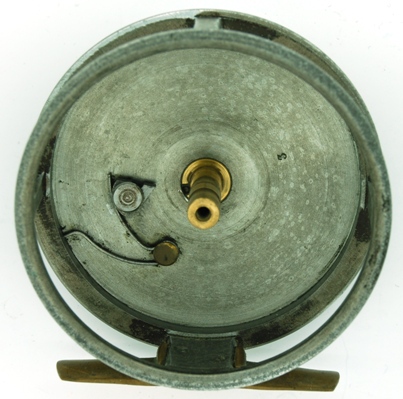 The above shot of the simple Sharpes trout reel shows how the brass foot builds up to the alloy frame - a sure sign of an early Sharpes made reel
Below another Sharpes "Perfect" style trout reel with a more conventional check - still is af excellent quality and a real chunky red agate line guard - again I think made by Sharpes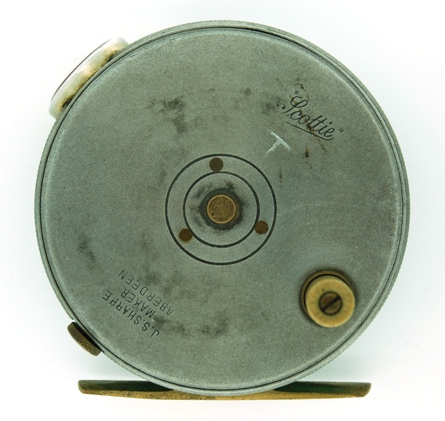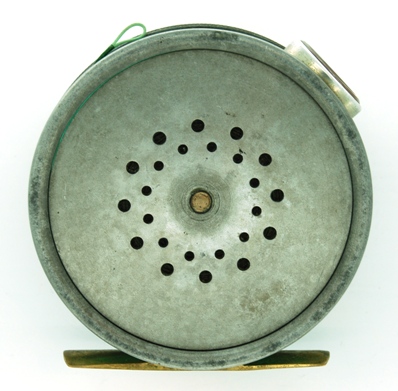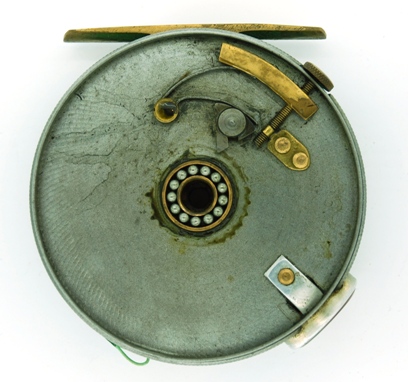 Next another Sharpes Salmon reel don't know who made this one!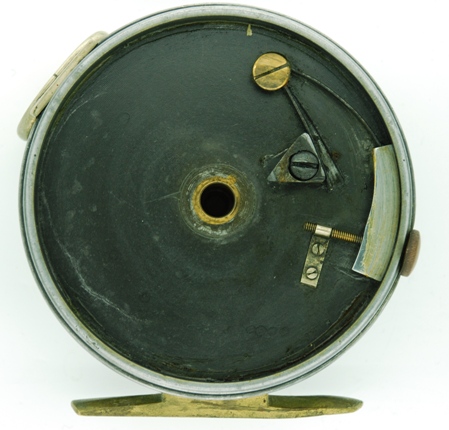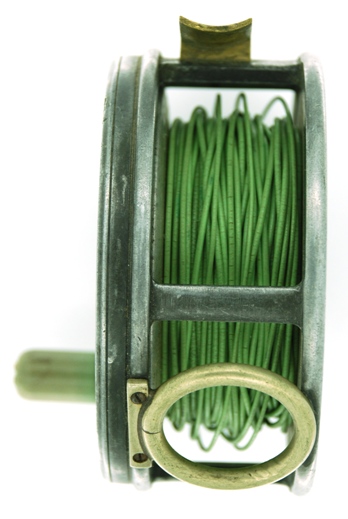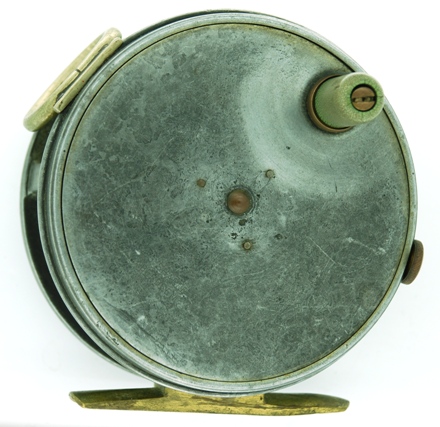 What's very interesting about this reel is the line guard - it's made of Nickle Silver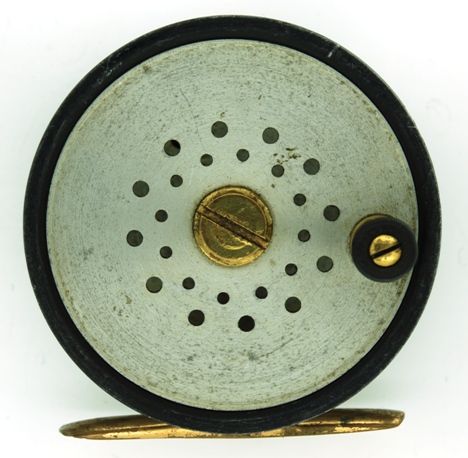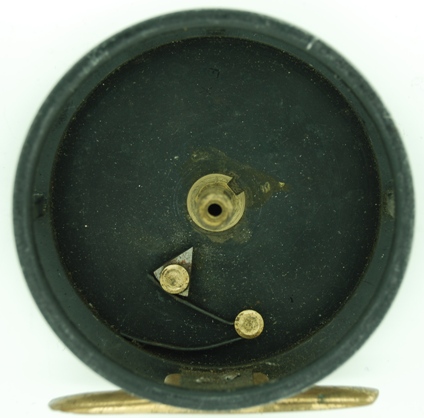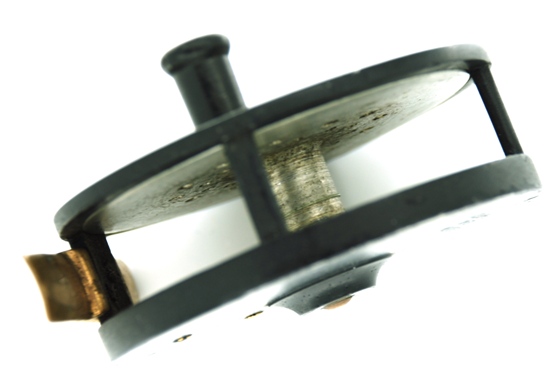 The three images above show a 3 1/4" Sharps trout reel that has similarities to the later Gordon reel, it still has the built up foot and an interesting knob. See further down this page for th evolution of the Gordon reel
.
Trout reels sold by Sharpes - made by Dingley (marked internally with a "D")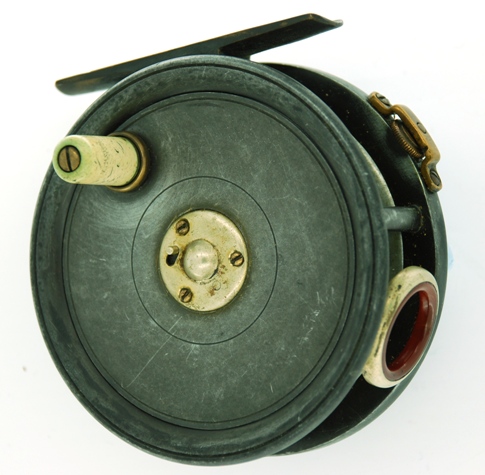 3 1/4 inch with the lovely red agate line guard by Dingley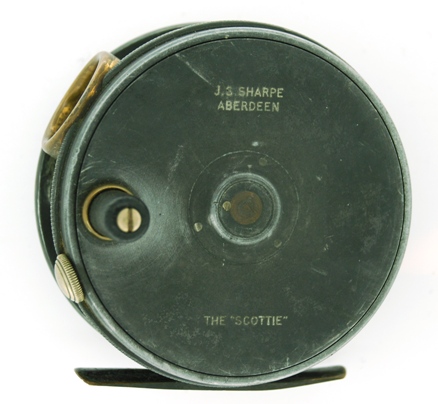 A 3 1/4 in perfect style by Dingley
"Silex" type casting reels sold by Sharpes - made and marked by Dingley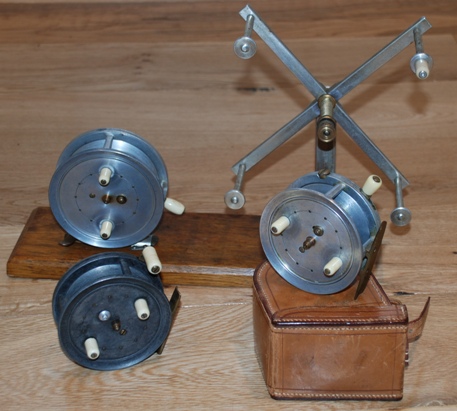 Above a small collection of dingley made "Silex" type casting reels all "Scotties", all different - these reels were offered in both "bright" and "black" finishes, the bright was cheaper - however these day the "bright" reels are termed "Spitfires" and come at a premium! The line dryer is also made by and marked Sharpes, view of the check mechanisims follow: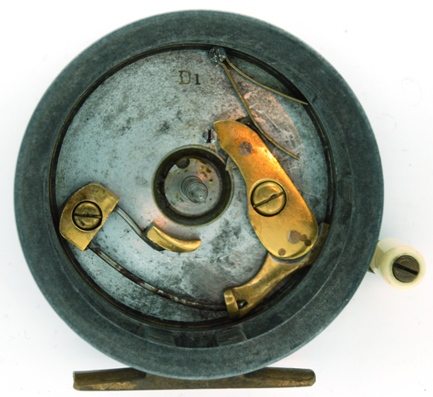 3 1/2 inch leaded finish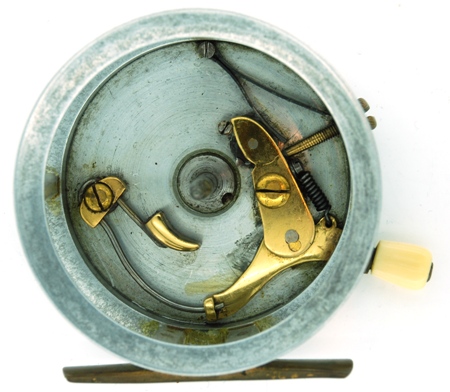 Bright finish - this one came in a block leather case - 3 1/2 inch diameter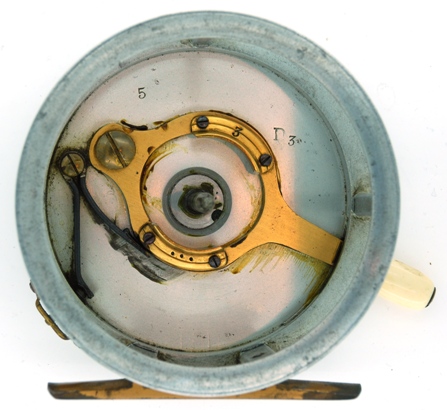 4 inch diameter in bright finish - with the very rare silent mechanisim
Trout reels sold by Sharpes thought to be made by Dingley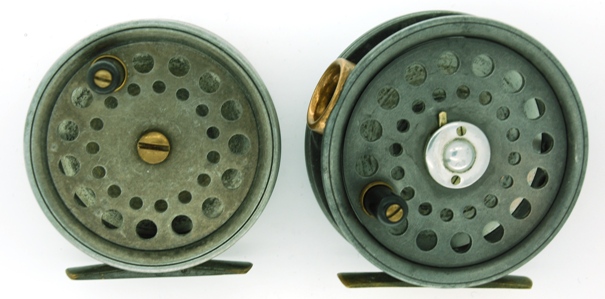 A pair of reels 3 in and 3 1/4 in. marked Sharpes, not stamped with a "D" but thought to be by Dingley
Trout reels sold by Sharpes but made by others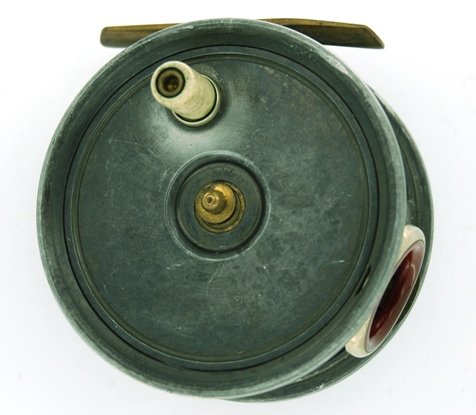 This one is 3 in. and has the lovely red agate, probably made by J.W. Young of Redditch
Post WW2 reel production
Recently I have become interested in the post WW2 Sharpes reel production, initially sparked off by the early Gordon reel pictured further up the page - I also noticed the similarities of the Sharpe signed Aquarex reel and the Farlow Python reel - I felt, but I wasn't sure that they were both made by Sharpes. So, through a friend I managed to contact Don McKenzie the current MD, his response was enlightening:

"Sharpe's manufactured, post WW2, the Gordon range, The Aquarex range, the Python, Serpent, and Ambassador for Farlows, a reel for Bogdan (it was a 3-1/2" reel, not sure of the name), and some subcontract reel work for Orvis. This reel production stops late 70's/early 80's. In the 90's, they manufactured another range of reels under Sharpe's brand, and the "Penn Gold Medal Freshwater Fly" range."

The following pictures show the evolution of the Gordon reel:

After a bit of digging, the Bogdan designed reel was the Lee Wulff Ultimate, branded by Farlow, sold by Norm Thomson in the US in the 1960's - these reels were probably 20 years before their tome and very well made, there are not many of them around - if you happen on one please sell it to me! This photo montage came to me from Mark Baker.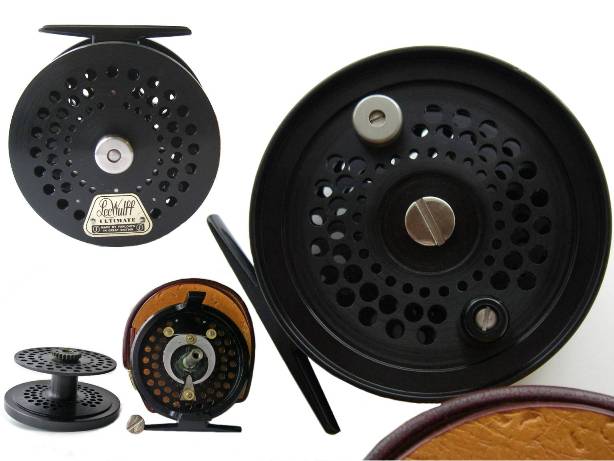 The following are the excellent high quality reels made by Sharpes in the 1990s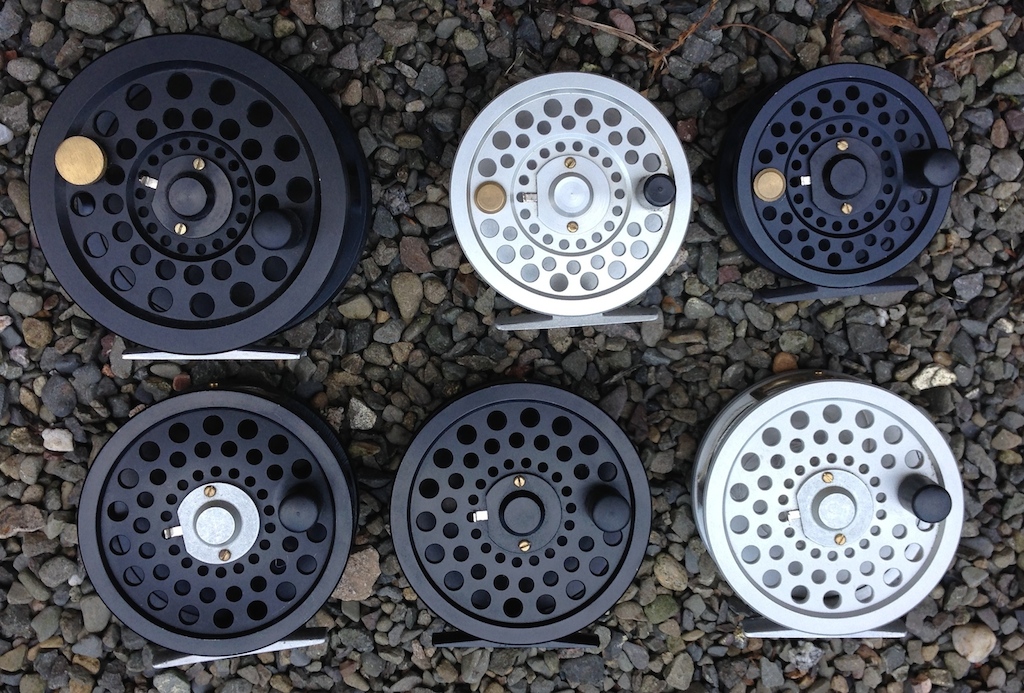 Top row Don, Trout and Brook
Second row 3 different finished Menteith reels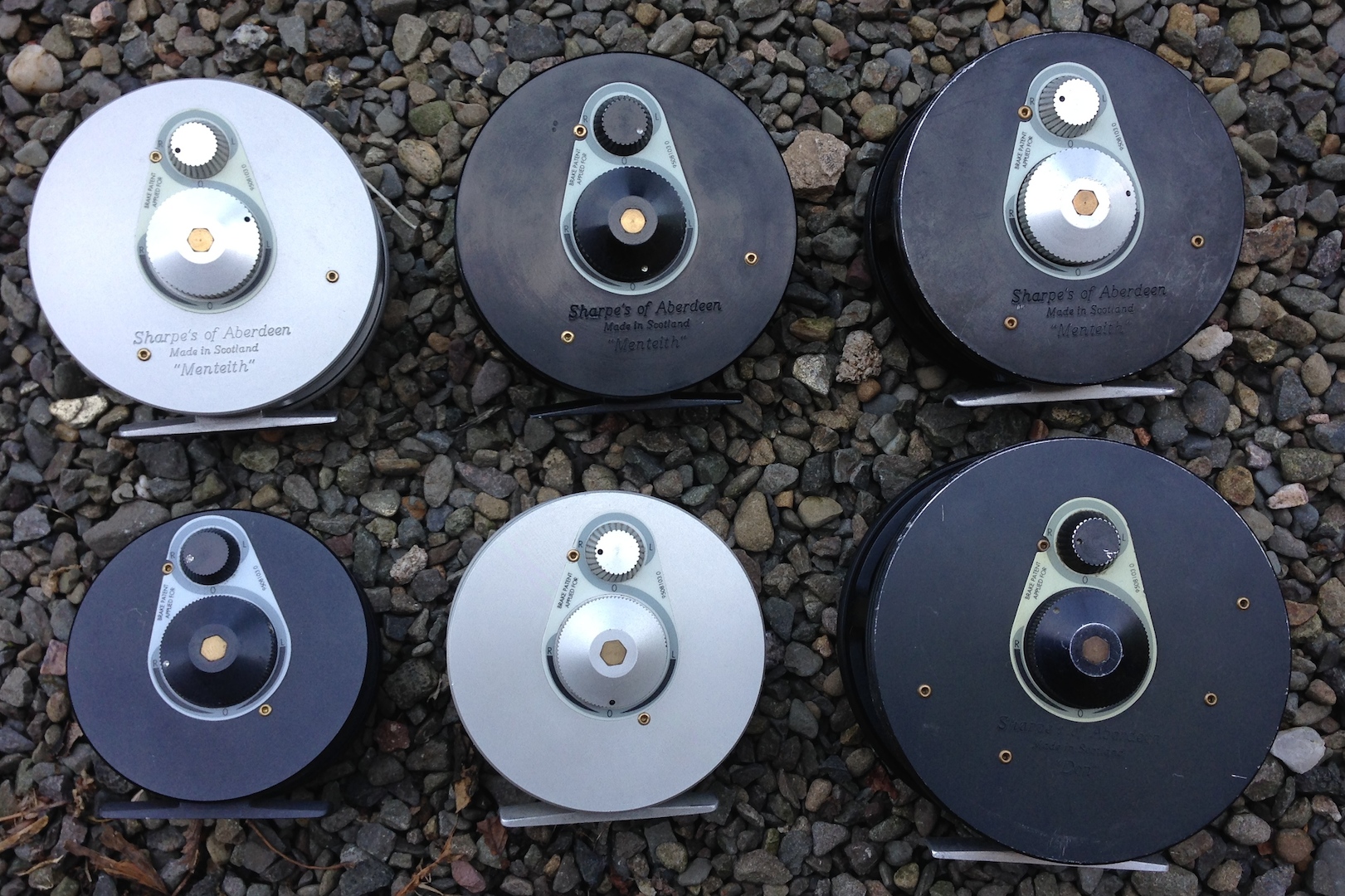 The Salmon Flies of JS Sharpe


I have been quite lucky in tracking down 3 of the early Sharpes catalogues, my earliest catalogue I think is Sharpes second catalogue, its titled list B, it has a blue cover with a stuck on black and white photograph to the front, I guess this to be from the late 1920s, the second one actually states it is the third edition and is pre 1933 (the date that Sharpes won medals in Milan) and my third, probably Sharpes fourth edition is post 1933, all 3 have lists of Salmon Flies as below:
| | | | | | | | |
| --- | --- | --- | --- | --- | --- | --- | --- |
| Pattern | 2nd | 3rd | 4th | Pattern | 2nd | 3rd | 4th |
| Balmoral | B | E | J | Jennie | | F/G | |
| Benchill | A | | I | Jockie | C | G | |
| Black Doctor | A | D | I/L | Jock Scott | A | D | I/L |
| Black Dog | A | D | I | Kate | C | D/G | I |
| Black Dose | A | D | I | Lady Caroline | B | E | J/L |
| Blue Charm | C | F/G | K/L | Lemmon Grey | | D | |
| Blue Doctor | A | D | I | Logie | C | F/G | K/L |
| Brown Wing Ackroyd | B | E | J | Lord Forbes | | D/G | I/L |
| Brown Wing Killer | B | E | J | March Brown | C | F/G | K/L |
| Bull Dog | A | D | I | Mar Lodge | A | D | I/L |
| Bumbee | C | G | K | No. 9 | | H | |
| Butcher | A | D | | No. 12 | | H | |
| Childers | A | D | I | No. 18 | | H | |
| Cluny | | G | K | Popham | A | | |
| Dunkeld | A | D | I | Silver Blue | C | F/G | K/L |
| Dunt | | | J | Silver Doctor | A | D | I/L |
| Durham Ranger | | D | I | Silver Grey | A | D | I/L |
| Dusty Miller | A | D | I/L | Silver Wilkinson | | D | I |
| Elizabeth | | D | I | Sir Charles | C | G | K |
| Fiery Brown | | | J | Watsons Fancy | C | G | K |
| Glentanar | B | E | J | Thunder & Lightning | A | D | I/L |
| Gordon | A | D | I | Torrish | A | D | I |
| Green Highlander | A | D | I | Wasp | | G | K |
| Greenwell | | D | I | White Wing Ackroyd | B | E | J |
| Grey Eagle | B | E | I | White Wing Killer | B | E | J |
| Grey Monkey | | D | | Wilkinson | A | | I |
| Jeannie | C | | K/L | Yellow Eagle | B | E | J |
2nd Edition key:
A - Salmon Flies, many patterns are in stock or can be made to order. TO ORDER – With Gut Loops. We make up our stock on eyed hooks, and try to supply Gut eyed Flies as freash as possible. Our flies are fully dressed with all the necessary feathers included, prices:

| | | | |
| --- | --- | --- | --- |
| 6/0 | 5/0 | 4/0 – 1/0 | Smaller |
| 3/6 | 3/- | 2/9 | 2/3 |
B- Plain Patterns, prices:

| | | |
| --- | --- | --- |
| 6/0 – 5/0 | 4/0 – 1/0 | Smaller |
| 2/- | 1/9 | 1/6 |
C- Small Salmon and Grilse Flies, singles and doubles, 1/-, 1/3 and 1/6.
3rd Edition Key:
D - Salmon Flies – Other patterns ar in stock or can be made to order. We make up our stock on best loop-eyed hooks. Gut loops and upturned eyed flies made to order. All salmon flies are best quality, prices:
| | | | | | | | |
| --- | --- | --- | --- | --- | --- | --- | --- |
| 7/0 | 6/0 | 5/0 | 4/0 –1/0 | 1 – 2 | 3 | 4 - 5 | 6 – 9 |
| 3/9 | 3/6 | 3/- | 2/6 | 2/3 | 2/- | 1/9 | 1/6 |
E – Plain Patterns – Dressed on best down-turned eyed hooks, the larges sizes with loop eyes. Upturned eyes or gut loops made to order. Double hooks 3d extra, prices:
| | | | | | |
| --- | --- | --- | --- | --- | --- |
| 7/0 | 6/0 – 5/0 | 4/0 – 2/0 | 1/0 | 1 - 5 | 6 – 9 |
| 2/6 | 2/- | 1/9 | 1/6 | 1/3 | 1/- |
F – "Lowater" Salmon Flies. Special offer of well tied flies for short-taking fish in summer time. The hook extends beyond the tip of the wing. High class upturned eyed hooks. Priced at 9d each except Logie's and Jennie's at 1/- each.
G – Small Salmon and Grilse Flies – Lightly dressed flies on best hooks, either ordinary pattern or extra long shank for "short-taking" fish. Priced at 1/3 for sizes 4-5 and 1/- for sizes 6-9. Doubles 3d extra.
H – Salmon "Grub" Flies for low water fishing – A new idea in salmon flies. These flies are wingless tied on fine long shank hooks with upturned eyes. There are three sets of hackles – viz., at head, centre, and tail. These hackles impart a lively motion to the fly by opening and closing, making this fly a deadly one in clear water when the usual winged flies are too conspicuous.
No. 9. Mar Lodge hackles and body with jungle cock at head and tail. - see a photo of one of these here
No. 12. Ginger hackles, claret and yellow body and red tags
No. 18. Black-red hackles, yellow body with jungle at head.
Sizes 4 and 5, long shank hooks, priced at 1/- each.
4th Edition Key.
I – Salmon Flies – Sharpe's Salmon Flies are all best quality. Each Fly is packed in a transparent envelope, marked with name and size. Salmon Flies dressed to any pattern to order, prices:
| | | | | | | | | |
| --- | --- | --- | --- | --- | --- | --- | --- | --- |
| 7/0 | 6/0 | 5/0 – 3/0 | 2/0 – 1/0 | 1 - 2 | 3 | 4 - 5 | 6 -7 | 8 - 9 |
| 3/9 | 3/6 | 3 | 2/6 | 2/3 | 2 | 1/9 | 1/6 | 1/3 |
J – Plain Patterns – double hooks 2d extra, prices:
| | | | | | |
| --- | --- | --- | --- | --- | --- |
| 7/0 | 6/0 – 4/0 | 3/0 – 2/0 | 1/0 | 1 –5 | 6 – 9 |
| 2/6 | 2/- | 1/9 | 1/6 | 1/3 | 1/- |
K – Small Salmon Flies – double hooks 2d extra, prices:
| | | |
| --- | --- | --- |
| 1 - 2 | 3 – 5 | 6 – 9 |
| 1/3 | 1/- | 9d |
L- Salmon Flies for Lowater Fishing – The "Lowater" Salmon Fles ar lightly dressed on best quality hooks. No. 7 hook is most popular size. Plain flies 4d cheaper, prices:
| | | |
| --- | --- | --- |
| 4 - 6 | 7 – 8 | 9 - 10 |
| 1/3 | 1/- | 9d |




Who was J S Sharpe ?

The following is an extraction from an article published in spring 1956
"Mr J.S. Sharpe, who celebrated his 85th birthday in January, served his apprenticeship as a gunsmith with Davidson, Gun maker in Carmelite Street, Aberdeen [thought to be between 1889 and 1895]. As a boy he fished the Don and has wielded a fishing rod with no mean skill and ability ever since. As a young man he left Aberdeen to work in a North of England fishing tackle business [Hardy Brothers, Alwnick]. When the Great War broke out he joined the Army in September, 1914, and saw service in the Dardanelles, Egypt, Palestine and France. Returning home somewhat unsettled after his wanderings and adventures abroad, he decided to return to Aberdeen to open up business on his own account. This he did in 1920, brining his two sons, Jack and Alan, with him. At that time every country in the world was open, but, of course, subject to import tariffs in many cases. Competition was severe, and the Sharpes with the small capital available, had a long uphill climb before them. They applied the inventiveness and patience they had acquired when angling to their business. They made fishing rods, invented collapsible landing nets and telescopic gaffs of unique design. They battled their way through the disastrous slump of 1927 and succeeded in selling their products to shops in Canada, New Zealand, India and France, as well as many fishing rods to local anglers. A number of these rods are still in use today. In 1933 they exhibited in the Milan Exhibition and were awarded the Gold Medal by an International jury. By 1938 their products were known to every fishing tackle shop at home and in most countries abroad. They had succeeded in building the biggest fishing rod manufacturing business in Scotland.
Then came the Second World War which dealt a devastating blow to the firm as it did to some many thousands of other people. "We have always considered that Mr. J.S. Sharpe was the guiding spirit, Jack was the technical and inventive chap, and Alan was the salesman". Here then was a problem for Jack, and he started re-organising the workshop in Belmont Street on what might be described as a wartime basis. Machines, which had previously been used to produce implements of the "contemplative man's" pleasure, were turned into machines to produce the implements of war. It was a tricky process but in due time it fell into line. Parts for Aero engines or shells, come what may, they were all dealt with in turn. A night shift was instituted; women workers trained and the usual shortages and difficulties of war were met with a determination, which was fortunately not peculiar to Belmont Street, Aberdeen, in those days.
The war ended, Messrs. Sharpe formed themselves into a private company. There was a heavy demand for fishing rods and tackle and they had to changeover from war production as quickly as possible. This involved a lot of extra work but they applied the lessons they had learned during the war to the production of rods, landing nets, gaffs, artificial flies and tackle. They scrapped their pre-war jigs and fixtures and made more up-to-date ones. Most parts were now produced ready for assemble thus cutting out a lot of bench fitting. They concentrated on developing a fine finish on all their products and today they have a word-wide connection.
The Council of Industrial Design selected a telescopic gaff and a fishing rod of their make and exhibited them in various countries. The use of phenolic resin was applied to fishing rod making and produced what is called the "Impregnated" fishing rod. The highest quality rod is called the "Aberdeen" and these rods bear the name and the distinctive trademark, the "Scottie" dog, are selling in increasing quantities in Canada, New Zealand, Iceland, Italy and other countries. Landing nets, gaffs and flies made by Sharpes are featured in the catalogues of the largest shops in the U.S.A. and orders are waiting for them when restrictions are raised in the Argentine, Australian and South Africa.
The finishing off of war contracts and the development of the post-war activities had only been completed when Sharpes were paid a handsome compliment. Two firms, one of which builds high class aero engines, offered them sub-contract work in the machining of intricate aero engine and other parts, work which only a firm with considerable "know-how" in fine work and close limits could have tackled. They decided that this work which could be dealt with only by separating their metal and rod making plant. A separate factory was opened in John Street and their metal working machinery moved into it. Jack took charge of John Street and Alan, assisted by his nephew Harold, remained in Belmont Street a very happy arrangement, which has since worked smoothly as they are in constant communication, one with another.
Since the establishment of the John Street factory there has been an interesting development affecting the interests of the two sections: A number of executives connected with the design and manufacture of aero engine and kindred parts, and business associates visiting this country from abroad, were also naturally interested in angling. The Sharpes therefore had the privilege of meeting these gentlemen on various fishing expeditions. They sold them fishing outfits and helped them to catch salmon, which were afterwards photographed and wetted in the good old-fashioned way. One of these visitors, who was tremendously interested in the making of fishing rods, turned out to be the "brains" of one of the largest engineering companies in the U.S.A. Listening to Sharpes talking about their problems makes one feel that an encyclopaedic knowledge is necessary to deal with the requirements of anglers in widely scattered territories in the world. What a vista is opened up to the imaginative listener – the rugged Rocky Mountains of Canada, the unequalled beauty of our own West of Scotland, the unrivalled vistas of New Zealand, the lonely wastes of Iceland, the glamour of the Florida coast, swordfish, sharks, tunny, the lordly salmon and the humble burn trout. One can see the eager boy anxious to catch his first small fish at the cost of a few pence, or the wealthy big game fisherman who travels hundreds of miles to indulge in his favourite sport, and spends a lot of money doing it. Or one can picture the scene on the bank of one of our wonderful Scottish rivers, the gentleman casting his line towards the unsuspecting salmon while the gillie stands by anxiously hoping that success will attend his master's efforts. Yes it is a full time job catering for the needs of the angler – the carefree angler finding peace on the river and loch – especially when these same carefree gentlemen are liable to change into business men who are intensely interested in prices, quality and delivery dates!"
The following is an extract relating a factory tour of the Sharpes factory from a longer article entitled "Souple Wands" by P.A. Macnab that appeared in the Scots Magazine 1982
"The place I visited is in Aberdeen. Go through a wide pend in John Street, off busy George Street, and you find the old established firm of Sharpes of Aberdeen, now an associate of C. Farlow & Co. Ltd. (Incorporating J.S. Sharpes [Fishing Tackle] Ltd.) of London and Cheltenham. Sharpes, who have been making tackle for over 100 years, also make rods and items from synthetics, but they are rightly proud of their manufacture of split-cane rods.
The brightly modern workshop has been steadily improved over the last 15 years, and modern machinery installed so successfully that 12 employees can now turn out more and better finished work than was possible with 30 in earlier days. The manager, George Middleton, passed me on to supervisor William Donald, who took me around and explained the steps in making a came rod from start to finish.
I was first shown bundles of 5 ft. or 6 ft. lengths of Tonkin Cane, 2½ in. or 3 in. diameter, carefully selected. The craftsman judges the workable thickness of the fibrous material which is sandwiched between the enamel like outer surface and the soft pithy centre – he can even decide for what part of a rod it will be most suitable, top or butt. The canes are machine split lengthwise, after being lightly "cooked" in a special oven until they have taken on a more even brown colouration. When taken out, they are passed through a machine fitted with adjustable rotary sandpaper belts which skin off knots and the unwanted outer and inner surfaces, working to within 2/3 thousandths of an inch. The strips emerge with a uniform rectangular cross section.
In batches of 30 or 50 they are now fed into a tapering machine, a milling process that is the deciding factor in the proportioning and final balancing of the rod. While the actual operation is automatic, the judgment of an experienced craftsman is essential at this stage to ensure that every single unit in the batch conforms to the master pattern of the finished rod, whether a one or two piece six foot rod weighing only two ounces, or a hefty salmon rod of 15 feet. Measurements and settings within thousandths of an inch have to be decided.
From this machine the lengths emerge of triangular cross sections so uniformly tapered that when any six are brought together they fit perfectly into a hexagonal cross section over their whole length into a recognisable section of a rod. Pre war, this operation was performed by a craftsman who lightly glued each strip to a planning block and planed it individually into the triangular shape. No matter how skilled he was, it was impossible to produce exact uniformity by hand.
The next stage I was shown is simpler. Using a special type of waterproof glue embodying a hardener, the six strips are bound together and bonded, oven heated for three to four hours, after which the section is very thoroughly dried and passed through another machine which very slightly smoothes away the bindings and excess glue. There now takes place a process for which Sharpes are famous. The assembled lengths are submerged in a tank of special waterproofing resin for a fortnight. This permanently hardens and waterproofs the rod, fills the minute cavities and imparts an extra "life" or "spring" to the rod. The lengthy impregnation also brings out that attractive translucent grain of the fibres, but also imparts a minimum of surface gloss. When casting a fly, the flashing of a rod coated with ordinary glossy varnish can too easily scare off a wary fish.
The sections are now dried out, very lightly buffed down again if required and inspected. Each section is then checked for exact length, and its action tested by an expert who matches up each top with butt of heavier cross section, or the three lengths if a three-piece rod, to form a set. Each piece of the set is numbered, and continues through the subsequent stages to come together again finally as the finished rod.
This is followed by the final routine job of adding the fittings, ornamental whippings, joints, rings and handle. In the case of the cork handle, in these Sharpes do not use ready made up units whose fitting can leave gaps along the hexagonal length and possibly damage the delicate outer fibres of the cane: instead, they glue on individual cork discs which conform to the diameter of the rod and are then hand shaped to a contour that readily fits the hand and suits the length and action of the rod.
Even the design and spacing of the rings that carry the line are the result of thought and experience to ease the art of casting and spread the strain evenly over the whole length of the rod. The finished rods are then compared with the master model and subjected to a test curve so that any minor variations in the action can be detected and adjusted.
With a new respect and care I handled one of these masterpieces, so deceptively light and fragile looking, yet which in a skilled hand will master the largest trout and – given more time – even the odd salmon. A rod fit for a king, which will last a lifetime with little further attention. Indeed, a batch of 100 of such rods or 8 ft. 7 in., each stamped with its serial number, was specially made up to mark the occasion of the Royal Wedding last year. Numbers 1 and 2 were presented to the Price of Wales and his bride as wedding gifts from Farlow Sharpe. This particular batch was offered to public at £90 - £100 – a fair price for the embodiment of meticulous accuracy, experience, and intuition at the critical stages developed by Sharpes's craftsmen.
With memories of an incident in my younger days, I asked Mr Donald how one of their rods would fare if lost in deep water for a week or two. I could almost hear him saying, "I'm glad you asked that question" as he began to tell me of one such occurrence. An angler on a Highland loch had the misfortune to see his Sharpes rod slip overboard into 30 feet of peaty water. All he could do was to mark the place and live in hope. However, a year later, when he was again fishing the same loch, he met up with a skin diver who was also on holiday there and who readily agreed to go down and have a look when he heard the sad tale. In no time he emerged, triumphantly holding up the last rod. Of course, the whippings and the cork handle had perished, but the rod itself, when inspected at Sharpes, was as sound as the day it had been made. Not only does this impregnation waterproof the rod for good, but it preserves it for all time in any climate and temperature"